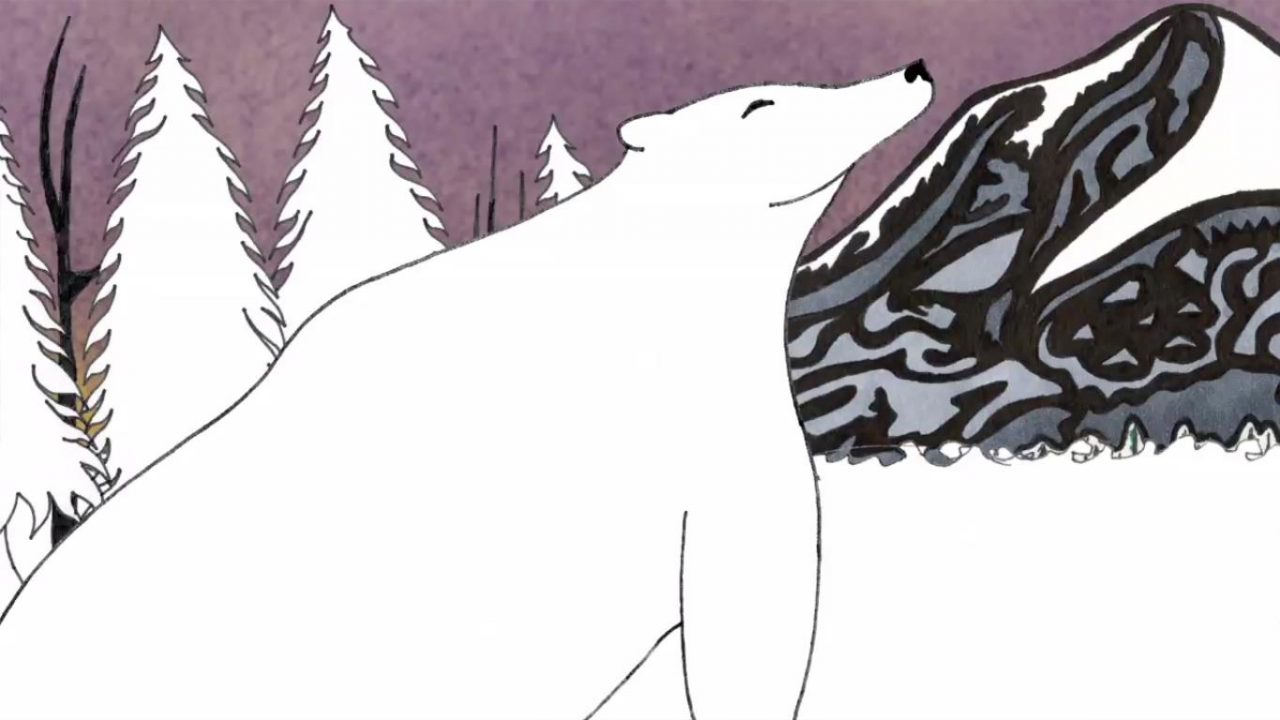 Get Animated! with Shaman, a Brand New Film from Echo Henoche
Late October? It must be time to Get Animated! This year, we're launching several new animated shorts online in honour of the occasion, one of them being Echo Henoche's debut film, Shaman.
To celebrate the entry of this film into our online collection, we're also featuring three other recent animation films from Indigenous artists, in addition to Shaman – The Mountain of SGaana, I Like Girls, and Hipster Headdress from the Naked Island series. Enjoy!
Shaman
We're thrilled to launch Shaman, our first collaboration with emerging filmmaker Echo Henoche, as part of this year's Get Animated programming. This animated short recounts the story of a ferocious polar bear turned to stone by an Inuk shaman. It forms the basis of her favourite legend, as it was told to her by her grandfather in Nain, Nunatsiavut.
Henoche's grandfather, renowned Inuk artist Gilbert Hay, passed along many stories, but this one was always her favourite. Legend has it that with the help of a powerful shaman, the community was able to save a young mother and her child from the bear's rage by turning it to stone. Now, in her first outing as an animation filmmaker, Henoche gets to bring the story to life from her own perspective.
Henoche, a recent high school graduate, had the opportunity to work with animators like Asinnajaq and Elise Simard at the Film Board. The experience shaped her style of hand-drawn and painted techniques. Although new to animation, she's been an accomplished artist since she was a young child. In fact, she sold her first seal drawing at the age of 13.
Shaman, Echo Henoche, provided by the National Film Board of Canada
The Mountain of SGaana
This gorgeous, lush animated short was one of my favourite films of recent years. It spins the tale, quite literally, of a young man, his lover, and an emergency rescue.
Inspired by a Haida fable, the film contains formal elements of Haida art and music. The story conveys so much depth and emotion, and there's not one spoken word of dialogue. It is an incredible film, made all the more so with the knowledge that it was Christopher Auchter's first film.
The Mountain of SGaana, Christopher Auchter, provided by the National Film Board of Canada
I Like Girls
This is such a charming film. I've always been a fan of Diane Obomsawin's work, but this one somehow stood out for me. It's about four women talking about their first loves, their infatuations, and their fumbling attempts at intimacy.
The film, all about self-discover, is authentic and raw, and Obom employs her signature visual style. The stories were culled from amongst ten of the stories of her close friends. She had originally turned them into comics, and then decided to adapt four of them into this film. She focused on the funniest, the saddest, the most romantic, and the most autobiographical.
I Like Girls, Diane Obomsawin, provided by the National Film Board of Canada
Naked Island – Hipster Headdress
Just to switch gears for a moment here, this subversive little short takes an unapologetic look at cultural appropriation. And when I say short, I'm talking less than 60 seconds. Part of the Naked Island series, the film is meant expose the dark underbelly of modern society.
Filmmaker Amanda Strong takes on the hipster community by pointedly demonstrating all that's wrong with the trend of wearing headdresses. After watching this, it should be blindingly clear. Just don't do it.
Naked Island – Hipster Headdress, Amanda Strong, provided by the National Film Board of Canada