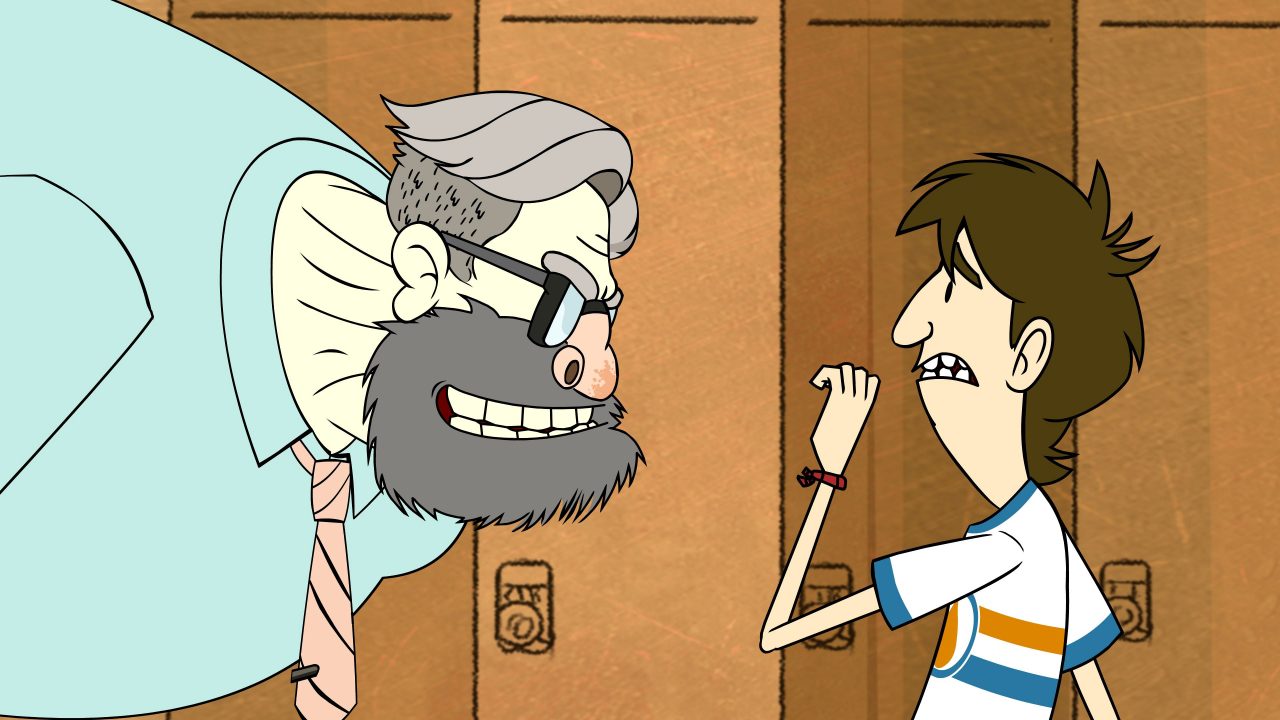 This Week on NFB.ca: Get Animated! with Shop Class and Bone Mother
The second week of Get Animated! winds down, but not without seeing the online release of two highly-anticipated animated shorts – Shop Class and Bone Mother.
It's been a fantastic 10 days, filled with both new and classic animation. Closing out the week with these two films, Bone Mother and Shop Class, as well as the three other films, marks a perfect ending for this edition of Get Animated! See you again next year!
Shop Class
This short film from Hart Snider pulls you so far into the 80s you can almost feel the hair gel and smell the French Formula hairspray.
Meet 14-year-old Hart, a young high school student who's navigating puberty and his first crush at the same time. On top of that, he's taking shop class with the dreaded, infamous Mr. P. Gone are his dreams of freshly-baked cookies in home economics, as he suddenly tackles shop assignment after assignment, each of which it seems he's destined to fail. Little does he know, the worst is yet to come.
Shop Class, Hart Snider, provided by the National Film Board of Canada
Skin for Skin
This chilling film presents a dark allegory of greed and spiritual reckoning. We go back to the early days of the fur trade, and the Hudson's Bay Company was at the height of its power. The film offers a clear demonstration of what can happen when a hunger for profit takes over.
Skin for Skin, Kevin D.A. Kurytnik & Carol Beecher, provided by the National Film Board of Canada
Bone Mother
Bone Mother is a creepy little tale inspired by centuries-old Slavic folklore. It's the brain child of animation duo of Dale Hayward and Sylvie Trouvé of Montreal. With them, we go deep into the dark forest where we meet Baba Yaga, aka the Bone Mother, an ancient supernatural being. She guards over her store of bones, treating each with the utmost of care.
One day, a young arrogant prince enters her milieu. He's got one scheme in mind, but the Bone Mother's got another. And her plan results in one of the most enduring horror stories of our time.
Bone Mother, Dale Hayward & Sylvie Trouvé, provided by the National Film Board of Canada
Co Hoedeman, Animator
It's only fitting that on the occasion of an online animation festival, we should examine the work of one of the finest animators to have worked at the NFB, Oscar®-winning Co Hoedeman. With a range of films from the childhood favourite Ludovic to the award-winning The Sand Castle, he's an artist who's proven his talent many times over.
In this film, we watch him with his family, on his farm, and in the studio. We even get to see him work on a new clip.
Co Hoedeman, Animator, Nico Crama, provided by the National Film Board of Canada
Creative Process: Norman McLaren
If we're talking about one of the finest animators to pass through the NFB's doors, we should focus our lens on the first animator. There is no way to understate the impact that McLaren has had on the world of animation. He was a creator in the true sense. He produced over 60 films, collecting over 200 awards. This film explores his legacy, and his process of artistic creation. It is close to 2 hours of McLaren goodness. You're welcome.
Creative Process: Norman McLaren, Donald McWilliams, provided by the National Film Board of Canada