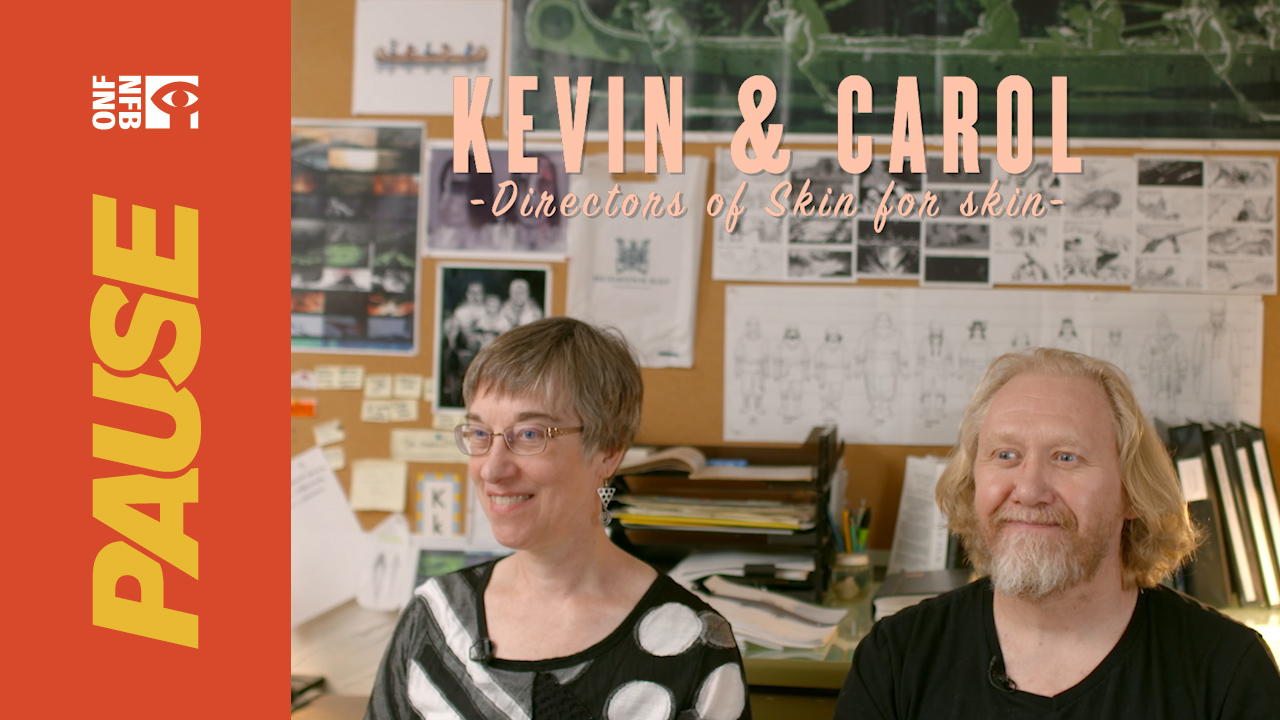 NFB Pause: Beecher and Kurytnik Talk Skin for Skin
Skin for Skin is the latest outing for filmmakers Carol Beecher and Kevin Kurytnik. The duo has been making films together for over two decades, but this is by far their darkest work.
Described as an "allegory of greed and spiritual reckoning", the film is set during the early days of the fur trade. It  teeters on the edge of a horror story, as it follows one man who seemingly cannot learn from his mistakes.
Get to know the filmmakers, their team, and their process with this short film from our NFB Pause series.
Skin for Skin: The Story
Set in 1823, the film introduces us to the Governor of the largest fur-trading company in the world as he heads across Canada to see how he can make even more money. He shows zero remorse as he ruthlessly targets the most profitable animals, slaughtering them to the brink of extinction.
He feels nothing for these animals and doesn't hesitate to destroy any beast, or bird, in his path.
Eventually, his sins catch up with him and he is forced to pay for the damage he's done. But will he learn? Can he reform? And even if he can, is it too late?
"We wanted to create a contemporary Canadian myth that went further than events and names and dates and numbers, something of an environmental myth that told a deeper truth about our country by highlighting the power of the natural world. Nature takes the most powerful man of the time on a journey of salvation and has him make a choice to either live in some sort of balance with the world or perish."
Origins and Influence
With clear nods to Melville, Coleridge, and Poe, Beecher and Kurytnik have produced a haunting tale about arrogance and greed. It packs so many historical, mythological, and literary references into 15 minutes it's astounding.
In addition to the writers mentioned above, the duo also credits Nordic, Celtic, and First Nations mythology, the story of Governor Simpson himself, and Joseph Campbell's Hero's Journey for contributions to their work.
While the first four influence the story, the last influences the structure. They designed their myth in nine distinct parts and a transformation, or metamorphosis, takes place between each. It was an ingenious framework that allows the audience to easily follow a somewhat complex story.
In terms of visual style, the team was influenced by Stanley Kubrick and Steven Spielberg. They looked to Kubrick for their approach to visual precision, camera work, lenses, and editing. For visual storytelling, they turned to Spielberg. As Kurytnik says, "You can still understand his films if you turn off the sound."
Animation Style and Technique
To create the visually-rich look for the film, Beecher and Kurytnik decided on a 2D/3D hybrid approach. Into this, they incorporated their own hand-drawn animation and illustration skills, along with those of their team. For you tech buffs, they used a combination of ZBrush sculpts, Maya computer graphics, and Adobe After Effects.
The original plan had been to do cut-outs and illustration, but they fell in love with the idea of working in 3D space. And, as the filmmakers semi-jokingly admit, "Canoes and people are hard to draw!" Creating in 3D allowed them to try out different approaches without having to scrap a ton of work.
They prepared by using storyboards and building the 3D visual elements, and then they got to work on animating the film. Both Beecher and Karytnik are incredibly appreciative of their animation team, who worked hard and learned some new techniques on the job.
One viewing of the film shows it was all worth it.
Skin for Skin, Kevin D.A. Kurytnik & Carol Beecher, provided by the National Film Board of Canada