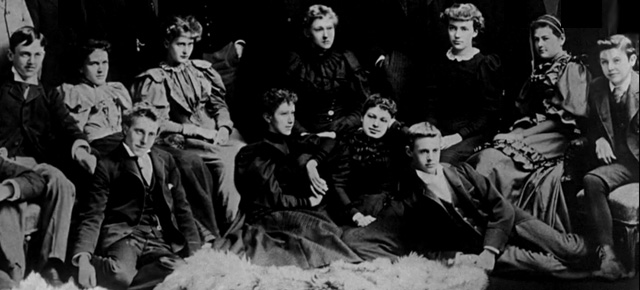 Turn of the Century: Fun, Film, and Fashion in Early Modernity
We added another old gem to our online streaming site this week, and I was absolutely glued to my screen from the first frame of Turn of the Century. (Incidentally, I just happened to come across this Salon article that might explain my fascination with century-old images—do you suffer from the same affliction?)
This short doc was made in the 1960s and focuses on the Canada of the 1890s and the early 20th century. It's not just for history buffs… whether you're into technology, fashion, architecture, politics, or hilariously antiquated portraits of people posing in awkward ways that would be unthinkable today, Turn of the Century has something for everyone.
The film uses archival stills and silent film footage to offer a glimpse of what life was like for Canadians in the two decades leading up to the first world war. And I have to say that the old adage seems to ring true: the more things change, the more they stay the same.
Look familiar?
In a section of the film focused on tourism and leisure, I was struck by this image of people enjoying a casual day in the park. If it wasn't for the dated outfits and grainy photo quality, I'd swear these were some hip twentysomethings hanging out in Toronto's Trinity Bellwoods Park, a place where you can pull up on your fixie, throw it on the grass, and relax with a beer* and a snack.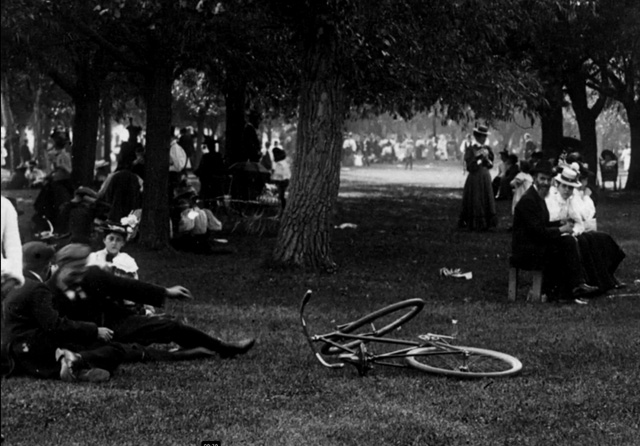 *A point of some recent contention, it should be noted.
In a much more hilarious image, a men's hockey team poses for a group photo with their newly-earned trophy. Can you even imagine a group of today's hockey players posing like giddy schoolgirls with their legs kicked up behind their heads like this? Just close your eyes and try to envision Sidney Crosby and Evgeni Malkin in this pose for an official NHL team portrait: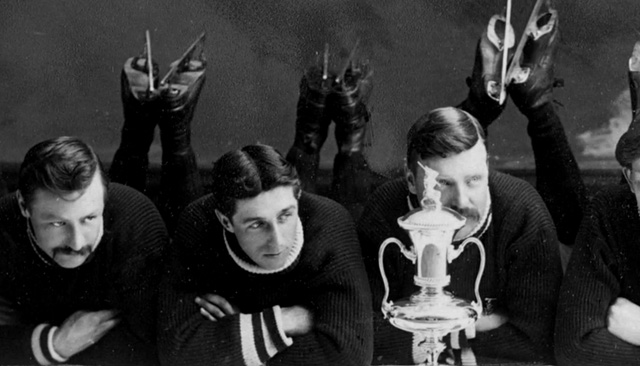 Perhaps a more pertinent 19th century development (to us cinephiles, at least) is the arrival of the hypnotic movie-house. For only a nickel (hence the early term "nickelodeon"), one could enter a dark room in which a moving picture show would stun audiences for whom such a marvel was still a novelty. I really love the photo below because it shows the very haptic kind of urban atmosphere that was arising in early modernity; the multiple posters, ads, lights, slogans, and banners are all trying to entice a weary yet curious crowd to witness something "new", something entirely exciting, full of motion, and completely unheard of. This Toronto theatre was showing a little 1909 gem called The Heroine of Mafeking: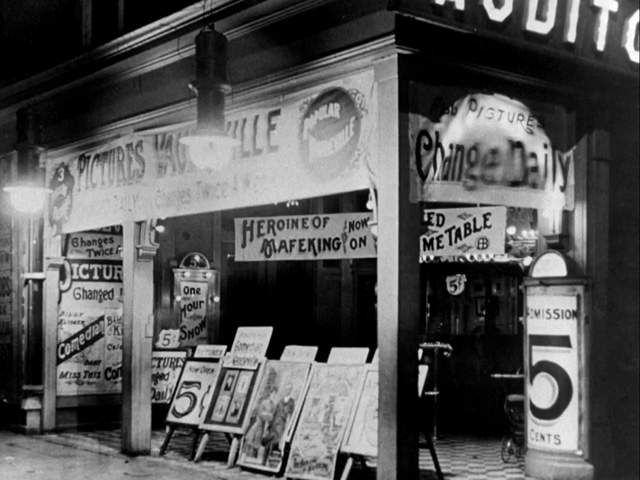 Avid shoppers and designophiles might recognize the following image. High-end department store Holt Renfrew began as a fur supply business, even acting as official furrier to Queen Victoria for a period at the turn of the century. Again, you can see the crowded and bustling nature of the scene: even well above street level, newly-mounted electrical wires almost obscure the building's logo, and the busy, ornate Victorian architecture and decor are positively bursting with frills, curlicues, and gilt.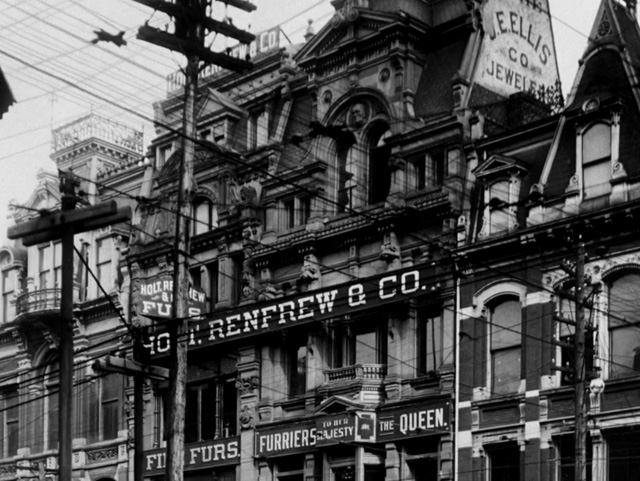 Finally, the politics of the day were, in some ways, very different, but in others, quite the same. The country was divided upon the fact that the federal government refused to fund Manitoba's French Catholic school system, and the francophone community across the country was incensed. Still, in a peculiarly familiar twist, a political cartoon from the turn of the century shows us that perhaps things haven't changed so much after all: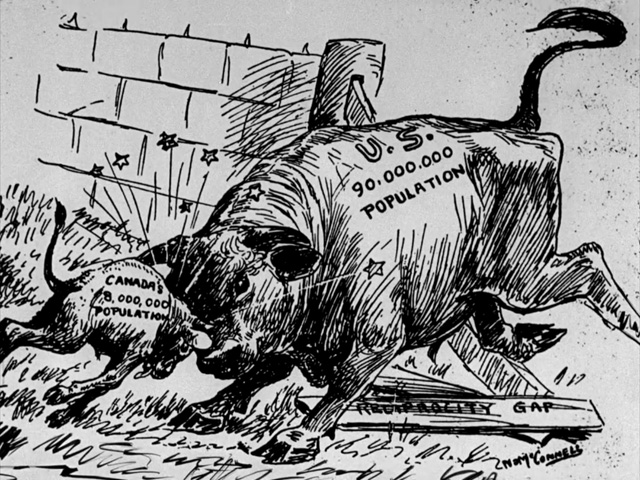 Take a few minutes to stroll through the cities and towns of the Canadian 19th century. You'll see familiar locations (Toronto's Harbord Collegiate Institute, for instance) and entirely unfamiliar ones (great swaths of Toronto destroyed by the devastating fire of 1904). For now, at least, Turn of the Century is our next best alternative to time travel. Check it out!
Turn of the Century, , provided by the National Film Board of Canada
(And after you've thoroughly enjoyed your trip back in time to an era where things are eerily similar yet not quite the same, check out this hilarious Portlandia send-up of the cyclical nature of trends. It's the dream of the 1890s, y'all!)