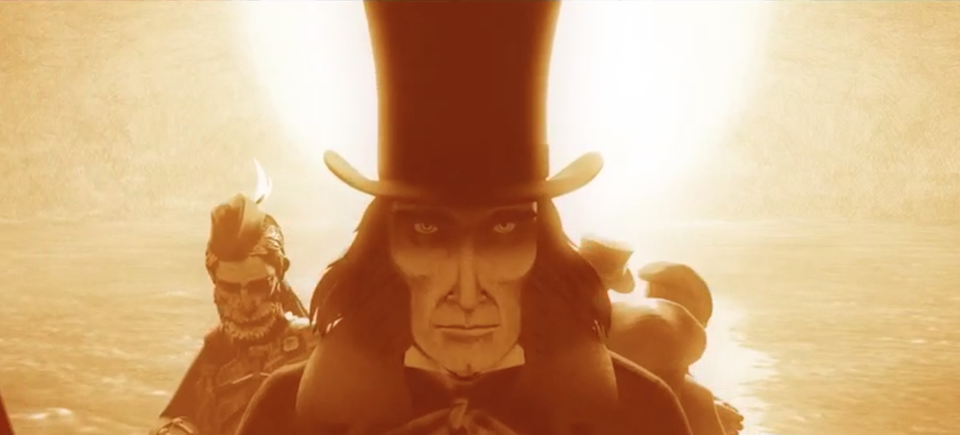 Western Gaze: 4 to Watch from North West Studio
The little-known story of Alberta's Black pioneers, a darkly entertaining animation about the Hudson's Bay Company and an interactive story shot in Cambodia are among projects currently in the works at Edmonton's North West Studio. Here are four titles to watch for in the coming months.
Skin for Skin: Heritage Moment Goes Gothic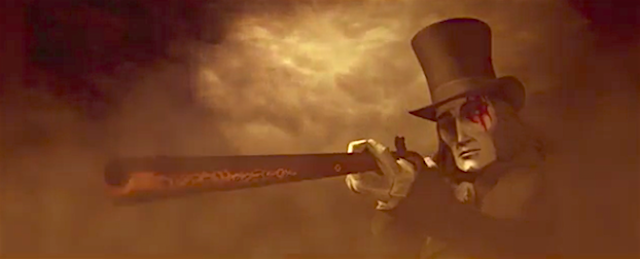 As the governor-in-chief of the Hudson's Bay Company at its peak, George Simpson looms large in Canadian history, known in his own time as both "Emperor of the North" and a "bastard by birth and persuasion." With Skin for Skin, an animated short that recently completed postproduction at the North West Studio, the Calgary-based animation team of Carol Beecher and Kevin Kurytnik, have fashioned a thrilling revisionist account of the HBC under his iron-fisted rule.
Setting their tale in 1823, a time when the HBC was processing well over half a million beaver pelts every year, Beecher and Kurytnik draw on references both literary and cinematic – from Edgar Allan Poe and Samuel Taylor Coleridge to Stanley Kubrick – to evoke a world of brutal exploitation and unsettling beauty. Creating 3-D sculptures of the main characters and props, manipulating them within built 3-D environments, and then overlaying everything with finely wrought hand-drawn effects, they craft an epic adventure that reframes a crucial episode in Canada's historic national project.
"We're calling it Canadian history, gothic style," says producer Bonnie Thompson. "Carol and Kevin have done exhaustive research and are masters of the animation arts, but they also possess a deep knowledge of film history. Look closely and you'll find references to Buñuel, revisionist westerns, and silent movies like The Cabinet of Dr Caligari. The film really packs a powerful visual punch. Test screen audiences are bowled over."
Pillars of the Calgary animation scene, where they run Fifteen Pound Pink Productions, Beecher and Kurytnik first proposed the project to the North West Studio in 2012. "They wanted to investigate Canadian history from a different perspective, to explore its darker undercurrents and subtexts," says Thompson. "We'd been looking for a chance to collaborate and were eager to work with them."
For an earlier sampling of the Beecher/Kurytnik artistry, check out Mr. Reaper's Really Bad Morning. "If you should suddenly find yourself jonesing for an animated flick that doesn't necessarily play by the rules, Mr. Reaper's Really Bad Morning might just be the prescription to soothe your indie soul," says Film Threat Magazine.
Skin for Skin is directed by Carol Beecher and Kevin Kurytnik, working closely with William Dyer and a committed team of talented animators. Produced by Bonnie Thompson and executive produced by David Christensen, Skin for Skin is due to launch at Montreal's Fantasia Festival later this summer.
John Ware Reclaimed: Cheryl Foggo on the trail of Canada's Black Cowboys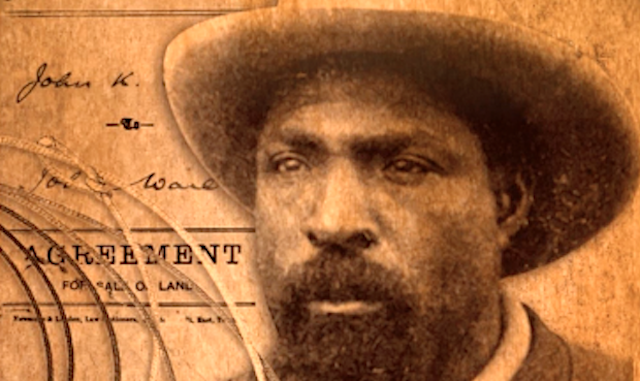 "Growing up in Calgary I embraced the whole Western mystique," says writer and filmmaker Cheryl Foggo. "I lived and breathed horses, rodeo stories and the Wild Cowboy West."
Foggo's ancestors settled on the Canadian Prairies over a century ago, part of a wave of African-American immigration that came north in the late 19th and early 20th century, but as a young adult she was confronted with a striking absence: her own people's experience had been effaced in mainstream accounts of Canadian history.
"Despite more than 120 years of Black presence in Alberta, no one pictures us when terms like 'old stock' are thrown around," she says. "The whole White settler Canada narrative is incomplete. So I started writing for myself and others like me — to fill the hole where our stories should have been."
Since then she's authored a range of work that retrieves and illuminates this history – essays and journalism, children's novels and other fiction, as well as theatrical pieces. With John Ware Reclaimed, a documentary that starts production this summer, she continues an investigation she began with John Ware Reimagined, a play that won the 2015 Writers Guild of Alberta's Gwen Pharis Ringwood Award for Drama.
John Ware, born in the Antebellum American South, was already an accomplished cowboy when he arrived in the Canadian west in the early 1880s. "The horse is not running on the prairie which John cannot ride," reported the MacLeod Gazette in 1885. Although a legend in his own time, his story remains unfamiliar to most Canadians, as does the bigger story of Western Canada's Black pioneers. "In telling Ware's story, I'm able to reclaim my own place in the Western narrative, " says Foggo.
Working with cinematographer Douglas Munro, Foggo conducted a preliminary shoot at the former Ware homestead, which remains a working ranch to this day, and now goes into full-scale production. A July shoot will feature the African-American rodeo champion Fred Whitfield, who is bringing Ware alive in a series of impressionistic of recreations. Also participating are cultural luminaries like novelist Lawrence Hill, who was filmed doing a reading about John Ware. Margot McMaster will be editing.
John Ware Reclaimed is directed by Cheryl Foggo, whose credits include the NFB release The Journey of Lesra Martin, and is produced by Bonnie Thompson for the North West Studio. Executive producer is David Christensen.
Invisible World: Interactivity meets Roshomon

The seed was planted back in 1994 when Tyler Enfield was travelling in Cambodia, a young backpacker immersed in a carefree expatriate subculture, only vaguely aware of the civil war that had recently devastated the country. But witnessing the near drowning of a local child would change all that, throwing everything into a sudden and sharp new focus. Over twenty years later, now an established writer and photographer, Enfield evokes the event in Invisible World, a novel initiative in multi-format interactive storytelling.
In Roshomon style, the 22-minute interactive piece employs shifting screens to present three separate but intertwining versions of the same story — with the child's mother, the backpacker and a war weary Cambodian doctor each giving a distinct narrative account of the shared traumatic event.
Invisible World was co-created by Tyler Enfield and Gaylen Scorer with NFB producer Bonnie Thompson coming onboard as a key collaborator. "There was an extra level of complexity on this production, both in terms of technology and cinematic strategy," says Thompson. "When planning the Cambodia shoot, we had to design shots for three screens and three voices, each with its own point-of-view and back story, while maintaining a visual coherence throughout. It's a unusual way to create and experience cinema."
Giller Prize winning author Madeleine Thien shares a scriptwriting credit with Enfield, writing the narration for the mother and doctor, and also voicing the mother's character. The Cambodian-born American actor Francois Chau (Lost, Criminal Minds) voices the doctor. The cast features Cambodian actors Ngem Svey Ya as the mother, Sereyvuth Kem as Dr Von, and first-time Australian actor Mark Tilley as the young backpacker.
Invisible World is available in three language versions – English, French and Khmer – and is available in several versions. Invisible World: The VR Experience, coproduced with the Canadian Film Centre's Media Lab and designed for HTC Vive headset, premiered at Montreal's Festival du nouveau Cinema in 2016 and has since been shown at South Korea's Busan International Film Festival and Edmonton's NorthwestFest, where programmers also hosted interactive theatrical screenings of the project. App and website incarnations, designed for desktop and tablet, are due to launch later this year.
Invisible World is produced by the NFB North West Studio (producer, Bonnie Thompson: executive producer, David Christensen). Invisible World: The VR Experience is co-produced by the CFC Media Lab (producer, Ana Serrano) and the NFB North West Studio (producer, Bonnie Thompson). Executive producers are Ana Serrano (CFC) and David Christensen (NFB).
Snow Warrior Catches Cold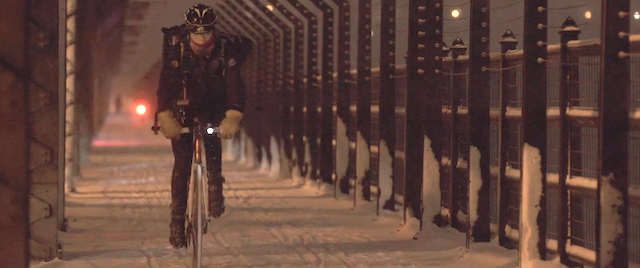 You need to put at least two winters behind you before you get to claim bike courier stripes in Edmonton. So says Mariah, the wiry protagonist of Snow Warrior, as she mounts her wheels and peddles off though the predawn deep freeze to start her working day.
Currently in postproduction at the North West Studio, the short documentary pays tribute to a hardy breed that plies its trade on the streets of one of the coldest cities on earth, an outdoor workplace where winter temperatures can drop to  forty below zero.
Co-directed and written by seasoned documentarians Frederick Kroetsch and Kurt Spenrath, Snow Warrior was shot by cinematographer aAron Munson, who made inventive use of lightweight digital cameras. "There was a great can-do spirit on this shoot," says producer Bonnie Thompson. "At one point the team macgyvered a bike that could be towed behind the camera, and it's given us fantastic footage, poetic and exciting at the same time."
Kroetsch and Spenrath position their film within a very Canadian tradition of winter-themed cinema — citing NFB films like Gilles Carle's much-loved feature The Merry World of Leopold Z, a seminal work of early Quebec cinema that was originally commissioned as a documentary about Montreal's snow plough operators.
La vie heureuse de Léopold Z, Gilles Carle, provided by the National Film Board of Canada
Snow Warrior is co-directed by Frederick Kroetsch and Kurt Spenrath, and is co-produced by the North West Studio (Bonnie Thompson, producer) and Edmonton's Open Sky Pictures (Frederick Kroestch, producer). It's due to launch in late 2017. NFB Executive Producer is David Christensen.