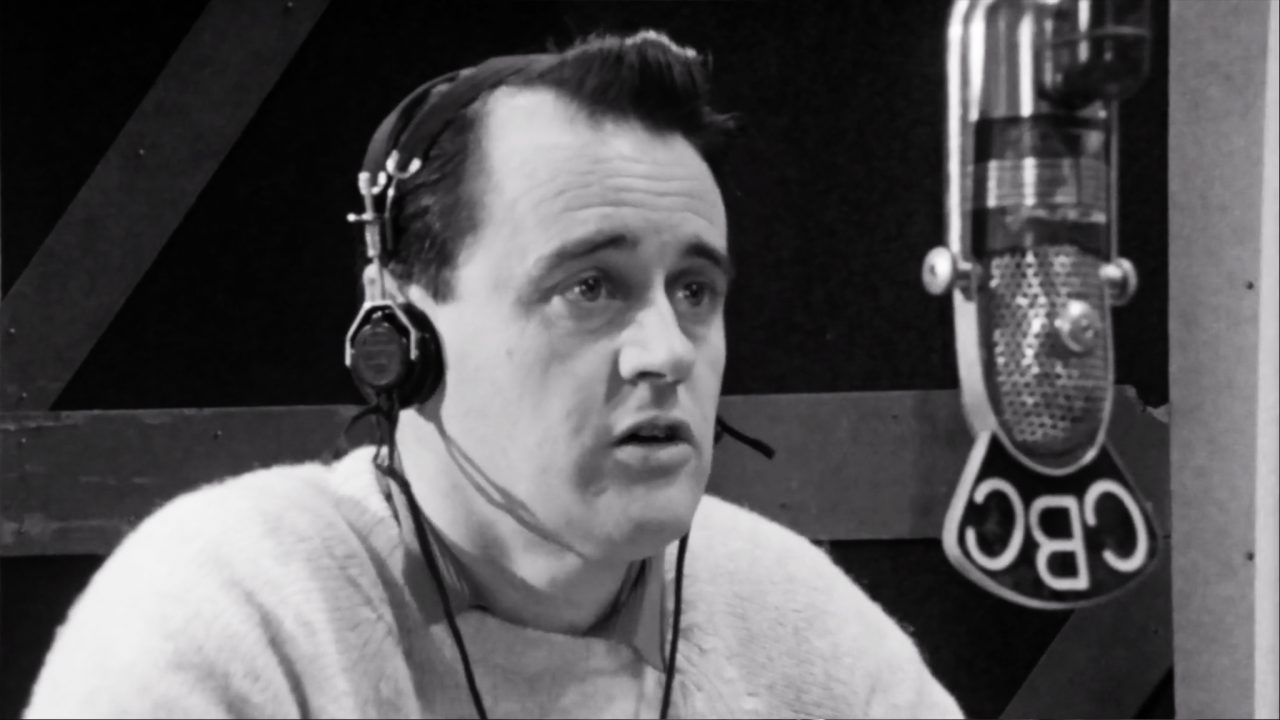 World Radio Day | Curator's Perspective
On UNESCO's World Radio Day web page, you'll find the following quote: 
 At the global level, radio remains the most widely consumed medium… radio can shape a society's experience of diversity, stand as an arena for all voices to speak out, be represented and heard. Radio stations should serve diverse communities, offering a wide variety of programs, viewpoints and content, and reflect the diversity of audiences in their organizations and operations.  
 I think that quote is very true of Canadian radio and has been since CBC Radio went on the air in 1936. At the NFB, we've produced several films that explore this vital service to Canadians. As today is World Radio Day, I thought I'd take a look back at some key films and share them with you. 
 In 1946, the 10-minute film Voice of Canada was released as part of the Canada Carries On theatrical series. It looked at how the CBC and Radio Canada connected the country and highlighted some of the programming offered on the network—everything from musical programs to religious shows. We are shown a young Oscar Peterson performing, a radio play about a retired Canadian schoolteacher (which looks very funny), and the music of Don Messer and His Islanders.  
Voice of Canada, , provided by the National Film Board of Canada
 The film was extremely popular. So much so that the NFB's distribution department asked for an extended version to distribute in non-theatrical markets (public libraries, church groups, service clubs, etc.). The resultant film, Canada Calling, was released three years later and included most of the original version but put more emphasis on private radio stations. It also looked at the use of educational radio programs in schools. Canada Calling is an excellent time capsule that reveals how radio served Canada after the war. 
Canada Calling, David A. Smith, provided by the National Film Board of Canada
 Our next film is the 1965 short documentary Max in the Morning. It showcases talented radio host Max Ferguson, who improvises several sketches every day on his live CBC show. Arriving at the studio at 5 a.m., Ferguson peruses the papers for a couple of hours to see what's in the news. Then he meets his sound engineer, producer and sound effects technician to discuss sketch ideas based on articles. At 7:30 a.m., he goes on live and ad-libs his way through three sketches with the help of some sound effects (he performs all the characters in every sketch).  
 Because of the many time zones in Canada, the show goes live to the Maritimes first.  Ferguson has to wait until the Ontario broadcast, which is a recording of the show, to listen to his performance. This is an incredible behind–the–scenes look at an artist at work. A film well worth your time. 
Max in the Morning, David Bairstow, provided by the National Film Board of Canada
 In May 1989, documentary filmmaker extraordinaire Donald Brittain started work on a film that was dear to his heart: a look at CBC Radio as it existed at the time. He shot for a short time but died suddenly in July. The project was picked up by Robert Duncan, who had worked with Brittain previously (on the Oscar–nominated documentary Volcano: An Inquiry into the Life and Death of Malcolm Lowry). In the film, called Family: A Loving Look at CBC Radio, Duncan explains that the CBC puts out more than 200 newscasts a week in six time zones. As he says, it's a "recipe for broadcasting chaos." The film also looks at popular shows such as Morningside (hosted by Peter Gzowski), as well as the Royal Canadian Air Farce comedy troupe in action.  
 The cameras capture a moment of drama when the host of the current affairs show As It Happens does a phone interview with the niece of a reform politician in Panama. The politician has been kidnapped and the host and his producer worry that they might be putting the young woman in danger by doing the interview. They decide not to probe too deeply and let things be. It is quite a tense moment, and the look of worry on the host's face is quite genuine. 
Family: A Loving Look at CBC Radio, Donald Brittain & Robert Duncan, provided by the National Film Board of Canada
 Family was lovingly created by two men who obviously cared a great deal about CBC Radio. It shows just how great a role radio plays in bringing all Canadians together.  
 I hope that these films will give you a better appreciation of the importance of this service. Enjoy.