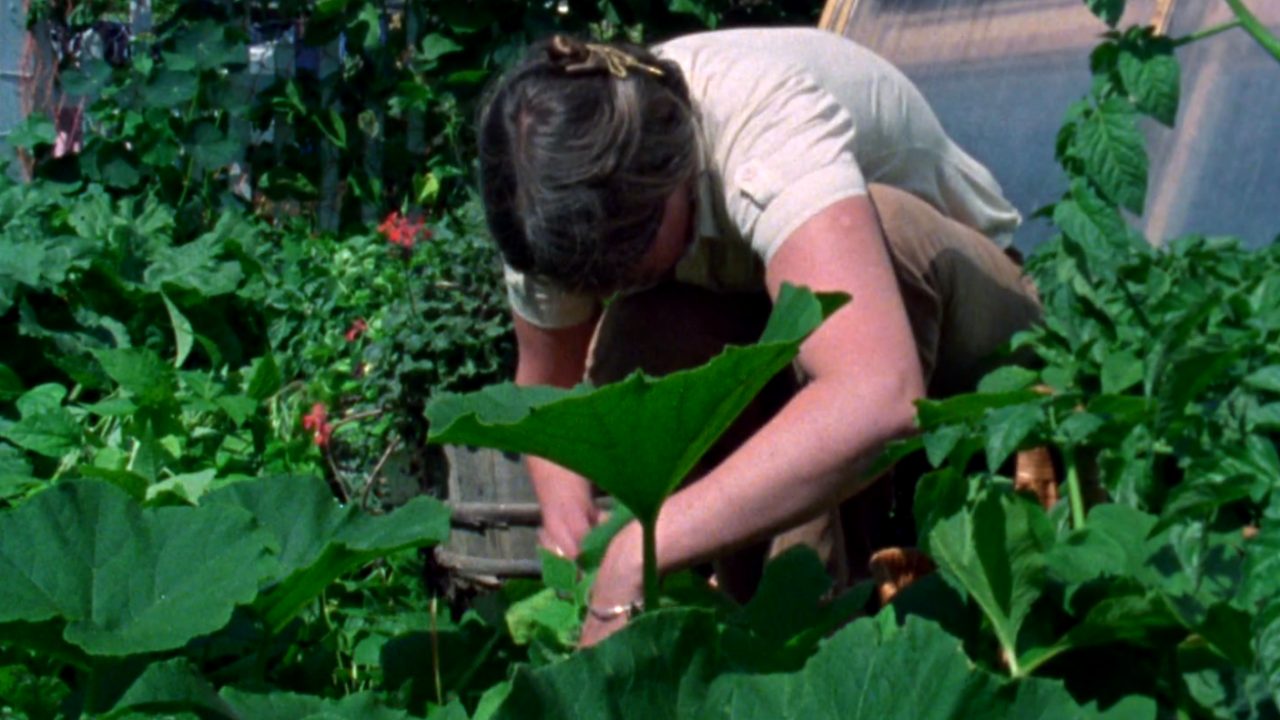 Urban Gardening 101 | Curator's Perspective
With spring fast approaching, are you dreaming of the snow melting, and once again being able to tend your garden? Don't have a garden? No problem: here's a great film that will show you ways to grow vegetables in a small, confined space, or even on your balcony.
My Urban Garden was produced in 1984 by the NFB's Atlantic Studio in Halifax. The film introduces us to Haligonian Carol Bowlby, who doesn't let the small size of her backyard—a mere 260 square feet—stop her from growing 20 different sorts of vegetables. In fact, she's able to grow enough vegetables to feed her family of five for seven months of the year! 
How is she able to do this on such a small plot of land? The answer is provided in this delightful half-hour documentary directed by Polly Bennell. In her own quiet way, Bowlby narrates the film, giving easy-to-follow gardening tips for everyone.
For one thing, Bowlby says that she must work the soil before it's ready to accept seeds. She uses compost, basically rotting garbage, to keep things moist and supply rich nutrients. She also uses manure and sawdust.
Another tip is starting plants ahead indoors, as the growing season is simply too short in cold climates. Once transplanted outdoors, the plants need to be covered for a short period of time until the weather warms up.
Bowlby also has tips for apartment dwellers, including the use of container gardens, which are great for people who have a small garden space or none at all. Perfect for balconies. Bowlby uses no chemical fertilizers or pesticides. She accepts that there will be pests and that certain insects will eat some of the leaves. As her garden is healthy, the damage inflicted by pests is minimal and doesn't seriously affect the harvest. Bowlby also shares a unique way of keeping cats out of the garden.
Here is the beautiful My Urban Garden poster :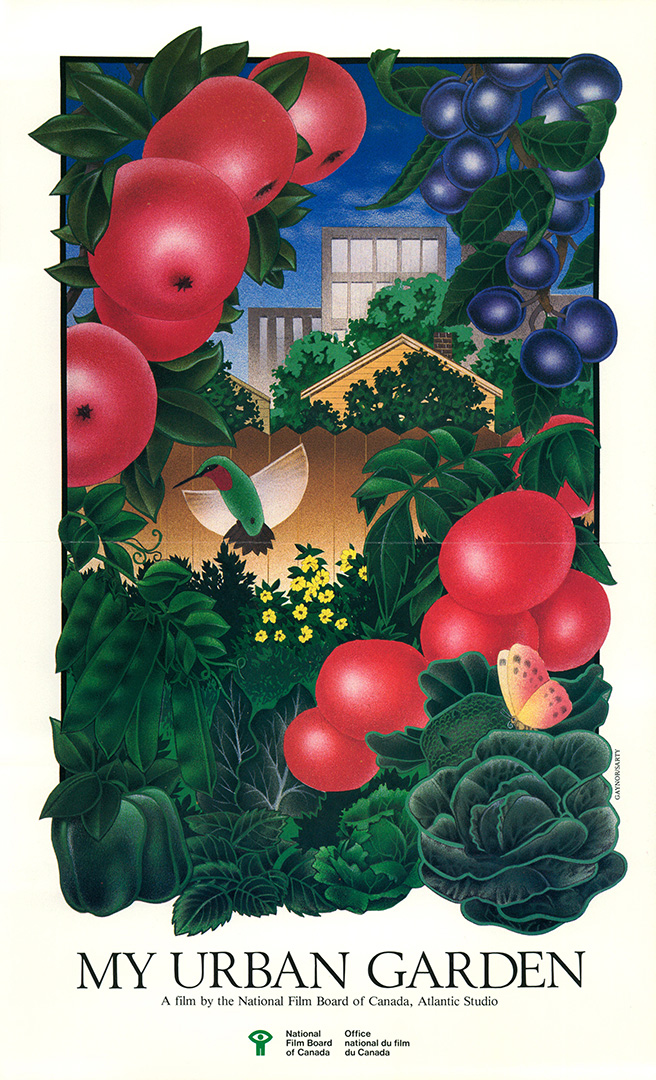 This wonderful documentary shows us every stage of planting a garden, from the seeding, through thinning, and all the way to the final harvest. The succulent vegetables and fruits Bowlby harvests include tomatoes, peas, peppers, zucchini, cucumbers, lettuce and raspberries. It's a fair amount of work, but the results are worth it. The film is accompanied by a gentle musical score by Steve Tittle that's guaranteed to lower your blood pressure!
These days there is much talk about sustainable living. My Urban Garden, produced more than 35 years ago, shows that this is not a new idea and that everyone can participate. One of the foundations of sustainable living is eating local. Well, you can't get more local than your own backyard, can you? Bowlby is also very big on composting, whether it's kitchen waste or leaves. All of these have important nutrients that enrich the soil.
My Urban Garden, Polly Bennell, provided by the National Film Board of Canada
As you've probably guessed, I love this film's message. As Bowlby says, it's important for city people to be able to watch and nurture growing things. Please have a look at the film; I hope you enjoy it. At the very least, it will help reduce your stress level today.
And if this post has inspired you to give sustainable living a try, please check out our new six-part web series, Gatherings, which is launching on NFB.ca this week. In it, we meet a community of people who have made the Gaspé their home, and who seek to live healthier by growing their own food, buying local (thus reducing their carbon footprint) and keeping everything they do on a human scale.