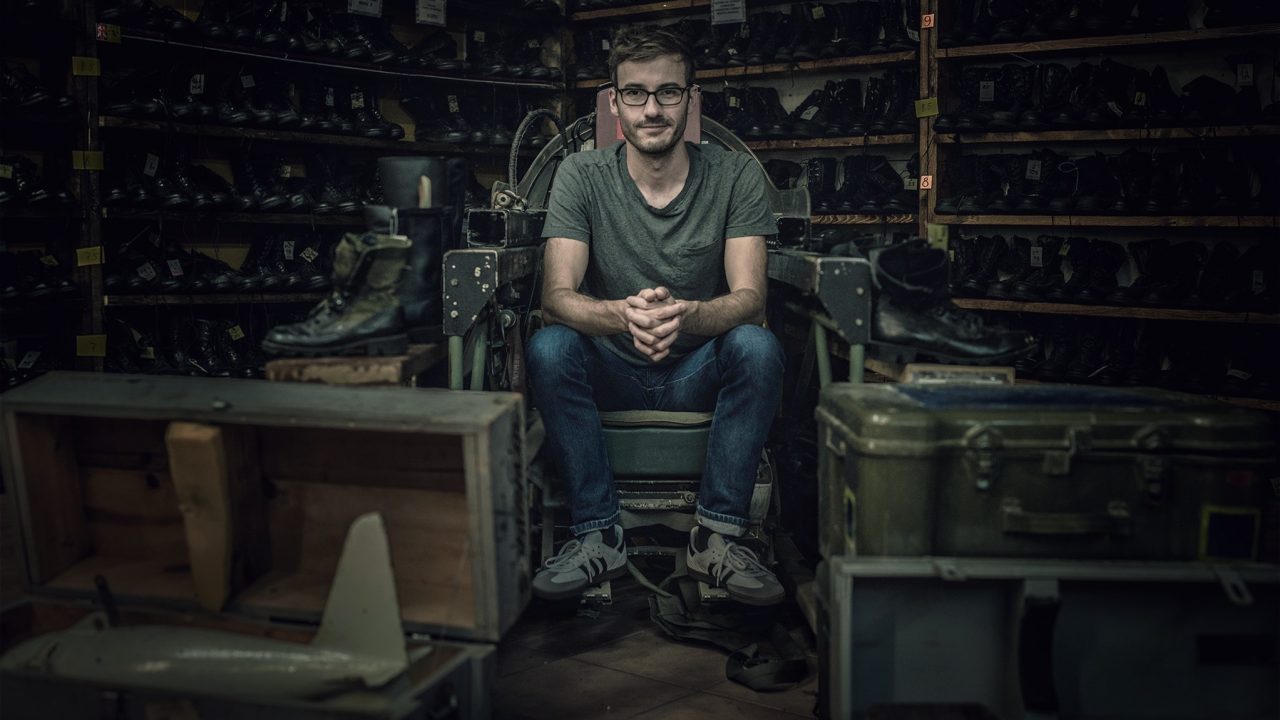 First Stripes: An Interview with Jean-François Caissy
After being screened in the Forum section of the prestigious Berlin International Film Festival, Jean-François Caissy's most recent documentary, Premières armes (First Stripes), played at numerous festivals, picking up awards as it went. It's now available for free on NFB.ca.
To mark the occasion of its online release, the filmmaker from Saint-Omer, in Gaspésie, spoke to us about his film.
First Stripes is part of a much larger project, a series of documentary films about the significant milestones of life. How did you come up with the idea for these films?
It was a unique set of circumstances. I shot a film titled La belle visite (Journey's End, 2009), about a group of seniors in a retirement residence. Their average age was 85! Some of them were 98. That project took two years, and after it was finished I wanted to continue the work with another age group, to explore possibilities and open up new avenues. I immediately thought of a film about adolescents. I filmed La marche à suivre (Guidelines, 2014) with a group of teenagers at a secondary school in Gaspésie. When it was screened at the Berlin film festival people began asking me what age group I was going to concentrate on next. It hadn't really occurred to me that I was making a connected series on the different stages of life, but the idea was interesting, and it inspired me. It certainly helped to solve the problem of the blank page!  It wasn't a conscious decision at first. The project came into focus gradually. I saw it as a chance to pursue a theme, to create a body of work that would hold together in a meaningful way.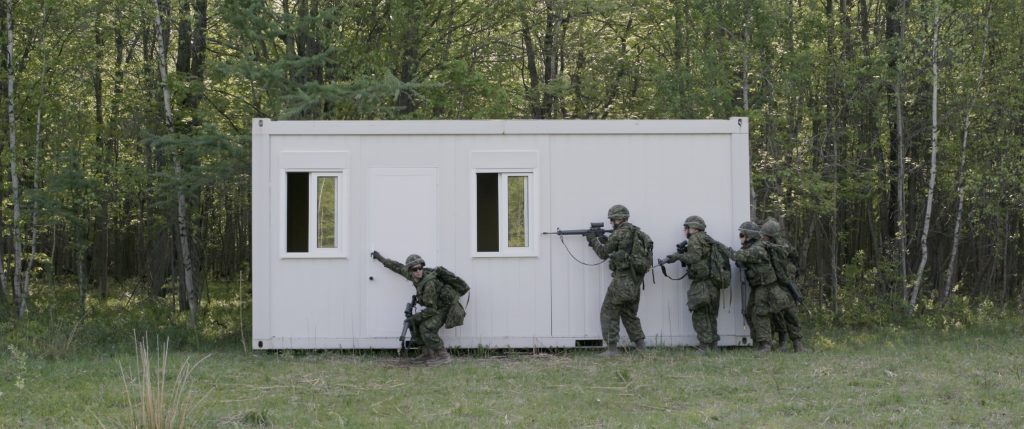 After Guidelines, you turned your attention to early adulthood. Why did you choose the army as the setting for your next subject?
I could have gone in a number of directions. For me personally, the first stressful decision I had to make as a young adult was the choice of a career, and so I thought it would be interesting to explore that, the beginning of adult life. I did some research, and one thing led to another. I thought that a film about young people deciding to pursue a military career could be a rich subject. It was also a life that impressed me. My own brother went to military college in the 1990s. The stories he told us when he called home during his training in British Columbia made a profound impression on me. I was 15, and it marked me deeply. The other aspect of army training that I found interesting was the fact that the recruits all lived together during those 12 weeks. They hardly went out at all. They were isolated. I found that very interesting. It allowed me to observe the evolution in their lives over time. They were a captive group of study subjects! And as it turned out, it was a particularly rich field for exploration. Everybody has an opinion about the military, about the army. In Quebec it's rarely a positive opinion. But my approach was the same as in my other films:  I always begin with an open mind. I don't pass judgment.
You want to avoid preconceived ideas.
Exactly. It's a polarizing subject. I wanted to approach it from a simple human perspective, just to film these young adults starting out on their adventure. I don't pass judgment. I let viewers make up their own minds, draw their own conclusions.
You have your own way of working, a very precise approach. Can you tell us about that?
I do a lot of research before I begin shooting. My research involves seeing films, reading books, investigating a whole range of resources to find an aesthetic for the film, a unique identity. It could be music, it could be painting. I look for a specific creative stimulus. Once I have that reference point, I go out into the field. For First Stripes I took my camera and spent two weeks taking still photographs of a platoon. I followed them for those two weeks just to see how it would go. That allowed me to identify key moments that I would later be able to film. I let the subject guide me. I don't have any particular point of view when I begin. I don't try to become an expert in the subject of the film. I like to keep a certain naivety, take it slow, wait around to see the real human experience behind the externals.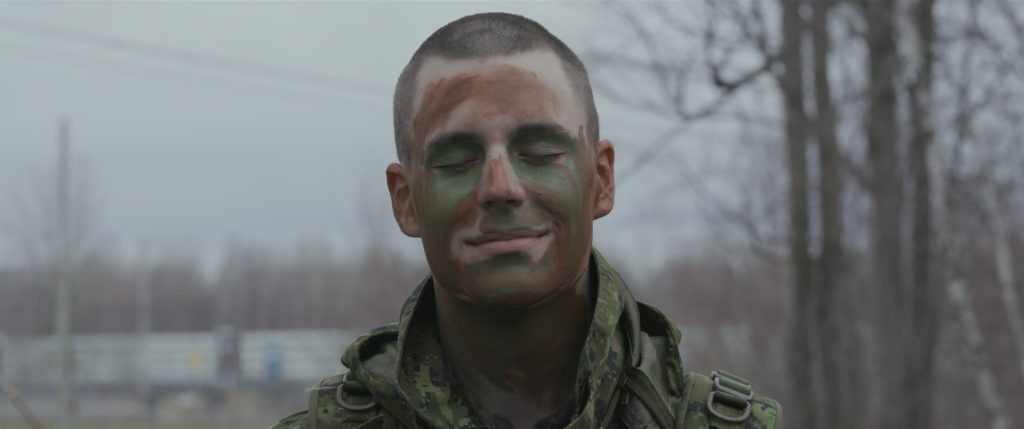 You call your work a cinema of observation. It's important for you to remain in the background, to be forgotten, and when the camera is filming it too has to be forgotten. How do you achieve that?
I film people when they're working, or absorbed in some task. It may seem obvious, but I never ask anyone to perform a particular action just because I want to make a visual point. That kind of request can make a person uncomfortable, and their discomfort will show. It doesn't work in the kind of film I want to make. I try to film people who are already in the act of doing something. I film conversations or interactions that involve dramatic stakes of some kind. I make interesting discoveries in those situations. With soldiers, of course, there's never a problem with finding them something to do—their daily routines are pretty hectic. I film them taking part in as many activities as possible. I never do interviews. The content has to emerge from the action.
The image, the framing, is very important to you. And it shows, your images are magnificent! Where did that come from?
I began my studies in photography, not cinema. I shoot using a tripod. It's a preference that grew out of my work as a photographer. I realized, early on, that one way I could control the material—maybe the only way—was to establish the framing. Once I have that, everything flows naturally and the characters are alive on the screen. The frame is like a picture that opens up; you can define the limits. Working this way, with a tripod, my director of photography and I have time to think, to not always be chasing after something that escapes us, that we can't catch. We establish the framework, and life takes its course inside those lines.
Finally, I asked you to choose three NFB films to accompany First Stripes on the home page of our website, three films that are important to you. You chose 60 Cycles (1965) by Jean-Claude Labrecque, Runner (Le coureur, 1962) by Don Owen, and a Second World War propaganda film, Train Busters (La guerre des airs, 1944) by Sydney Newman. Talk to us a little bit about your choices.
60 Cycles is a classic. I love it. I watch it every year! My director of photography, Nicolas Canniccioni, who's worked with me on all my films, was a professional cyclist when he was young. He was on Canada's national team. We always wanted to make a cycling film together. But that film already exists, it's 60 Cycles! And Runner has an astonishing formal beauty. It's another film I constantly rewatch. It's very simple, but the play of light and shadow, the music , wow! It's the kind of short film I can watch over and over. The last one, the 1940s film, is an example of the kind of research I do. When I was preparing to make First Stripes, my research was exhaustive. I looked at a lot of films, going all the way back to the wartime propaganda films of the 1940s. I always liked the visual design of these films, and the way they used music.
—
You're invited to watch First Stripes and the three accompanying films selected by Jean-François Caissy. They're available now on the NFB.ca home page.