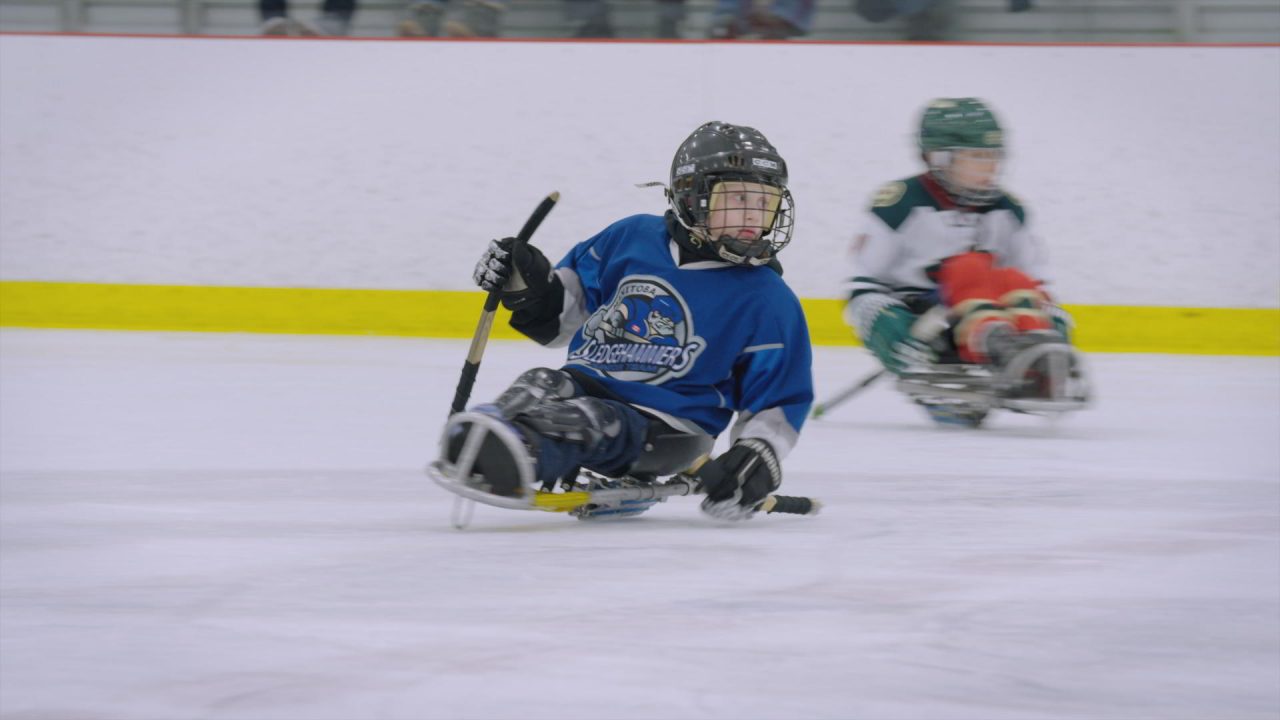 The Tournament: The Power of Community
My son Isaac started playing para ice hockey in 2016. He loved every second of it, even though he had absolutely no idea how to play hockey. He had never watched a "stand-up hockey" game (which is what we in the para ice hockey world call able-bodied hockey).
A life-long Winnipegger and a proud Métis, Sam Vint has performed various roles in the film and television industry, including research, sound, and camera. His new documentary short, The Tournament, is now available on NFB.ca.
As a family, we had attended our first para ice hockey game the previous year, and we were in—hook, line, and sinker. We were in before the game actually started. It isn't the game that makes para ice hockey special, it's the community. We walked/rolled into the arena, and there were walkers, wheelchairs and prosthetic legs all piled up against the boards. We were home.
I immediately saw a guy I knew from back in the day. He was more of an acquaintance than a friend. Within five minutes of reconnecting, he shared with me the day his 12-year-old son asked him if he could get his leg amputated. We came to see a new sport, and we left as members of a new world.
At that game, Isaac was three years old, and I was desperate to find something my guy could get into. I had coached youth sports for decades, and I knew how important it was. I've seen what being on a team and learning a sport can do for a kid's self-confidence and sense of place in the world. My son loved all sports, and I needed to get him onto a team and into meaningful competition as soon as possible. Isaac was only four when he started playing, and he was becoming aware that he was different from most kids.
The first tournament we attended was eye-opening and magical. Every athlete on the team grew over the course of the weekend. Set in a tiny barn-like arena in a small American town, this tournament was incredible. To see the effect of adrenaline and competition on the players was striking. Isaac was overjoyed and had found a new focus in his life, and my daughter Cooper asked if she could join the team.
As we basked in the afterglow of a life-changing weekend on the long ride home, my wife Trish leaned in and said, "You have to make a documentary about this." That was five years ago. We've been to a tournament every year since that first one, and the results are always the same. Each athlete gets significantly better, and the team becomes a lot closer.
We were pretty sure nothing could top that tournament. Then we went to the Hendrickson Foundation National Hockey Festival. Instead of a small-town barn, we were now in the National Sports Center Super Rink, the world's biggest ice arena complex. Instead of a couple of teams, there were now 54 teams in multiple divisions.
Larry Hendrickson, Minnesota's father of ice hockey, started the Hendrickson Foundation National Hockey Festival. Larry first appeared in the international hockey scene as an unofficial strength coach for the 1980 US Olympic team—you know, "the Miracle on Ice." He is Minnesota hockey, having coached at the University of Minnesota and the Minnesota North Stars NHL hockey team.
The Festival, as it is known, includes several divisions of para ice hockey, blind hockey, special hockey, and warrior hockey for wounded veterans. The numbers are impressive: 1,000 athletes, from 12 states and two countries. It is my family's favourite weekend every year. It's not just fun; it's magical, and somehow it's almost entirely free of charge. Larry passed in 2018, and my documentary is dedicated to the memory of this great man.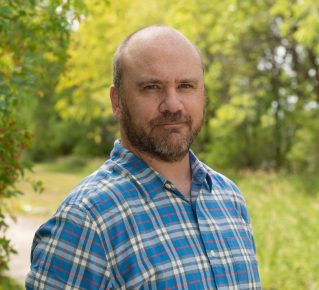 There were a few ideas about the filming of The Tournament that I thought were essential to show the aspects of para sport that I wanted the audience to see. First, we decided not to film the adults; the film is about the kids. Next, we wanted the camera on the ice. I watched every sledge hockey video I could find, and they were mostly shot from the stands.
I wanted to see these athletes' faces and become part of the action. Last, we wanted an uncensored look at the kids. These aren't the helpless little kids you pity when you pass them in the mall; these are fierce competitors who aren't above being a bit petty when things don't go their way. We went for a warts-and-all type of approach.
We also wanted to take the focus off the kids' challenges. You will notice that there is only one mention of "disability" in The Tournament. The kids don't let it define them, and I hope that is clear when you watch the film.
---
WATCH THE TOURNAMENT
The Tournament, Sam Vint, provided by the National Film Board of Canada