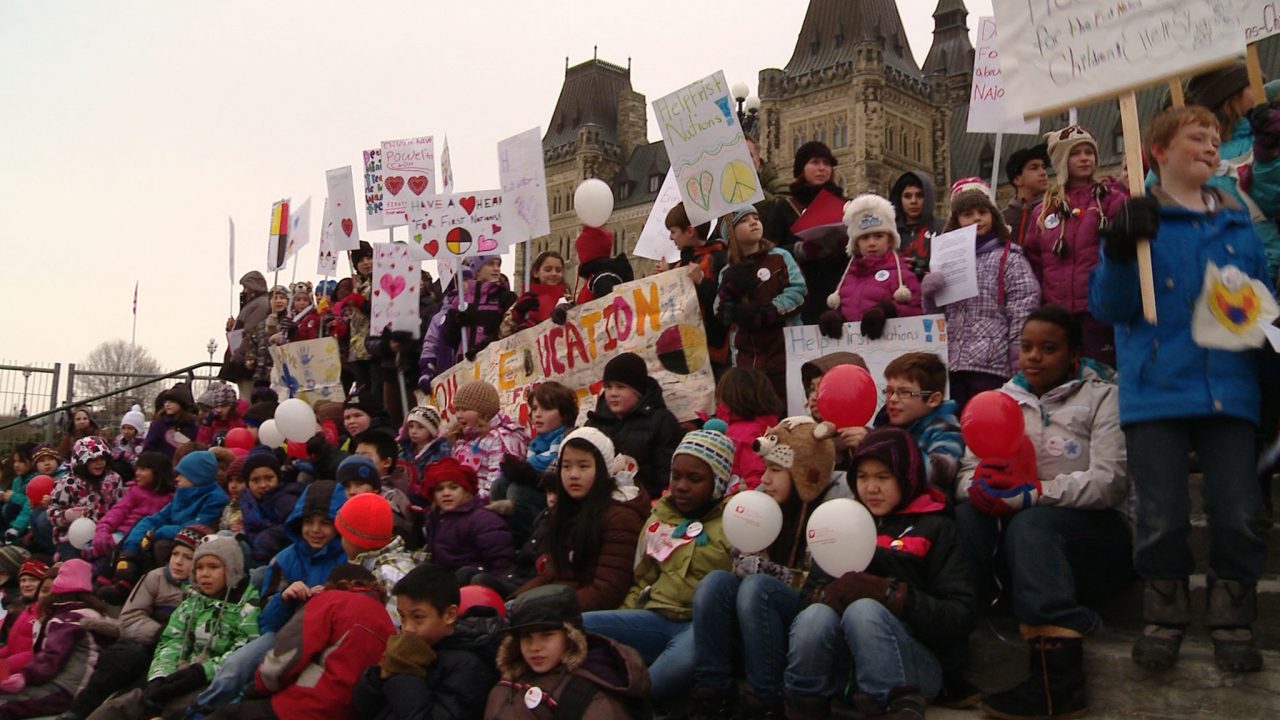 Drafting a Statement of Reconciliation with Students
NFB Education is proud to partner with the National Centre for Truth and Reconciliation to help teachers educate students about Indigenous realities during National Truth and Reconciliation Week, as well as throughout the year.
In line with this year's theme on treaties, the NFB and the Louis Riel School Division, in Winnipeg, have teamed up to offer an activity encouraging teachers and students to create a Land Acknowledgement statement. Students will be invited to recognize not just the treaties made with Indigenous nations, but also historical and present-day wrongs and errors.
Treaties are all about human rights. Grounded in reciprocity, they lay out the terms of how Indigenous and non-Indigenous people can coexist in peace and harmony. These nation-to-nation agreements essentially paved the way to what is today known as Canada.
However, thousands of First Nations and Inuit people are still fighting to ensure that their communities get the same access to the human rights enshrined in the treaties—namely, access to clean drinking water, education and health care—as the rest of the Canadian population.
Classroom Activities
Four mini-lessons have been created to address this topic. Highlighting Indigenous-made films from the NFB collection, the lessons will help students understand the spirit and intent of the treaties and provide them with the information they need to discuss the issues of access to drinking water, health care and education. In a spirit of reconciliation and co-operation, students are encouraged to write, record and share their Land Acknowledgement statements on social media.
1) Understand the spirit and intent of the treaties in the context of a nation-to-nation relationship between Indigenous Peoples and the Crown.
Students discuss the context in which the Numbered Treaties were negotiated, interpreted and signed, comparing the different views with respect to oral tradition and written history.
2) Compare the rights of non-Indigenous and Indigenous Canadian citizens and the extent to which these rights are upheld.
3) In a spirit of reconciliation, apply the concepts of reciprocity, respect and renewal that are part of the agreements framing relations between Indigenous Peoples and governments.
Produce a public service message
Students draft a Statement of Reconciliation that recognizes the Indigenous nation(s) on whose traditional lands they are currently situated; acknowledges the traditional names of those lands; and cites the associated treaties. The statement must also highlight the inequalities these nations currently face. It is important and respectful to recognize the name of each nation that occupied a traditional territory in its own language (for example, "Kanyen'kehá:ka" instead of "Mohawk").
Students are then invited to save and share their Statement of Reconciliation on social media, using the hashtag #NationalTRW.
Students can see how students from the Louis-Riel School division in Winnipeg produced its public service message by clicking here.
Teachers are advised to do some preparation before presenting the films and activities in class. Here is a list of terms, readings and videos on some of the essential topics in relation to the Indigenous historical perspective and the effects of colonization.
Bobbie-Jo Leclair is Divisional Vice-Principal of Indigenous Education, Intercultural Understanding and Transformation at the Louis Riel School Division in Winnipeg. As an educator for 19 years who specializes in Indigenous education, she draws on her wide-ranging experience to develop and facilitate authentic teaching and learning that incorporates Indigenous history and perspectives, in cooperation with Manitoba educators. Bobbie-Jo is passionate about and actively supports transformative change in Indigenous education through professional learning and advocacy.
A francophone Métis from Manitoba, Joël Tétrault currently teaches Indigenous perspectives in the Louis Riel School Division in Winnipeg. A passionate educator, he has worked in education for 18 years, teaching mainly Canadian history, Indigenous perspectives, law and francophone cinema. For Joël, teaching means empowering students and encouraging them to take action to build a society that's more just and equitable for all.
Pour lire cet article en français, cliquez ici.
Discover more Educational blog posts | Watch educational films on NFB Education | Subscribe to the NFB Education Newsletter | Follow NFB Education on Facebook | Follow NFB Education on Twitter | Follow NFB Education on Pinterest