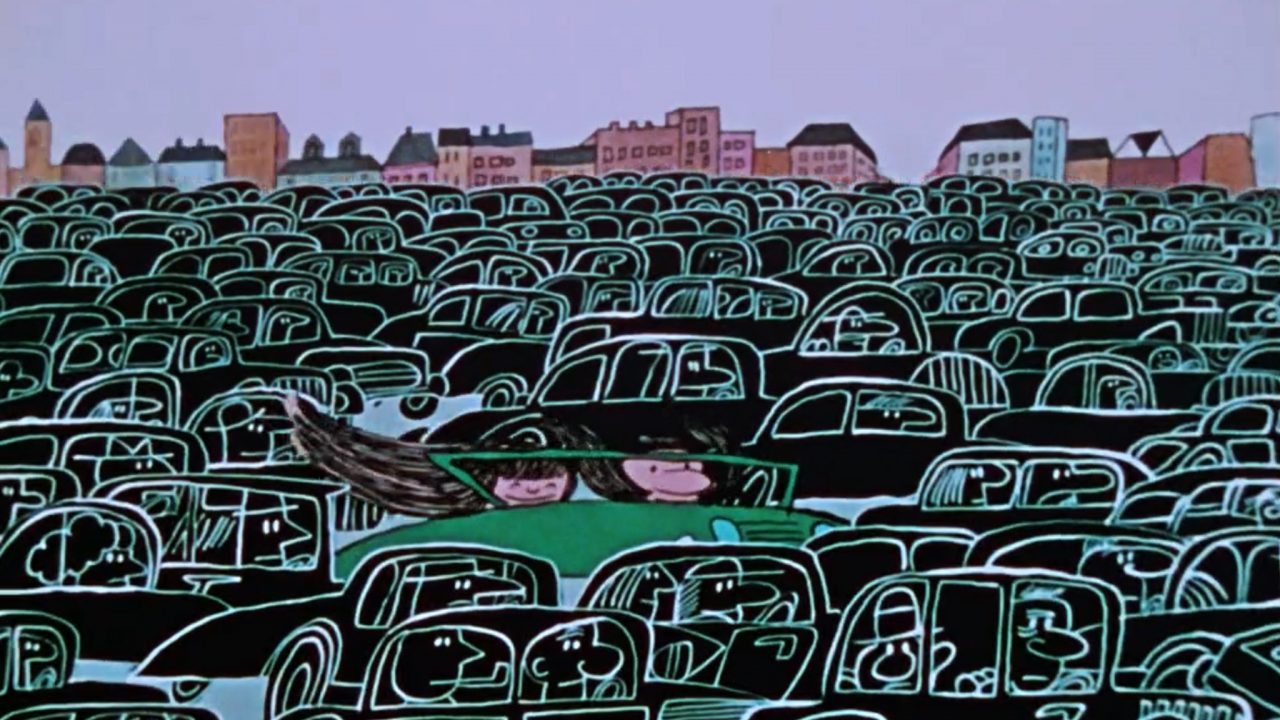 Zagreb Film and the NFB: A 50-Year-Old Gem Gets Its Online Premiere | Curator's Perspective
"Three young recruits in the summer of 1945 would have a long impact on the postwar NFB studio–Colin Low, Robert Verrall and Wolf Koenig: they pushed the unit away from experimental graphics and encouraged traditional techniques such as cel animation."[i]
The invitation of acclaimed filmmaker Zlatko Grgić to the NFB in the late 1960s was one happy consequence of the shift described above by author Karen Mazurkewich. One of the most important Croatian animators of all time,[ii] Grgić had already directed eight films and won the Palme d'Or at Cannes.[iii] His stint with the NFB resulted in the production of 12 stunning animated shorts, made in partnership with Croatian company Zagreb Film.
This instalment of Curator's Perspective looks at these sometimes dystopian and frequently absurdist films, produced through a unique collaboration with 27 artists from Zagreb's animation studio that began with Grgić's Hot Stuff (1971), a "humorous animation film [that] traces man's carelessness with fire."[iv] The NFB is also pleased to present a never-before released version of the most intriguing product of this creative alliance: the classic omnibus film Man the Polluter (discussed in detail below).
Hot Stuff, Zlatko Grgi?, provided by the National Film Board of Canada
Grgić further developed his animation technique and aesthetic approach upon his arrival at the NFB. During the 1950s and 1960s, most of his films were created using the traditional method of drawing on paper, focussing mainly on animating characters in static frames and with minimalist backgrounds. Though remaining faithful to his personal style, Grgić's NFB films also included complex backgrounds, accessories and camera movements, as seen in his second NFB project, Who Are We? (1974), a "short animation [that] takes us on a humorous tour through the varied phases and faces of Canadian history."[v]
Who Are We?, Zlatko Grgi?, provided by the National Film Board of Canada
Zagreb's Artists and Man the Polluter
Grgić's artistry was so well received in Canada that soon after, several other artists from Zagreb Film were invited to work with the NFB. The first one was Boris Kolar, whose first NFB short was The Specialist (1971),[vi] "about a highly proficient lady bricklayer, graduate of Specialists' School, whose work takes her high up in the world, and her erstwhile friend, whose equally dedicated professionalism brings him lower."[vii]
The Specialist, Don Arioli & Boris Kolar, provided by the National Film Board of Canada
The following year (1972), Zagreb Film and the NFB released the feature-length anthology Man the Polluter, which consisted of 14 shorts. (For more information on the genesis, production and distribution of this film, please read Albert Ohayon's blog post.) Man the Polluter's subject was relevant then and has become even more significant over time:[viii] "[It] enlarges on man's capacity to foul his own nest, and to ignore it… The film transmits its warning with unflagging humour, imagination, movement and design."[ix] To commemorate the 50th anniversary of this film, we're releasing its original version, which has never been shown and never been available to the public.
MAN THE POLLUTER, , provided by the National Film Board of Canada
Zagreb Film and the NFB had decided to create a second version of the film, to make it more appealing for sales in North America and Europe. In my view, the original is more interesting, as it uses actors to play in comical segments that introduce and serve as transitions between the animated pieces (as opposed to the second version, which employs comments by Dr. Fred Knelman as transitions).
Zagreb Film contributed the following seven remarkable shorts[x] to Man the Polluter: History of Pollution (00:03:21–00:09:10), credited to Dušan Vukotić, in which the director represents evolution as the biblical devil; Seesaw (00:12:17–00:13:09), credited to Dušan Vukotić and Milan Blažeković, about a seesaw that allows humans to breathe clean oxygen; Ideal Silence (00:19:48–00:22:22), credited to Aleksandar Marks, on the creation of a super hero who makes sound pollution disappear; Reduction of People (00:22:42–00:25:42), credited to Boris Kolar, in which the director suggests a way to avoid overpopulation; Love Story (00:26:07–00:28:53), credited to Zlatko Bourek, in which science replaces humans with robots; Hypnotism (00:29:01–00:30:53), credited to Ante Zaninović, about the easily influenced human mind; and Brain Mechanized (00:41:35–00:43:05), credited to Nedeljko Dragić, about creating mechanized angels.
The NFB contributed several great films as well, including Dinosaur-Man (00:10:07–00:12:16), in which the filmmakers portray our evolution into dinosaurs; Waterdrop (00:12:28–00:14:35), in which a drop of water is broadcast on a TV show; and Time Machine (00:14:48–00:19:37), in which the director proposes a means of getting rid of pollution; among other great pieces.
Man the Polluter is the result of a veritable convention of geniuses, and the epitome of animation: a film that deals with extremely serious subject matter and leaves you wondering whether to laugh or cry.
Deep Threat
In total, 18 artists[xi] from Zagreb Film participated in the creation of Man the Polluter, including Tea Brunšmid (editing) and Tomica Simović (music[xii]). Although in the NFB's film files Grgić is credited for directing Vulture, his name does not appear in the final credits of the film. However, Deep Threat (1977), his last project at the NFB, revolves around a similar theme. The film deals with "how humans evolved from the sea and the problems that ensued. Using humour, [Grgić] shows how industry leads to waste and pollution, which in turn wreak havoc on the delicate balance of our ecosystems."[xiii]
Deep Threat, Zlatko Grgic, provided by the National Film Board of Canada
A Unique Legacy
The timeless and innovative body of work discussed in this blog post was created thanks to a unique international collaboration. This is a great example of how an encounter between artists from different cultures can result in outstanding filmmaking. The NFB has always been deeply invested in new collaborations, and I hope we'll continue to see remarkable co-productions with organizations in other countries. Hundreds of talented filmmakers in Asia, Africa and Latin America also eagerly await the opportunity to share their work with the rest of the world.
Curator's Note: This instalment of Curator's Perspective relied on the generous assistance of the NFB's Vault, Archives and Library staff.
---
[i] Mazurkewich, Karen (1999). Cartoon Capers: The History of Canadian Animators. Toronto: McArthur & Company, p. 31.
[ii] Grgić's Dream Doll (1979, Zagreb Film) was nominated for an Oscar, and the Animafest Zagreb – World Festival of Animated Films named an award after him: the Zlatko Grgić Award for "Best First Film Production Apart from Educational Institutions."
[iii] For his animated short The Musical Pig (1966), produced by Zagreb Film, available here: https://www.youtube.com/@ZagrebFilmOfficialChannel
[iv] Hot Stuff NFB film description: https://www.nfb.ca/film/hot_stuff/
[v] Who Are We? NFB film description: https://www.nfb.ca/film/who_are_we/
[vi] This film was made with two Canadian artists and eight artists from Zagreb Film. Photography: Ivan Hercigonja, Valerija Horvat; Animation: Boris Kolar, Turido Pauš; Assistant: Zdravko Pavičić; Sound: Mladen Prebil; Music: Ozren Depolo. Music Editor: Tea Brunšmid. Source: credits in the NFB's film file for The Specialist.
[vii] The Specialist NFB film description: https://www.nfb.ca/film/the-specialist/
[viii] The 27th United Nations Climate Change Conference (COP27) was held in Nov. 2022 in Egypt, and governments from all continents agreed to provide billions to halt forest loss around the world. See "COP27: Leaders Boost Sustainable Forest Management" at https://unfccc.int/news/cop27-leaders-boost-sustainable-forest-management
[ix] Man the Polluter NFB film description: https://www.nfb.ca/film/man_the_polluter/
[x] Credits and titles taken from a letter sent by Boris Kolar (artistic director of Man the Polluter) to Don Arioli and from a script sent on January 16, 1972. Both documents are from the Man the Polluter film file in the NFB's archives.
[xi] Boris Kolar, Ante Zaninović, Zlatko Bourek, Milan Blažeković, Dušan Vukotić, Vladimir Jutriša, Nedeljko Dragić, Alexandar Marks, Nikola Petričić, Pavao Štalter, Rudolf Borošak, Zvonimir Lončarić, Srdjan Matić, Branko Varadin, Teofil Bagašić, Frano Malogorski, Tea Brunšmid and Tomica Simović.
[xii] Tomica Simović had composed the music for Ersatz (1961) by Dušan Vukotić, winner of the 1962 Oscar for Best Animated Short.
[xiii] Deep Threat NFB film description:  https://www.nfb.ca/film/deep_threat/
Header image: Man the Polluter: History of Pollution (1972) credited to Dušan Vukotić