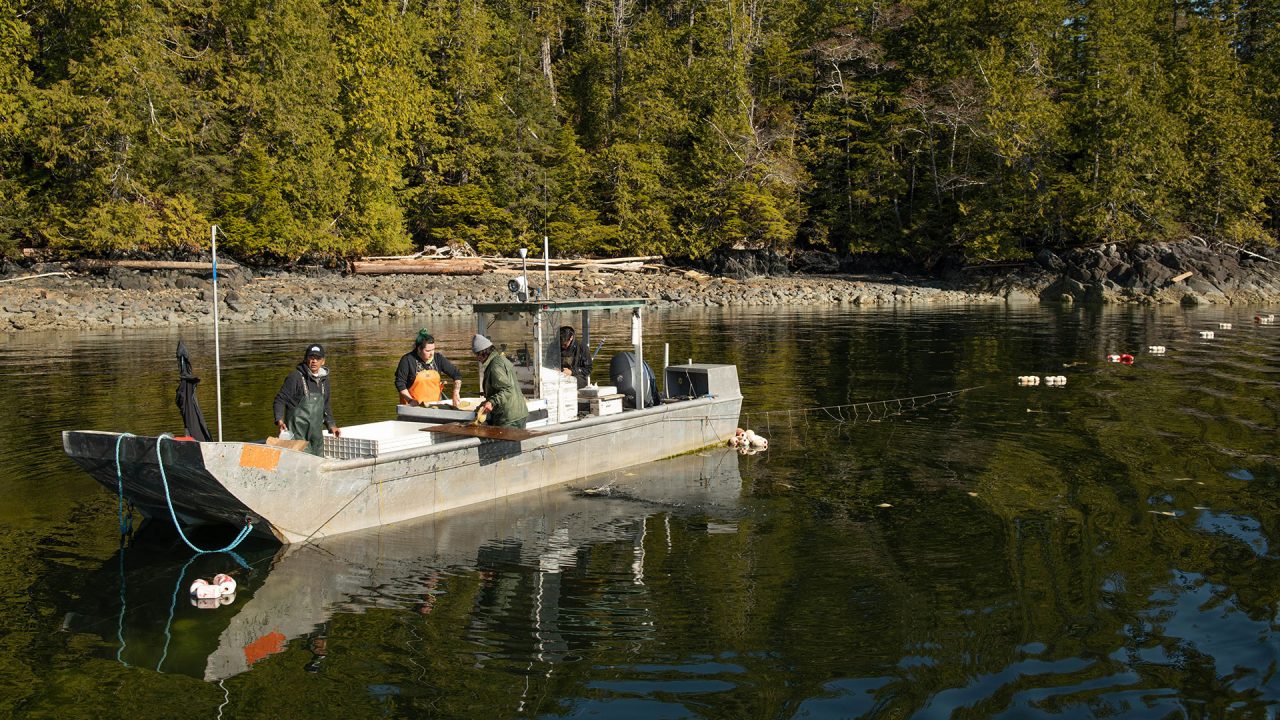 Ocean School | Why Are Pacific Herring Important?
At a glance:
Target age group:  Middle School (Grades 6–8), but could be easily adapted for students in Grade 4–10.
Time: Three-part lesson sequence; four or five one-hour classes.
School Subjects:
Science

Life Systems/Ecology
Biology

Indigenous Knowledge
Topics:  Pacific herring, Lifecycles, Traditional Indigenous Knowledge, Commercial fishing, Ecosystem management
Key Concepts:  Indigenous Knowledge, Interactions and interdependencies, Sustainability
Background
Excitement builds in late winter along the British Columbia coast. Whale activity increases, sea lions move in closer to shore, gulls and other sea birds start to gather. Researchers, citizen scientists, fishers and curious nature lovers all wait. And then, just after the full moon in March, reports begin to flood social media, the barking of sea lions can be heard all along the shore and the seiners head out from the dock. The Pacific herring spawn has begun.
Two years ago, there was a herring spawn event at the end of my road in Campbell River, BC. The water turned turquoise blue and it looked like we had been transported to the tropics. Filled with curiosity, my family and I set off to explore the beach. We found it covered with tiny white eggs, some spawned-out herring and thousands of birds. I brought my newfound excitement for herring back to my Grade 8 Science classroom and was surprised by how little my students knew about this important little fish.
Fast forward a year and a half, and I discovered that Ocean School had an interactive collection about the importance of herring to the Haíɫzaqv (Heiltsuk) People on BC's Central Coast. This blog post will share how I used part of Ocean School's "The Harvest (Bák̓vṇx̌)" collection and other resources to teach my students about the herring.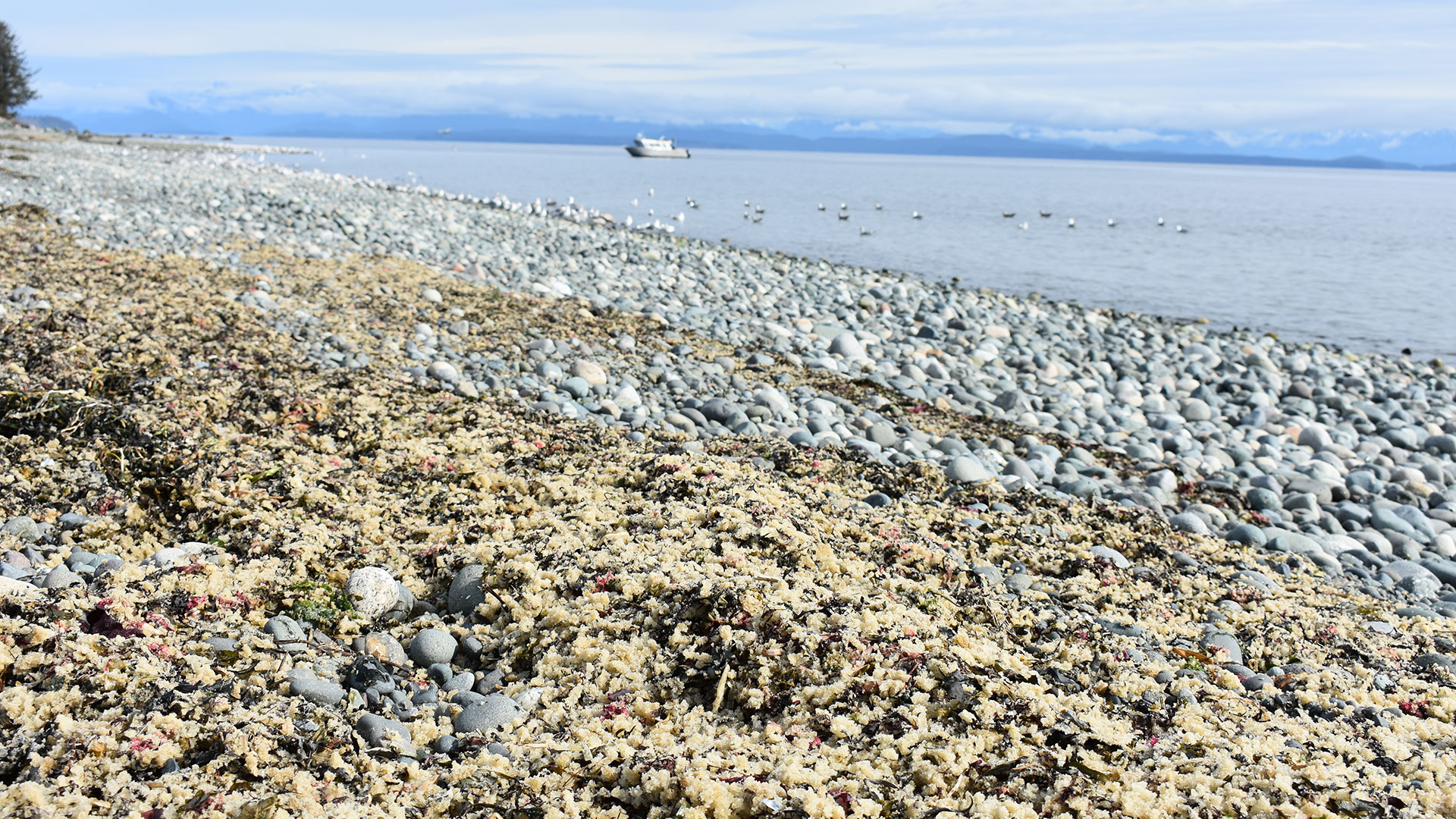 Part 1:  Accessing prior knowledge
To access their prior knowledge about herring, I had my class complete a quick anticipation guide with 10 true or false questions about Pacific herring. They also had to make a prediction to answer the essential question: Why are Pacific herring important? When I did this with my class, I worked in some partner talk time to discuss each response and make their predictions. Students shared their predictions with the class, and we recorded these on the whiteboard as a reference throughout the lesson sequence.
You can find a copy of the slides I created as an anticipation guide here. These can be modified to suit the level and needs of your students. The answers to the true/ false questions are included, but I would recommend not sharing these with students until the close of the lesson sequence.
Part 2: Using "The Harvest" as a resource
For the next part of the lesson sequence, I booked a class set of laptops and shared the Ocean School lessons with my students via Teams (this can also be done using Google Classroom). My goal was to have students understand the importance of herring, so I chose to assign the "Herring Handbook," "Spot the Spawn" and "Herring Census" activities for my class to work through over the span of three, one-hour-long blocks.
By completing the "Herring Handbook" activity, the students learned about the importance of herring to the ecosystem of the Pacific Ocean. In the "Spot the Spawn" activity, students were engaged by the multimedia flyover and were excited to model the act, compiling data from flyovers and observations to make predictions about where the herring were spawning. We were able to carry over the conversation about healthy herring populations from the "Herring Census" activity into our grade 8 Math class.
We discussed using the herring population samples to form ratios to make estimates of the larger populations, which is a perfect fit with the Grade 8 math content on ratios and proportional reasoning. Students were engaged in the act of collecting their data to put in a spreadsheet. My Grade 8 students needed some guidance during the discussion of what the data meant and how it could be used to answer questions of harvestability. With support, most students were able to make connections between the sets of data and maintaining a healthy herring stock.
Part 3:  Taking action
To conclude this lesson sequence with my class, we watched the video from "Take Action for a Sustainable Future" together. We connected the Haíɫzaqv concept of c̓ isḷá (taking care) to our local Ligwilda'xw concept of maya'xa̱la (meaning "respect" in the local Kwak̓wala language). As a class, we discussed ways we can look after our local environments, especially the ocean. We brainstormed possible action projects and were inspired by Jordan Wilson's call to join in local monitoring projects.
While not directly related to the herring spawn lesson, several of my students did get involved with our local aquarium's Sea Star Wasting monthly surveys, and as a class we have participated in several beach clean-ups this year. Other students started following a local herring spawn survey group (Pacific Herring Spawn Reporting – IMAWG) on Facebook and would share updates with the class while the herring spawn was active this spring.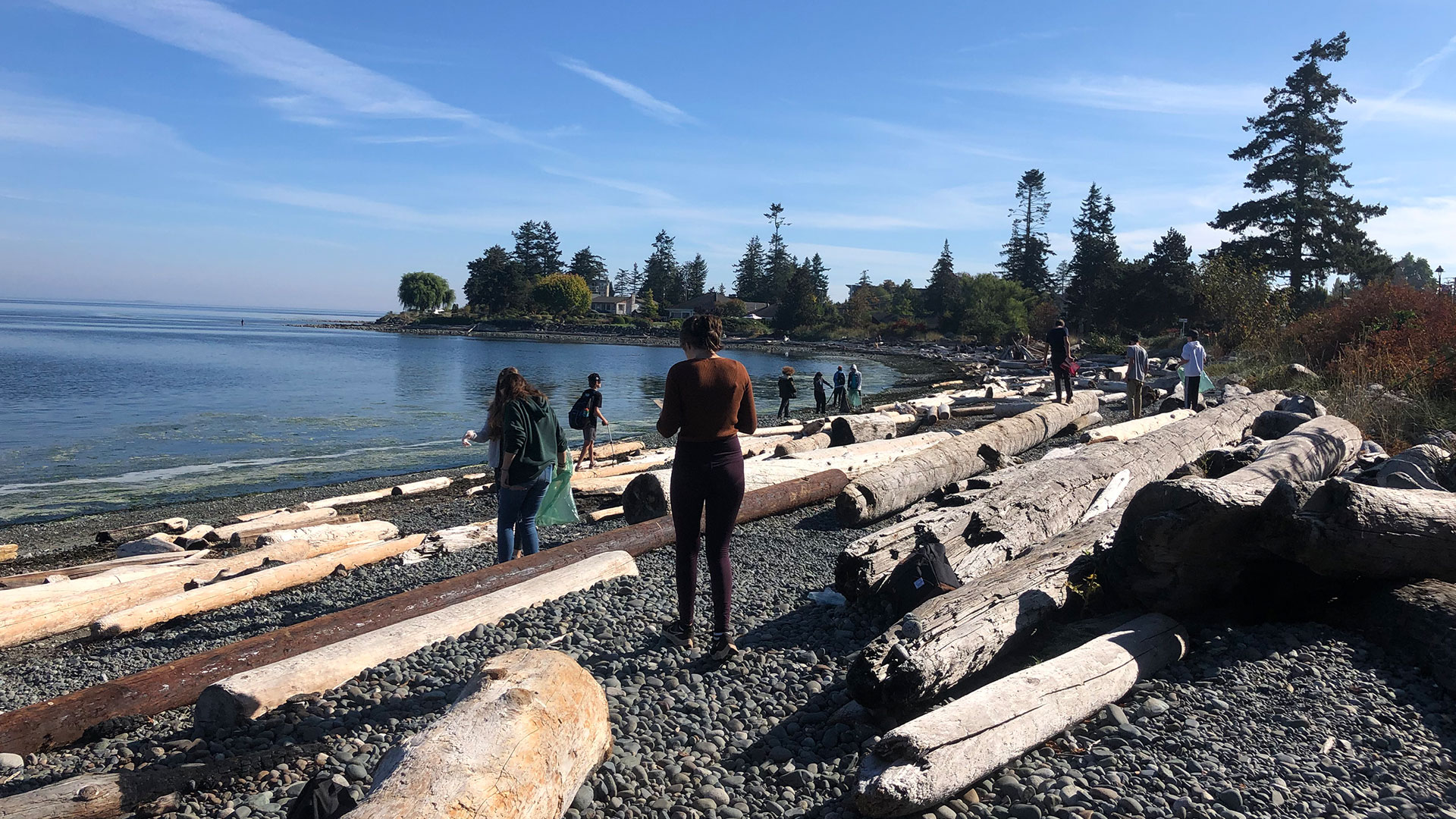 Closing thoughts
In exploring this lesson sequence, my students learned more about the importance of herring. They discovered the role that herring play in the ecosystem and gained a sense of what goes into monitoring and managing a species of economic and cultural importance. Using the Ocean School platform allowed for the information to be delivered directly to the students, rather than spending an inordinate amount of time searching the Internet for info and resources.
It's great to have an interactive tool such as Ocean School to engage students in a topic that is curated for their level of learning. There is much more to be explored in "The Harvest," and I look forward to diving into even more of the content and activities in the future.
Resources
"The Harvest (Bák̓vṇx̌)" collection – Ocean School
Pacific Herring: Past, Present and Future
Kim Zumach is a mother, teacher, ocean advocate and nature-nerd. She lives, learns and teaches on the beautiful territory of the Ligwilda'xw Peoples in Campbell River, British Columbia. When not in the classroom teaching eighth graders, she can be found exploring on and around Vancouver Island by kayak, paddleboard, hiking boots or mountain bike. Kim is constantly inspired by the natural world and loves adventuring to new places with her two children, husband and dog.
Pour lire cet article en français, cliquez ici.
Discover more Educational blog posts | Watch educational films on NFB Education | Watch educational playlists on NFB Education | Follow NFB Education on Facebook | Follow NFB Education on Pinterest | Subscribe to the NFB Education Newsletter