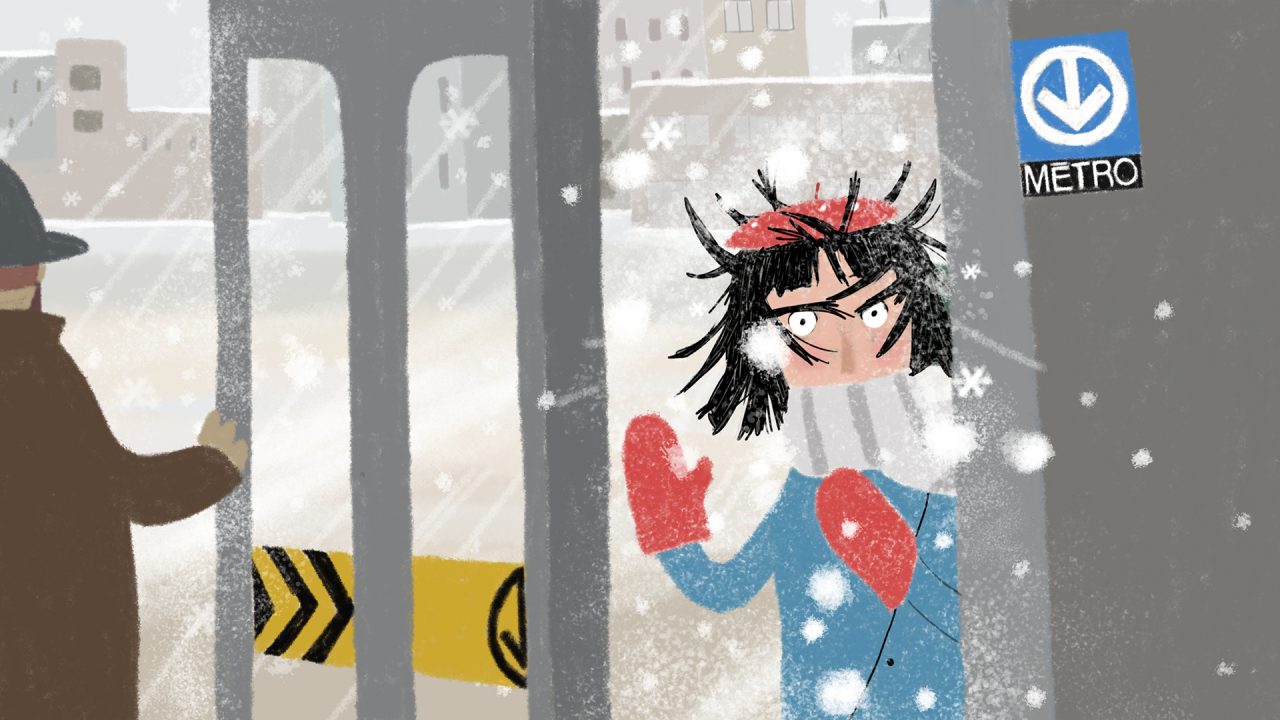 Mini-Lesson for The Girl With The Red Beret
Mini-Lesson for The Girl With The Red Beret
School subjects: French as a second language
Ages: 12–14
The Girl With the Red Beret, Janet Perlman, provided by the National Film Board of Canada
Keywords/topics: Charity, cultural reference points, expressions and regionalisms, familiar language, feelings, francophone culture, living together, multiculturalism, mutual aid, Quebec culture, respect for cultural differences, sense of belonging, sports, sports equipment, theft, values.
Overarching question: How can a story told through images and based on a Montreal folk song help bring about a better understanding of the local culture?
Note: This film features familiar language and colloquialisms.
Educational synopsis: The activities in this mini-lesson were designed to encourage students to express their feelings, use critical thinking, put interaction strategies into practice and develop an attitude of openness to cultural diversity. Teachers can help them recognize and understand the vocabulary that has particular cultural resonance, as well as common French expressions. The extension activities listed in the Take Action section can be used to enhance classroom learning; they also provide an opportunity to deepen students' language skills.
Before viewing the film: The teacher starts by putting the students into context, activating their prior knowledge and letting them know they will watch the film three times and complete four activities.
Activity 1: Expressing feelings
Explain to the class that the first activity is about sharing how certain scenes make us feel. Start by screening the film all the way through to familiarize the class with the story. Then show it a second time, but this time, pause on certain images. The purpose of this is to give the class a chance to discuss how they feel in relation to certain scenes (see below) and answer the related questions.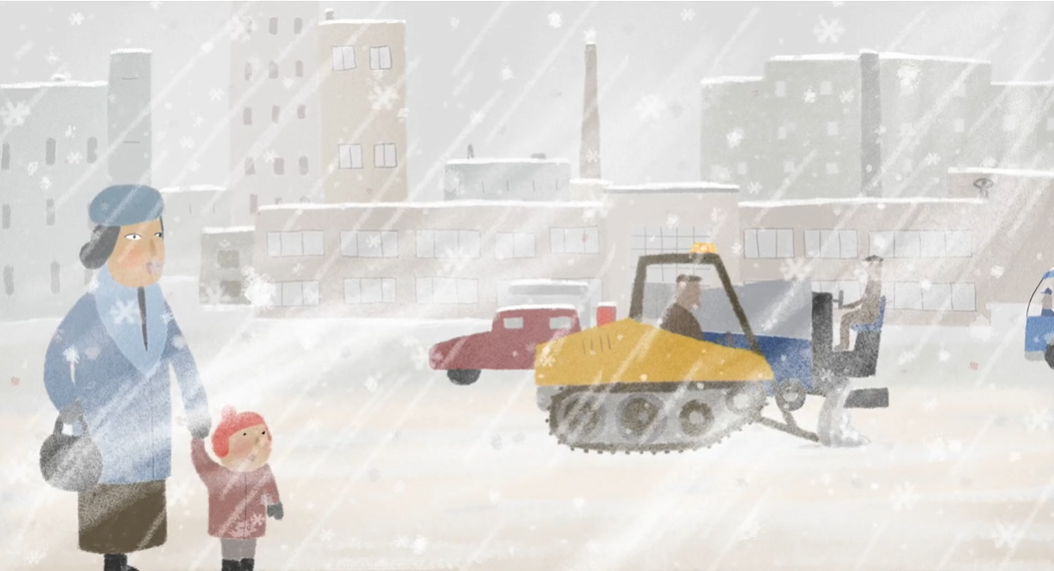 (0:18) Lève la main si tu as déjà vu une tempête de neige. Quelles émotions cette tempête t'a-t-elle fait vivre ?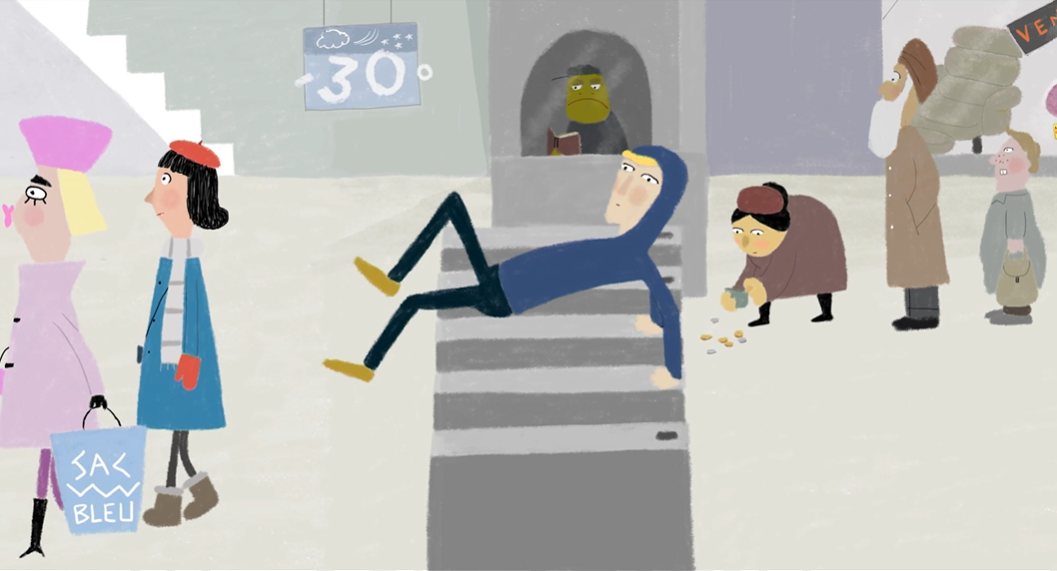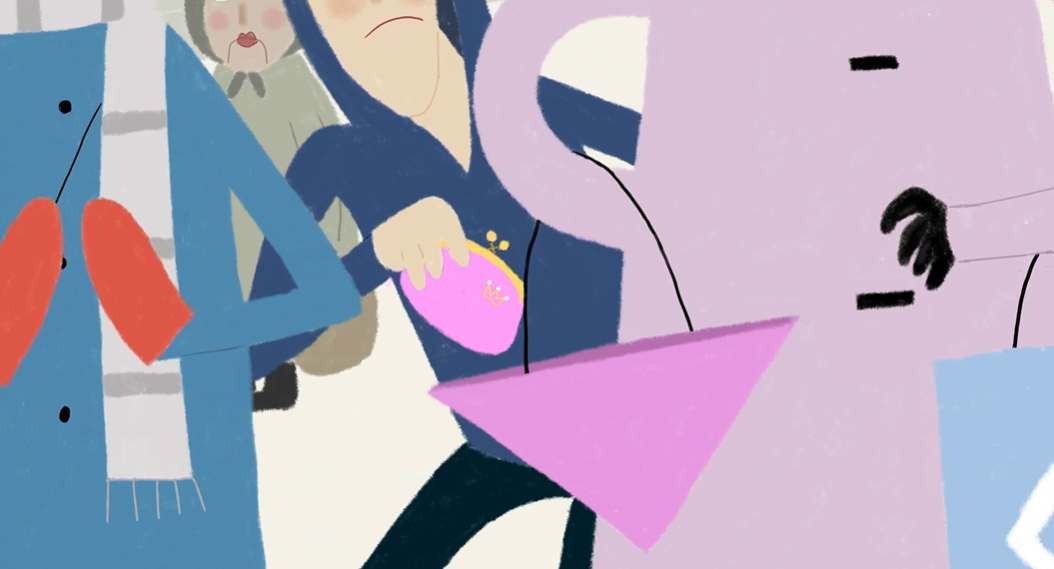 (0:53 and 1:10)  Comment te sens-tu lorsque tu vois quelqu'un enfreindre les règles et les lois ?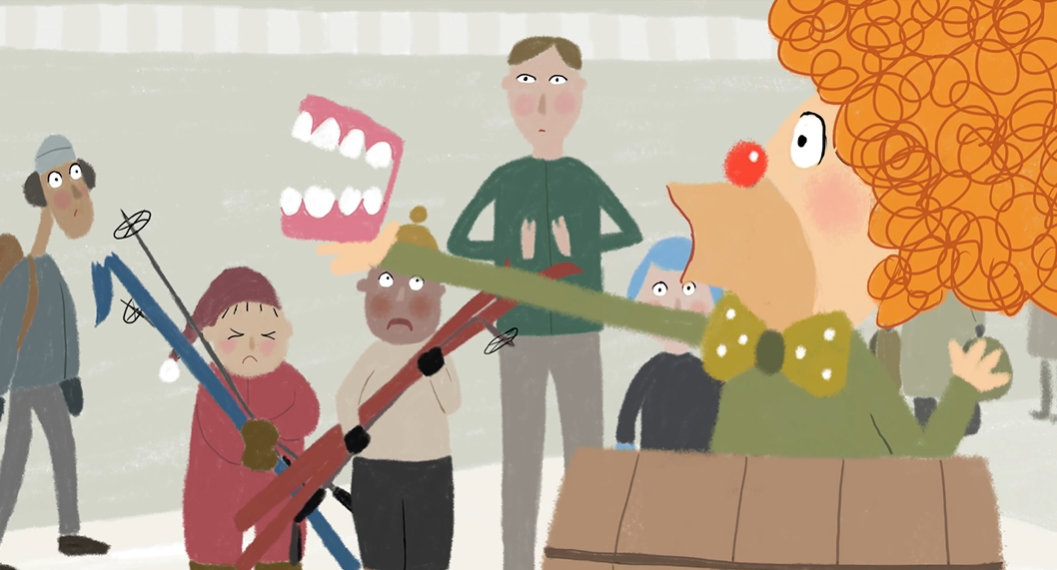 (1:12) Si tu assistais à cette scène, comment réagirais-tu au spectacle du clown ?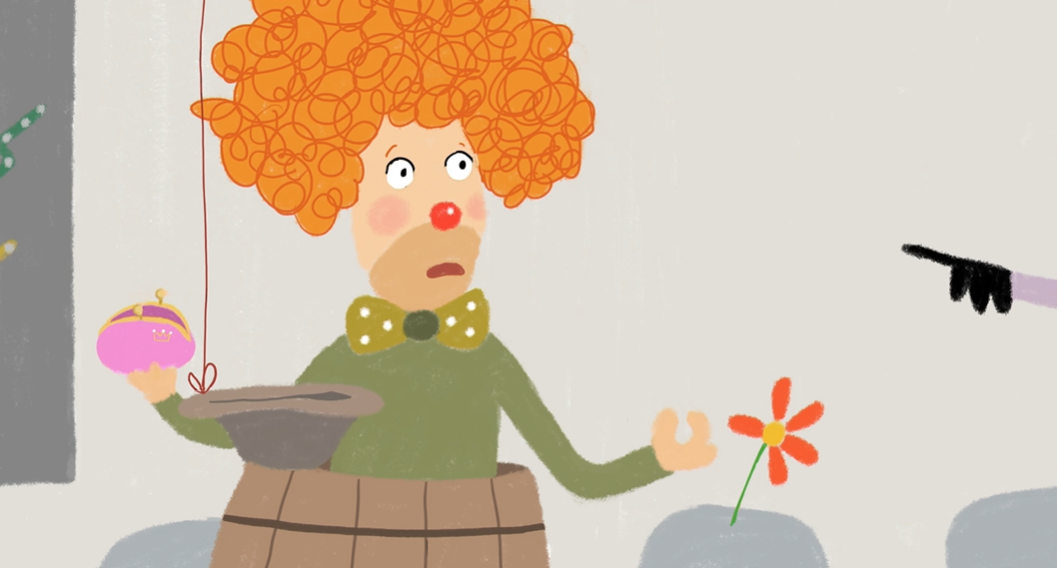 (1:57) Si quelqu'un t'accusait à tort, comment te sentirais-tu ?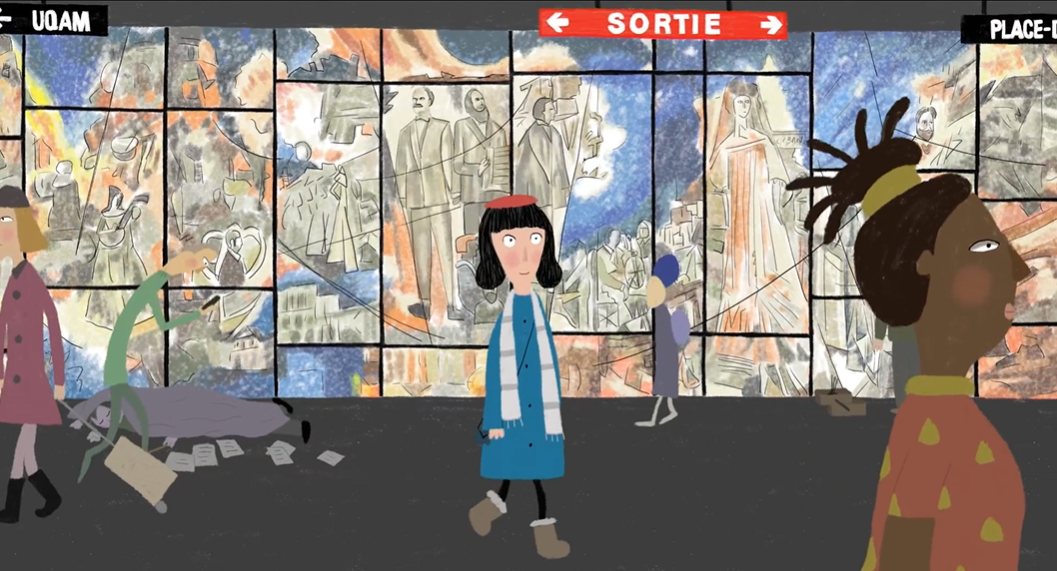 (4:07) Quelles émotions ressens-tu à la vue d'une personne en situation d'itinérance ?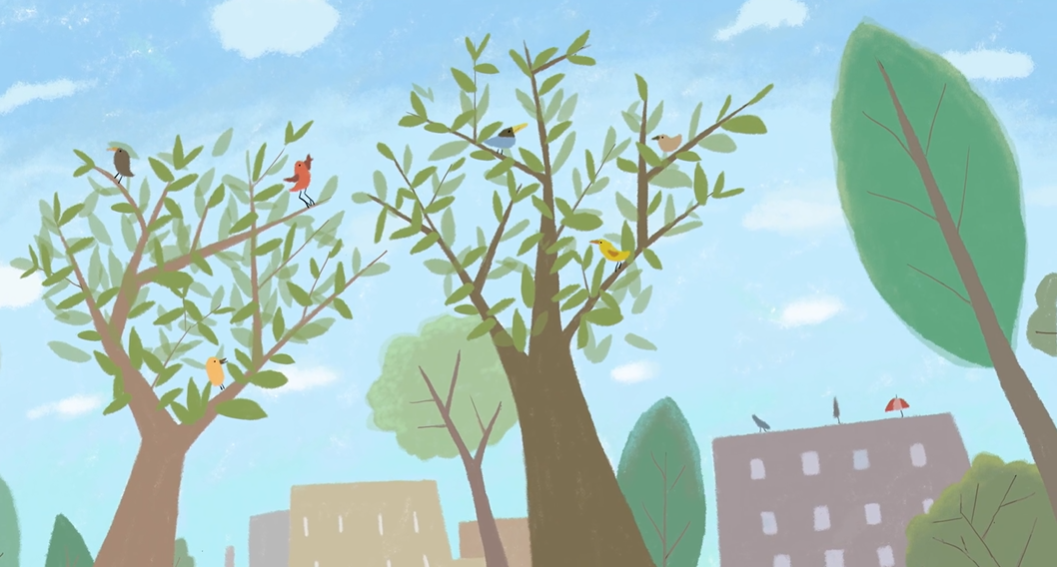 (4:15) Comment te sens-tu à l'arrivée du printemps ? Pourquoi ?
Activity 2: Semantic mapping
After discussing their feelings in relation to the above scenes, introduce the second activity, which consists of watching the film a third time, this time writing down as many words as they can come up with based on what they see onscreen. These words can then be organized in a semantic map, divided into five categories: saisons et météo, sports et équipements, véhicules, vêtements and personnages.
For this activity, you can invite the class to form teams of two or three. Each team can be allocated one or more categories, based on your students' ages and level of understanding. Once everything is ready, play the film for the third time.
To optimize this task, we suggest stopping the video at the end of each minute to give students time to write down more words. Once they have completed the task, each team presents their semantic map, highlighting the words they've identified and classified.
To share all the results, you can copy the words as they are presented into a large chart or table that everyone can see. This will enrich the discussion and spotlight the different words identified during the activity.
Summary
Taking a collaborative approach gives students a chance to learn from each other as well as deepen their understanding of the vocabulary associated with the topics addressed. The teacher can also support their learning by offering further explanations as needed.
Activity 3: Affinities and differences
For this activity, ask the following question: "How can a story that's told through images and based on a pop song help us better understand the culture of a city or region?" Invite students to form groups, discuss the question among themselves, then share their answers.
Once all the responses have been discussed, encourage them to identify and share their own affinities and differences regarding the cultural references in La fille au béret rouge.
This is aimed at stimulating thought on how the story reflects and enriches a local culture by highlighting the specific elements identified by the class as having particular resonance.
Summary
Inviting students to share their own cultural affinities and differences helps foster or improve mutual understanding within the group and encourages constructive intercultural discussions. It can also help students better appreciate the richness and diversity of Montreal culture.
Activity 4: Illustrated booklet of 10 expressions and regionalisms
The list below contains expressions or regionalisms from various scenes in the film. Say each one aloud, then show it in context by playing the video a few seconds before and after the scene in question. Then have students discuss, research and make drawings inspired by these expressions in the attached Recueil des régionalismes (the booklet provided to them, which is to be printed out, cut in half and stapled).
This activity focuses both on understanding colloquial expressions and regionalisms and on their cultural and historical context. Students will be immersed in an enriching learning experience that will broaden their understanding of French and the unique character of a local culture.
(0:24) Il fait un vent à écorner (décorner) les bœufs.
(0:34) Faire une crise du bacon.
(0:53) Y fait fret.
(1:07) Faire le clown.
(1:13) C'est épeurant.
(1:18) Le voleur est ratoureux.
(2:00) Les policiers ne niaisent pas avec la puck !
(4:23) Y a plein de bibittes ou plein de maringouins.
(4:43) Les gens ont revolé !
(4:47) Pour la fille au béret rouge, tout est tiguidou !
Take action: Analyze the theme song, "Complainte pour Sainte-Catherine," then compose your own song
1) Have students study the lyrics of the song "Complainte pour Sainte-Catherine," performed by singer-songwriter duo Kate and Anna McGarrigle. This is another opportunity for students to explore Montreal culture, history and political and social references. It also encourages them to reflect on the power of art and music to express collective ideas and emotions.
Here's an interesting explanation of the line, "Y a longtemps qu'on fait d'la politique / Vingt ans de guerre contre les moustiques": the first studies of the rivers around James Bay were conducted in the 1950s. On the hydroelectric jobsites, the workers had to deal with mosquitoes, black flies and horseflies. Some even suffered from painful swelling and mobility loss! In the 1970s, the provincial government secured Quebec's future energy supply and brought about a better understanding of the province's biting insects by asking the Groupe de recherche sur les insects piqueurs (GRIP) to provide solutions to the workers.
2) Once students have analyzed the lyrics, have them create their own songs about their city or region. These songs can then be proudly displayed for the rest of the school to enjoy!
Additional Resources
Song Lyrics for Complainte de la Ste Catherine
A Université de Sherbrooke graduate in Special Education, Geneviève Plante is co-author of Les pictogrammes, parce qu'une image vaut mille mots. An avid traveller, she spent eight years abroad, including a period at the Overseas School of Colombo in Sri Lanka, where she taught French as a second language. She is also a member of the NFB's Educator Network. A dedicated educator with over 20 years' experience, she stands out for her ability to connect with her students and craft original, memorable teaching/learning situations.
Pour lire cet article en français, cliquez ici.
Discover more Mini-Lessons | Watch educational films on NFB Education | Watch educational playlists on NFB Education | Follow NFB Education on Facebook | Follow NFB Education on Pinterest | Subscribe to the NFB Education Newsletter