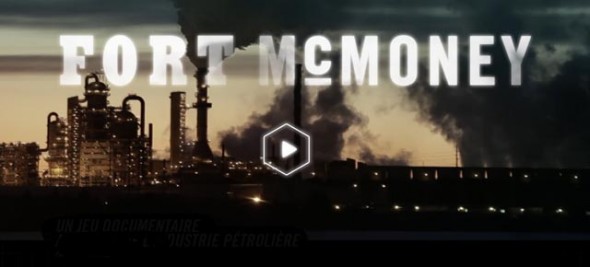 Fort McMoney | New Interactive Game to Launch Nov. 25th
Interactive
Starting November 25, people everywhere can take control of Fort McMurray, Alberta, and decide the fate of the world's largest energy project when they play Fort McMoney. With over 2 years of research, 60 days of filming and 55 interviews, Fort McMoney is an innovative new documentary game from TOXA and the NFB, in association with ARTE.
Created by David Dufresne, Fort McMoney is a trilingual (English, French and German) immersive online experience set in Fort McMurray―sometimes called "Fort McMoney"―a boom town that is going to play a critical role in determining the energy future of the planet. Over a 4-week period, users will have the power to decide the virtual future of the city while learning more about its social, economic, political and cultural history in order to better understand what's at stake.
"It was obvious to us from the first shoot that Canadian Prime Minister Stephen Harper got it right when he said these oils sands were truly 'an enterprise of epic proportions.' That magnitude inspired us to create a wild narrative, blending the video game experience with the documentary approach. The landscape guided the choices we made in crafting this exploration of Fort McMurray that is on par with its development: boundless," said David Dufresne, Fort McMoney creator.
Fort McMoney will launch at the prestigious International Documentary Film Festival Amsterdam on November 25. Prelaunch events will be taking place on November 18 in Paris at the Forum des Images, followed by public events in Montreal at the Montreal International Documentary Festival (Rencontres internationales du documentaire de Montréal) on November 20, and in Toronto at the Planet in Focus Environmental Film Festival on November 22.
Fort McMoney is a genuinely collective and social experience, available online and iPad. Geared both to passive users and more experienced gamers, this unique project inventively pushes the boundaries of the interactive documentary world.
The game experience
Every week for 4 weeks, users will have the opportunity to explore the city through the lens of a different theme. They'll be able to virtually walk through Fort McMurray, meet its residents, ask them questions, make decisions, and see how their choices play out.
Fort McMoney gives users the opportunity to make up their own minds about the topics it raises, through access to a painstakingly researched documentary, testimony from residents and other interested parties, facts, interviews, and video clips, as well as a map of oil extraction sites in Fort McMurray. With all this info at their fingertips, people will be able to make decisions related to economics, politics, and environmental and social issues, and the choices they make will influence the story. Fort McMoney has been designed to accommodate all levels of interactive involvement; from web skimmers to documentary fanatics, from novices to hard-core gamers—and each player experience is unique.
Each week will end with a referendum whose results will affect the course of the game. Users will be able to put forward their views and do their best to convince other players to see things their way. Will players make the economy a priority―or the environment? Fort McMoney will help people develop their own answers and fully grasp the issues surrounding Canada's oil sands.
Fort McMoney is being presented in partnership with The Globe and Mail and Radio-Canada. The game will be available on these news sites, as well as on fortmcmoney.com. International media partners include Le Monde and Süddeutsche.de.
"The Globe and Mail has covered Fort McMurray for quite some time so we are delighted to be a presenting partner of Fort McMoney," said John Stackhouse, editor-in-chief of The Globe and Mail. "The region presents a very complex challenge for Canada. We look forward to interacting with players and to the viewpoints that will arise from this unique form of storytelling."
"We are proud to be participating in this interactive documentary game, a new way of telling stories while simultaneously addressing a very timely topic. The project is truly innovative since it combines gaming and social issues and lets Internet users influence the prosperity of an industrial city as well as the consequences of its development. This interactive experience is entertaining from the start and deals with economic, social and environmental issues that are of concern to us all," explained Jérôme Hellio, Director of Internet Content at Radio-Canada.
About Fort McMurray and Canada's oil sands
Over a 10-year period, Fort McMurray's population has shot up from the tens of thousands to well over 100,000 people. Today, more than 1.5 million barrels of oil are extracted from the oil sands, and over the next 20 years that number will increase to 5 million barrels a day.
Canada's oil sands are the third largest oil reserves on the planet. But it's oil that comes with an environmental cost, accounting for 7 percent of Canada's total greenhouse gas emissions. With billions of dollars, energy independence, environmental concerns and crucial issues at stake, tensions are sky-high between those for and those against extracting that precious black gold.
About David Dufresne
David Dufresne is a documentarian, author and co-director of the web documentary Prison Valley, which received international acclaim, including the 2011 World Press Photo Multimedia Award (Best Non-Linear Project). In 2012, Dufresne published Tarnac, magasin général, which won the 2012 Prix des Assises du Journalisme. A former reporter for the French daily newspaper Libération, and editor-in-chief for iTélé (part of the Canal + Groupe), Dufresne is also a founding member of the investigative website Mediapart.