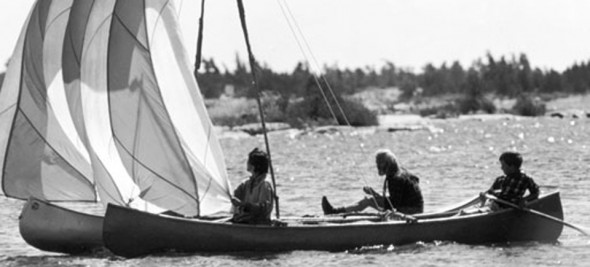 Winter's a Bummer! 5 Films About Summer
Films
So this whole winter thing's getting a bit old, huh? It'd be real nice to hit up a beach and soak up some rays right about now…
Well, if you can't afford that sunny vacation or can't get the time off work, we've got the next best thing: a selection of NFB films, old and new, about that glorious season we all know as summertime. Whether it's languishing on the beach that you like or cracking a baseball across the diamond, we've got something for you.
Got a 2-year-old at home? Then you can imagine what it might be like to canoe, sail, camp, and trek across Canada with the little one in tow. Oh, and a dog. Husband-and-wife team Karsten Heuer and Leanne Allison (Being Caribou) are the penultimate outdoorsy types. Fans of Canadian literary icon Farley Mowat (known for his enviro-conscious books, such as 1972's A Whale for the Killing and 1961's Owls in the Family), Heuer and Allison began corresponding with Mowat until the latter invited them to visit him at his east coast home. No strangers to adventure, Heuer and Allison must of course take the trip in the most imaginative way possible: by tracing Mowat's own steps across Canada via his greatest books.
But Bill Mason did it decades ago: the outdoorsman/filmmaker documented his family's life in the wilderness in the short 1978 documentary Song of the Paddle. The Masons set out to "rediscover a sense of awe for the land" and pass their green ethic on to their curious, fun-loving children. Skip to the 28:40 mark to see the adolescents thrilling in the power of white waves crashing against rocky cliffs. "When the wind blows, civilization could be a thousand miles away… until the waves subside," muses Bill. Sounds like a heavenly escape to me!
Experience the great outdoors in the summertime, all sparkling lakes and shimmering skies, in these docs featuring two adventurous and sprightly families.
Song of the Paddle, Bill Mason, Office national du film du Canada
Finding Farley, Leanne Allison, Office national du film du Canada
This is one of my personal faves! Despite the fact that I was dinged by a softball in the eye last summer while playing with my recreational team, I continue to be charmed by baseball and its lasting associations with old-timey Americana. But the history of women's participation in baseball is rife with controversy and struggle (as women's participation in anything male-dominated has always been). Lois Siegel's funny yet critical examination of female baseball players is a real heart-warmer (did I forget to mention that I watched A League of Their Own about two dozen times as a 12-year-old girl? Baseball Girls is a perfect companion, and fans of one film will adore the other).
If you want to know more about the genesis and production of this film, head over here for a Q&A with director Lois Siegel.
Baseball Girls, Lois Siegel, Office national du film du Canada
Both of these short animations are a treat, although one is classically beautiful while the other is delightfully weird. Summer Legend is the colourful retelling of the ancient legend of Glooscap, a spirit who battles the cold to bring summer to the Micmac people, a community indigenous to what are now the Atlantic provinces. This ancient tale is reignited through contemporary form in skillfully seamless animation and bright hues. The warmth of summer finally arrives in the form of a beautiful maiden—and we can only hope that the maiden will bestow her powers upon us soon, too!
Summer Legend, Françoise Hartmann, Office national du film du Canada
Under the Weather starts out normally enough: sunbathers set up their towels, radios, beach balls, and umbrellas on the sandy shore. But something's amiss (and, honestly, I didn't even notice it the first time I watched the film). The beach-goers are frolicking under cloudy skies! It's an overcast day and the beach looks grey, yet they seem like they're having fun. Finally, the sun begins to break through the clouds and… (well, I don't want to have to yell "spoiler alert!" so I'll just stop here). Watch these beach weirdos here:
Under the Weather, Tali, Office national du film du Canada
Hopefully this is enough to tide you over for the next few months. Don't despair! The days have already been getting longer since the shortest day of the year, Dec. 21st. Summer will be here soon enough, and these films are but a temporary respite from the cruelty of the cold. Enjoy!