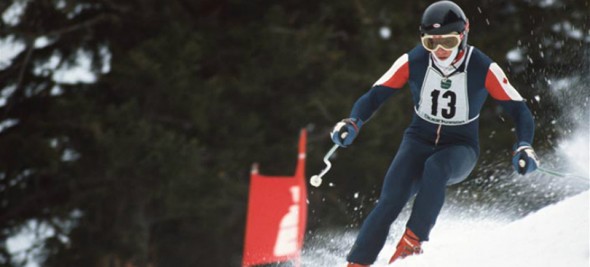 Olympic Fever: watch 9 films about winter sports
Films
As Olympic fever comes to a pitch this week, check out our collection of films on winter sports. Old and new, these films offer a glimpse into the passion, dedication, talent, and spirit of our ambitious athletes (and the downhill racing is particularly heart-stopping!)
Hockey, hockey, and more hockey!
Of course, we have to start this off with Canada's favourite sport: we've got a ton of hockey films for you to peruse.
Looking for hockey history? Check out The Rocket, a portrait of Maurice Richard, one of the greatest players of all time. In French with English subtitles, the film features interviews with the legend himself, as he recounts his introduction to hockey and rise to fame. "I never thought I'd make the team," he says of his first visit to the Canadiens training camp in 1942, "but the war was starting. I don't think they invited many recruits to train that year."
The Rocket, Jacques Payette, National Film Board of Canada
Other films in the category of "hockey history" include the hilariously entertaining short Blades and Brass, a compendium of the best moments of the 1967 National Hockey League season set to Tijuana Brass-style music (what?!), and Just Another Job, a behind-the-scenes look at the Quebec Nordiques' opening season in 1972 (the team was coached by The Rocket himself).
Just Another Job, Pierre Letarte, National Film Board of Canada
Blades and Brass, William Canning, National Film Board of Canada
Looking for hockey heartwarmers? Take a peek at When Hockey Came to Belfast: Paul and Andrew are best friends in a city divided by religion, and yet hockey brings them safety, comfort, friendship, and a love for the game in an atmosphere fraught with tension.
When Hockey Came to Belfast, Linda Conway, National Film Board of Canada
Hit the hill
While the description below La descente is written in French, this short documentary is mostly wordless, with a few words spoken here and there in English, German, and French. The subject of our documentary is skier David Murray who is competing at the World Cup of downhill racing in Austria in 1975. The film is a remarkably hypnotic piece, with incredible slow-motion sequences of massive wipe-outs (skip to 4:50 to see a couple of real doozies; the most telling reminder of just how fast these athletes travel downhill is watching them stumble and roll helplessly as they lose control).
La descente, Paul Cowan & Giles Walker, National Film Board of Canada
Other fantastic skiing films include Canada Vignettes: Skier, a portrait of skier Kathy Kreiner as she prepares for what will turn out to be her Olympic gold-medal race at Innsbruck, and The Sword of the Lord, a look at "Jungle" Jim Hunter, a dedicated downhill racer whose training regimen is mind-bogglingly intense.
Canada Vignettes: Skier , , National Film Board of Canada
The Sword of the Lord, Giles Walker, National Film Board of Canada
A Bit of Figure Skating
Featuring mid-century Canadian Olympian Barbara Ann Scott, An Introduction to the Art of Figure Skating is a charmingly antiquated film intended to get youngsters excited about the sport. Demonstrating the physics, skill, and artistry behind the sport, the film warns against developing bad "mannerisms" such as "clenching or spreading the fingers".
An Introduction to the Art of Figure Skating, , National Film Board of Canada
In more spectacular fashion, Canadian skater Don Jackson gives us a thrill in 1965's King of Blades. Did you know that Jackson was the first skater to land a triple lutz jump in international competition, when he stole the show (and the gold) and the 1962 World Championships? This short documentary follows Jackson as he launches a post-competitive career as a dancer in the Ice Follies.
King of Blades, Stanley Clish, National Film Board of Canada
Believe it or not, these are only a few of the many, many great films we have about the Olympics, as well as films about winter sports in general. Head on over to our "Winter Sports" category at NFB.ca and knock yourself out.
Go Canada go!