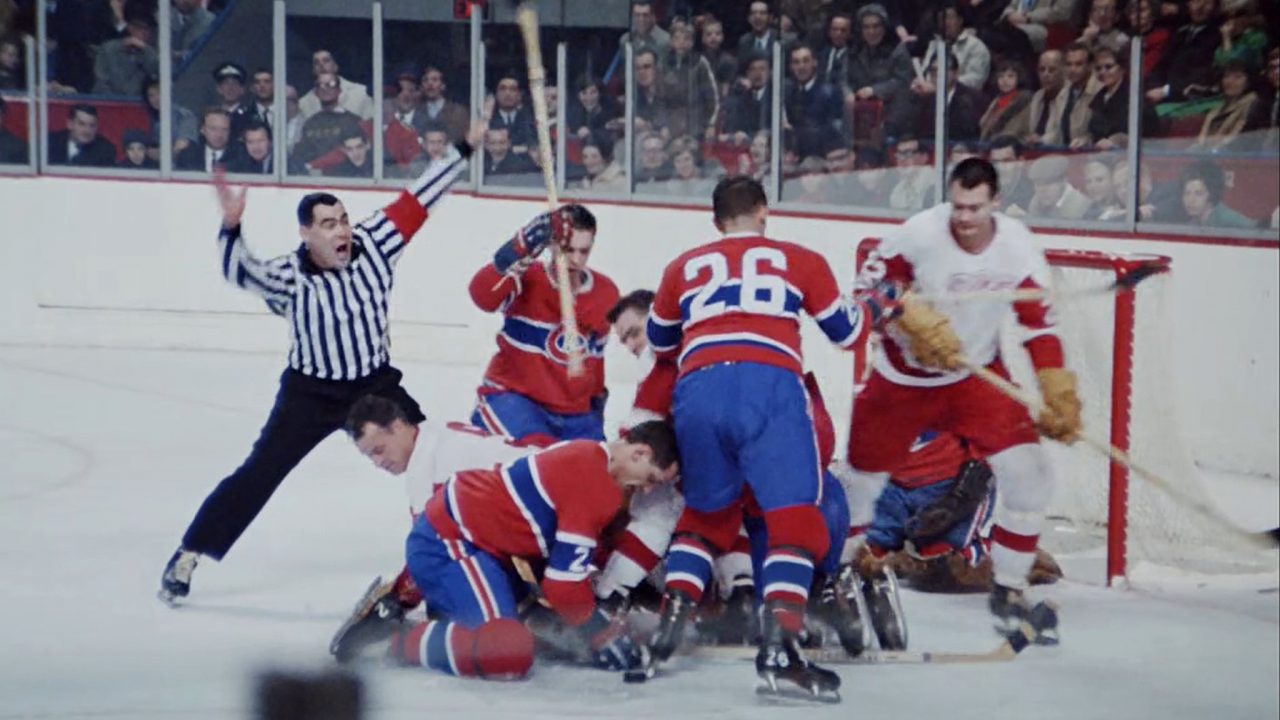 Blades and Brass: Hockey with a Twist | Curator's Perspective
On March 3, 1875, the first-ever organized indoor hockey game was played at the Victoria rink in Montreal. The International Ice Hockey Federation recognizes this date and game as the birth of hockey. To highlight this important date, I thought I would look at one of the oddest of our hockey films, the 1967 short Blades and Brass.
Why is it odd, you ask? Well, for one thing, the soundtrack is composed of Mexican brass music! Yes, you read that correctly. I must admit that the first time I read about this film, I was perplexed. Mexican brass music and hockey? What's the connection? When I finally saw it, I got the connection. How this all came to be is a fascinating story.
It was documentary great Donald Brittain who in 1965 first suggested a film about hockey. Only in his proposal, the documentary would have been about journeymen hockey players who could not crack the NHL and played in Europe instead. I don't know what happened to this idea, as there's no follow-up to this proposal anywhere. Instead, there was a new idea from William Canning the following year to make a short documentary (working title: Hockey Ballet) that would show "the poetic aspects of hockey." He sent a letter to NHL president Clarence Campbell asking for co-operation from the league.
Campbell was very interested, as were the Montreal Canadiens hockey team. It was decided that the NFB would send a crew to the Montreal Forum and do some camera tests to make sure there was sufficient light to film using 35mm cameras. Ordinarily this wasn't a problem, but Canning wanted to shoot several slow-motion sequences, and these required a great deal more light.
The tests were a huge success, so Canning, cameraman Don Virgo and crew then filmed 10 games at the Forum in November and December 1966. Part of the deal was to have all six NHL teams featured in the film. As this was always going to be a film without words, no sound recording was necessary. Some additional close-up footage was shot at a Canadiens practice as well.
Once the editing started, Canning and film editor Dennis Sawyer started to see parallels between hockey and bullfighting in the material they were editing. Canning later said that the two were "similar in their grace and movement." That was when the idea of adding Mexican brass music was hatched. Canning had originally wanted some type of upbeat music, but he hadn't thought more about it until the editing was under way. Don Douglas was brought in to compose the music.
The nine-minute film was released to cinemas in 11 Canadian cities on December 22, 1967 (to accompany the feature The Ambushers), to huge acclaim. It eventually played all over the country and was released in the US, where it had an 18-week run at a major theatre in New York City. It also played theatrically in Angola, Austria, Portugal, Germany and Timor! The last sale prompted Canning to joke that the NHL might want to consider expanding to Timor as there was obviously a market for hockey there.
Blades and Brass, William Canning, provided by the National Film Board of Canada
Clarence Campbell saw the film in a theatre and was extremely pleased. He requested a 16mm copy for the NHL film library (a copy was also sent to the Montreal Canadiens). The film was also entered in several film festivals, winning awards at sports film festivals in Italy and Yugoslavia.
Watching Blades and Brass today is a wonderful, nostalgic experience. Seeing beautiful colour footage of some of hockey's greatest players in action is a treat. Gordie Howe, Bobby Orr, Tim Horton, Jean Beliveau, Bobby Hull and so many others appear. It is also very odd to see the ice with no advertisements whatsoever and only a couple of players wearing helmets, in addition to most goalies not wearing masks. It's footage of an era that's long gone but certainly not forgotten. And, yes, the brass music works very well with the visuals. I defy anyone to watch this film and not hum the music for hours afterwards.
I invite you to discover this unusual short and celebrate this great game that Canada gave to the world: the game of hockey. Enjoy.