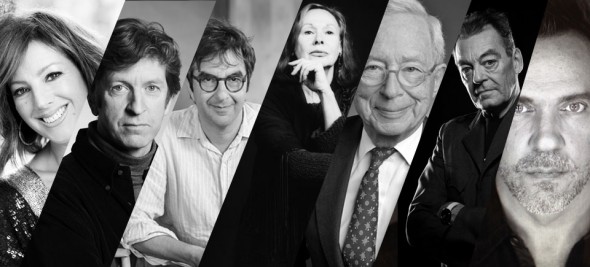 7 Short Films Celebrating the 2015 Governor General's Performing Arts Awards Winners
Films
Every year, the NFB teams up with Governor General's Awards Foundation and Canada's National Arts Centre to produce a short film for each recipient of the prestigious Governor General's Performing Arts Awards. These films act as a tribute and are screened at the Gala Awards dinner in Ottawa, which this year took place this past Saturday night. Directly after their world premiere, we always put them online for free for all Canadians to enjoy.
R.H. Thomson – Five Stories
This short documentary pays tribute to R.H. Thomson, a celebrated and versatile Canadian actor, director, producer and arts advocate. Thomson is acclaimed for his ability to bring Canada's stories and characters to life, both on the stage and the screen.
Born in Richmond Hill, Ontario in 1947, he has played such diverse roles as Glenn Gould, Frederick Banting, Hamlet and Cyrano. He has directed at theatres across the nation and is known for his dedication to his country and the arts. Thomson is being honoured with a Lifetime Artistic Achievement Award. You can read his full bio here.
Sarah McLachlan – Surfacing
This short film explores the passions of acclaimed singer, songwriter and musician Sarah McLachlan, using her own words and drawings to guide us through her rich creative world, the founding of Lilith Fair, and her philanthropic work at the Sarah McLachlan School of Music.
Born in 1968 in Halifax, McLachlan has sold over 40 million albums, earned gold, platinum and multi-platinum awards and has received 3 Grammys and 9 Junos. She is also a committed humanitarian and a passionate promoter of music education. McLachlan is being honoured with a Lifetime Artistic Achievement Award. You can read her full bio here.
"When I have a good show, and I'm connecting with the audience, and I'm playing songs that I've put my blood, sweat and tears into, I feel like I'm doing exactly what I'm meant to be doing."
 Atom Egoyan – Sculpting Memory
This short film places one of this country's most prominent and influential filmmakers within an audiovisual environment created from his own films. It presents an accumulation of pictures and sounds that show the special, evocative nature of Atom Egoyan's remarkable body of work which has garnered critical and commercial success around the world.
Egoyan was born in Cairo, Egypt in 1960 and grew up in Victoria, BC. His distinctive and challenging films, such as Exotica, The Sweet Hereafter and The Captive, explore themes of community, isolation, displacement, our perception of reality and the role technology plays in our lives. He is also a successful visual artist, as well as a theatre and opera director. Egoyan is being honoured with a Lifetime Artistic Achievement Award. You can read his full bio here.
Diana Leblanc – Diana Leblanc
This short film follows grand dame of the theatre Diana Leblanc as she prepares for a role in The Dybbuk and gets ready to direct an opera (Madame Butterfly). The film weaves together archival footage, photographs and animation to offer an intimate reflection on her life's passions, challenges and lessons.
Leblanc has received nationwide acclaim as an actress and director for theatre, opera, film and television. She is a member of the National Theatre School of Canada's first graduating class, a member of the original Neptune Theatre (Halifax) company, a former artistic director of Théâtre français de Toronto, and a founding member of Toronto's Soulpepper Theatre Company.
Born in Montreal in 1943, she is fluently bilingual and has worked in both English and French across the country. She is being honoured with a Lifetime Artistic Achievement Award. You can read her full bio here.
Walter Boudreau – The Radical Expeditions of Walter Boudreau
This micro-epic short film is a tribute to visionary avant-garde composer Walter Boudreau – his life, his work, his mischief and his boundless artistic curiosity. Known as one of the leading lights of contemporary  music in Canada, Boudreau has served as artistic director and principal conductor of the Société de musique contemporaine du Québec (SMCQ) since 1988 and has directed many musical ensembles and orchestras across Canada and abroad.
Born in Montreal in 1947, Boudreau has studied piano and saxaphone and was leading his own jazz quartet by the age of 18. He has composed over 60 works and is being honoured with a Lifetime Artistic Achievement Award. You can read his full bio here.
Michael M. Koerner – Michael M. Koerner
Michael Koerner is one of Canada's most influential and dedicated patrons of the arts. In a philanthropic career spanning 50 years, he has supported individual artists along with new and established companies across the country (notably through The Koerner Foundation, which he established in 1985), and has tirelessly advocated for the vital role of the arts in the lives of Canadians.
Born in Prague, Czech Republic, Michael Koerner was educated at Cheltenham, England and in Vancouver. The organizations he has supported include The Royal Conservatory of Music, Art Gallery of Ontario, Shaw Festival, Soulpepper Theatre and The Banff Centre. He is being honoured with the Ramon John Hnatyshyn Award for Voluntarism in the Performing Arts. You can read his full bio here.
Jean-Marc Vallée – 让-马克
This short film introduces us to a Chinese video club merchant who is dedicated to selling VHS and DVD copies of films directed by a single filmmaker: Jean-Marc Vallée. For this connoisseur of cinema, Vallée is the only director the entire world needs to discover.
Vallée is one of Canada's most celebrated contemporary filmmakers, known for personal yet universal works of exceptional dramatic intensity and visual appeal. Hailed by audiences and critics alike, his films have earned him an international reputation. His films include C.R.A.Z.Y., Dallas Buyers Club and Wild. He is being honoured with the National Arts Centre Award. You can read his full bio here.
Photo Credits:
Atom Egoyan – Tina Rowden | Diana Leblanc – V. Tony Hauser | Jean-Marc Vallée – Neil Mota | Michael M. Koerner – Gary Beechey | R.H. Thomson – Michael Cooper | Walter Boudreau – DNV Photographie