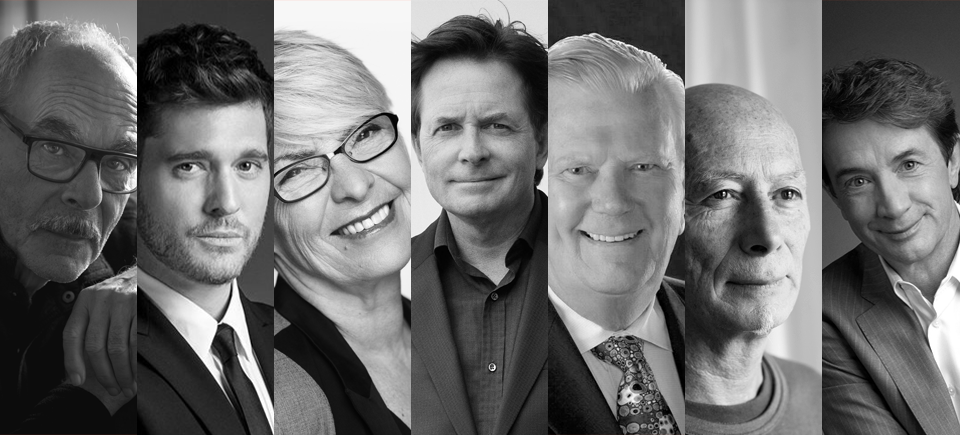 Governor General's Performing Arts Awards 2017 | Watch 7 Short Docs on Famous Canadians
This year, seven of Canada's greatest performing arts stars and champions were awarded a Governor General's Performing Arts Award, a prestigious annual distinction presented in collaboration with the National Arts Center.
As is now tradition, we produced a series of short documentary films that celebrate the artistic achievements of this year's laureates.
Enjoy the films!
Michael J. Fox
Television and silver screen icon Michael J. Fox discusses the bigger-than-life experience that is acting, as well as how he embraced his Parkinson's diagnosis and let it lead him to explore different opportunities in Hollywood.
Michael J. Fox, John Bolton, offert par l'Office national du film du Canada
Michael Bublé
Internationally renowned singer, songwriter, and entertainer, Michael Bublé, is one of the most charismatic performers of his generation. But he's also the kid who grew up dreaming of playing hockey in Burnaby. Spend a day backstage with him.
Audacious, Janice Zolf, provided by the National Film Board of Canada
Martin Short
Prolific comedian Martin Short gives us a peek into the creative process behind his iconic characters while letting us know just how far in life one can get with two hairdos and a single dance move.
Who Is the Real Martin Short?, Aleysa Young, provided by the National Film Board of Canada
William H. Loewen
Philanthropist and humanitarian William H. Loewen talks about Winnipeg city kid envy, how to share a gravel pit with some cows, and more importantly, how the classical music he heard on the radio reminded him of wintertime in the Prairies.
Bill Loewen: Music in the Prairie Night, Mike Maryniuk, provided by the National Film Board of Canada
Jean Beaudin
Acclaimed French director Jean Beaudin reminisces about a time where a bag of chips cost you a quarter and film screenings took place in church basements, before he recounts the moment he realized his calling was in the arts.
For the Love of the Fight: Jean Beaudin, Tara Johns, provided by the National Film Board of Canada
Brigitte Haentjens
Esteemed theatre and artistic director, Brigitte Haentjens, reveals the orchestra-like collaboration behind directing that's fuelled her career and her passions.
An Overwhelming Passion, Claude Guilmain, provided by the National Film Board of Canada
Yves Sioui Durand
Celebrated writer, theatre and film director, actor, and producer, Yves Sioui Durand, walks you through an Indigenous greeting that honours ancestors past, while discussing how his heritage influences the types of theatre productions he produces.
Greetings: Te'skennongweronne – Yves Sioui Durand, Carlos Ferrand, provided by the National Film Board of Canada