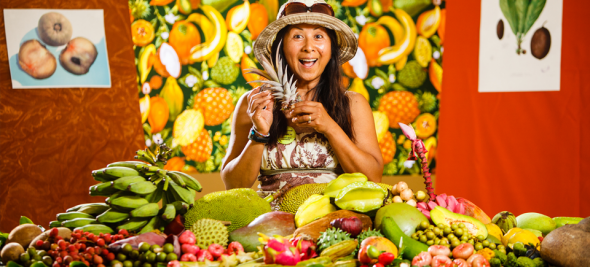 Download films about food for $0.99!
Films
It's nearly mid-October, which means Thanksgiving is just around the corner.
Celebrate the one day a year when families and friends gather together to stuff their faces with food (before falling asleep uncomfortably full) by popping on your stretchiest pair of pants and downloading 5 films about food for just $0.99 each!
The sale ends October 14th.  THIS SALE IS NOW OVER
The Fruit Hunters
Durians and jackfruits and mangosteen—oh my! Yung Chang, actor Bill Pullman, and a bushel of  fruit fanatics scour the Earth in search of rare and exotic fruit. This doc gives you a fun and comprehensive insight into the history and consumption patterns of various exotic fruits.
Okanagan Dreams
Speaking of fruit, Annie O'Donoghue's doc follows the thousands of young Quebecers who travel to BC every summer to harvest fruit in the Okanagan Valley. The lush orchards and tempestuous weather make for quite the cross-Canada adventure.
The Chocolate Farmer
Ever wonder who grows your chocolate? Rohan Fernando's doc spends a year with Eladio Pop, a Belizean cacao farmer who works his plantation in the tradition of his Mayan ancestors: as a steward of the land. What you'll discover about chocolate might shock you.
Soup of the Day
Picky eaters. Every family has one, and they seem to be all the more persnickety around the holidays. Lynn Smith's adorable little animated earworm is an ode to fussy eaters everywhere. Can true love survive the embarrassment caused by a picky eater?
Island Green
Millefiore Clarkes's visually stunning doc on organic farming in the land of "spuds and red mud" asks the question: What if PEI went entirely organic? Take a look at the changing face of PEI's agricultural industry, all while listening to the stirring words of homegrown poet Tanya Davis.