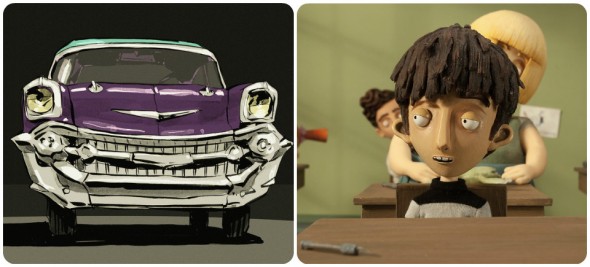 Annies 2016: Follow If I Was God… and Carface to the "Oscars of Animation"
Films
News
Cordell Barker's If I Was God and Claude Cloutier's Carface have both been nominated for an Annie Award! Sometimes known as the "Oscars of Animation," the Annie Awards are the highest honor given for excellence in animation. It's 43rd annual edition will take place this Saturday, February 6, 2016.
Read on for details on both films, notes on the filmmakers and behind-the-scenes pics! Congratulations to both talented teams!
If I Was God…, by Cordell Barker
If I Was God… introduces us to a young Cordell Barker – a 12-year-old Cordell Barker to be exact. The film's action unfolds in Biology class, where our protagonist is dissecting a frog while his mind is very much elsewhere. What would you do if you suddenly found yourself charged with God-like powers, he ponders. Would you use them for good? For bad? Perhaps a little of both? The possibilities seem endless. Oh to have the power to toy with life and death, he muses. He could create monsters to punish those who torment him daily… or better yet, create that one perfect day with Lily, the love of his 12-year-old life.
Check out the trailer, below:
If I Was God… (Trailer), Cordell Barker, provided by the National Film Board of Canada
Cordell, is no stranger to accolades. His films The Cat Came Back and Strange Invaders were both nominated for Academy Awards®.
For Cordell, If I Was God… marks a big departure from his usual naive hand-drawn animation style. For this film,  he explored stop-motion animation and stereoscopic 3D, new avenues that forced him to collaborate more closely with others, most notably (and astutely) with Dale Hayward and Sylvie Trouvé, the husband and wife powerhouse behind See Creature.
Congrats to all involved, and to all the doodlers out there slacking off in school, never stop believing!
Carface, by Claude Cloutier
A biting satire of our Big Oil-based civilization, Carface is a musical comedy of spectacular proportions, in which Claude Cloutier artfully pokes at our collective insouciance before the environmental perils that threaten the planet.
In the short film, a Chevrolet Bel Air 1957 offers an ironic take on the iconic American ballad "Que Sera, Sera (Whatever Will Be, Will Be)". The Chevy's bumper transforms into a pair of seductive lips, from which emerge the song's reassuring lyrics, while a choir of cars performs a breathtaking dance number in the background.
Watch the Carface trailer below:
Carface (Trailer), Claude Cloutier, provided by the National Film Board of Canada
A long-time NFB collaborator, Cloutier is the mastermind behind Sleeping Betty and From the Big Bang to Tuesday Morning – two impressively hand-drawn animations that catapult you headfirst into his disjointed yet playful universe.
Congratulations to Claude and his team, and good luck at the Annies! Que Sera, Sera!