Inside the Vault: How the NFB preserves its collection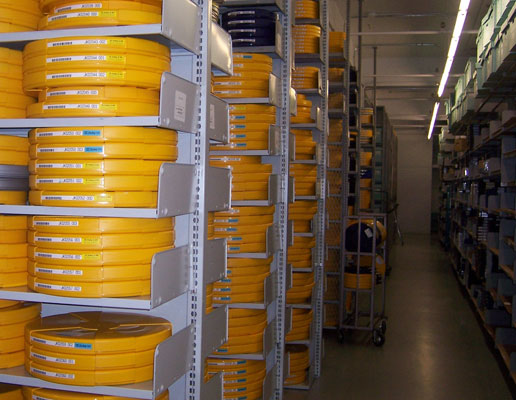 "What steps do we take to preserve our collection?"
To answer this question, I went straight to the source. Richard Cournoyer is the NFB's Supervisor for Labs and Vaults and was more than happy to give me a tour and answer my questions.
The NFB's collection is kept in a specially designed vault at Montreal headquarters that was built in the early 1990s. Prior to that, we had material scattered across the country, including 15,000 cans that were stored in the National Archives in Ottawa. From there, the material was sent to the basement of the former Grierson building in Montreal. Practically everything that was in there was damaged from the humidity. (Correction: There are still 15,000 cans at the National Archives, but the material from the Grierson basement is now in our vaults. Updated 6/18/09)
When the vaults were constructed, the entire collection was finally consolidated. It took years to sort through the material, create a filing system and repair damaged stock.
Before entering (or exiting) the vault, all film materials must rest in a holding area for at least a few, though optimally 24, hours. This gives the film a chance to adjust to differing temperatures and avoid condensation. We've got about 300 cans going in and out of the vault on a daily basis. About 1000 new cans are added every month.
And there's this cool sticky blue carpet in the holding area that attracts dust and dirt particles. Makes a funny sound on your feet.
The vaults consist of two (almost three, don't ask) floors which are kept at a temperature of 12° Celsius with 33% humidity. There is positive pressure in the vault so that air comes out when the door is opened, but outside air doesn't come in.
The magnetic and non-magnetic materials are stored on separate floors to avoid contamination. For the uninitiated, film cans are REALLY heavy. To that end, we've got this cute little film elevator for transporting cans between floors. (To get a sense of scale, the buttons are at normal human level).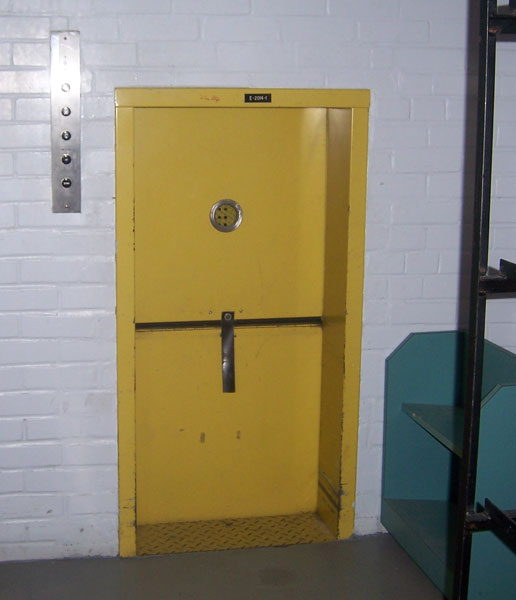 We've developed our own film cans  in conjunction with a company in Quebec city. These cans are now used all over the world and have become industry standard.  They're made of polypropolene which doesn't emit bad molecules and allows air to escape the can and enter the vault. The vaults are equipped with special carbon filters which filter the air to remove any hazardous materials.
Between the film cans and the regulated temperatures in the vault, we're able to combat the three main problems one encounters in storing film:
Physical damage cause by a difference in temperature which results in twisting and stretching out the film.
Mushrooms, which result from excess humidity.
Chemical damage, which is caused by acid forming on the film (a product of the base and emulsion).
Acidity tests are performed regularly, and in our controlled environment it would take 280 years for level one damage to be reached. And there are 3 levels of potential damage. So basically, we're talking about 1000 years before the film would be badly damaged.
In addition, there's a fridge in the vault, set at 0-2° and 25% humidity, for any infected materials. In the fridge, it would take 900 years for film to progress from one level of damage to the next.
Throughout my tour, the one thing that really caught my eye was this old, vintage speaker set up on the bottom floor of the vault. As my tour came to a close, I couldn't resist asking what it was for. Richard laughed at me and said it was for the employees, not the film cans.
And here I'd thought that much like plants, our collection was thriving under the influence of a little classical music…
***
Did you like this? Find it interesting? If so, read Part Two of this post for more info on how we digitize and restore.