Inside the Vault Part 2: How the NFB restores and digitizes its collection
***
So now that we all know how the NFB's collection is preserved, it's time to move on to how we restore and digitize our films.
To be clear from the get-go, the NFB does very little in regard to film restoration. When you think about it, with the size of our collection we could spend the next 100 years restoring our stock. So we try to limit ourselves to minor restoration – correcting major scratches and doing colour correction (ensuring every shot has a scene by scene calibration of colour). On some specific titles, we restore some of the sound. It's all a matter of priority, though, for the reason I mentioned above.
We do our restoration work on a Datacine, which is like a telecine but it produces data (which reminds me of the old joke, "There are 10 types of people in this world: Those who understand binary code, and those who don't). The Datacine works on two signals – data and video. When we deal with a video signal, it's usually for a final master and when we deal with data, it means that eventually it's going to be colour corrected on another colour station.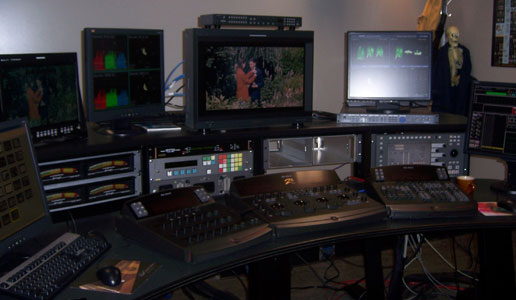 Deep breath here, I'm about to get really technical:
The great thing about the Datacine is that it can handle all kinds of video format. From the master you're working with, you can go back to 525 lines, you can do HD, you can do PAL. The main thing is that you can go from one system to another using the same list of scene by scene corrections. You don't have to start from scratch each time. It also allows you to change formats  – like from pillar box to letter box to full screen – and adjust to compensate for the differences using the same system.
We also use the Datacine to digitize our collection. At the moment, however, it's not true digitization because we're storing the end product on tape, just in digital format. These tapes should be good for about 10 – 15 years. Technically we can use the Datacine for pure digitization, but to date we haven't been. We have, however, just acquired an Arriscan, which seems to have all the people in Richard Cournoyer's department very excited.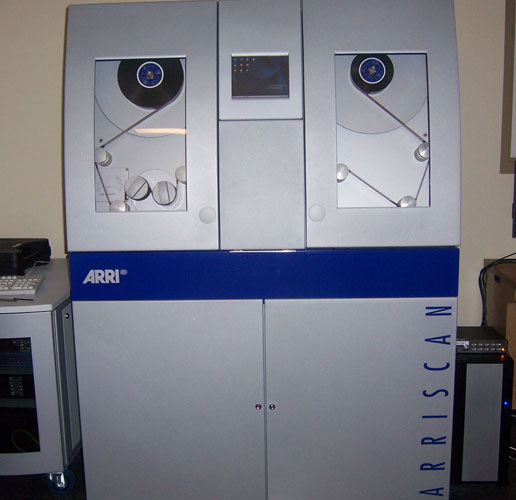 Ideally, our plan is to scan the entire collection and then truly digitize the films picture by picture. To do this, we would start from scratch for every production. Whenever we do a transfer, we always use the best source material we can, whether that comes from our vaults or from our material that is being stored off-site.  It's time consuming because for every project we must evaluate every interpositive, internegative and print, but in the end it enables us to use the very best material to reconstruct a film.
Both the Datacine and the Arriscan are Hi-Def machines. We can go up to 6K, but the memory that would require is problematic. To that end, we'll probably aim for 4K. This issue is currently being debated. In addition, we'll probably combine the work we're doing on the Datacine with the Arriscan.
The order in which we digitize our films is based on priority. At the time I met with Richard, he had over 150 requests sitting on his desk. All urgent, I'm sure. For the Screening Room, our collection experts (Marc and Albert) submit a list of films for each stage of programming (roughly 3 month chunks) to the rights department. Once the rights are cleared, the list makes it way to digitization. Other requests (for other clients, etc.) are treated on a case by case basis.
So that's all I've got on the preservation/restoration/digitization front. If there are any of you who are still hungry for more, let me know and I'll dig even further.