Filmmaker Shira Avni reports from the Leipzig Documentary Film Festival in Germany
The following is a guest post by filmmaker Shira Avni.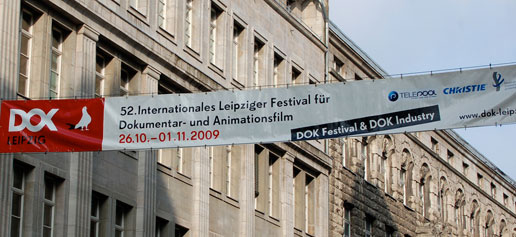 Filmmaker Shira Avni (John and Michael) is in Germany for the Leipzig Documentary Film Festival for the world premiere of her latest film, Tying Your Own Shoes.
***

Greetings from DOK Leipzig: the 52nd International Leipzig Festival for Documentary and Animated Film!
I arrived in Germany late last night, after an unexpectedly long (26-hour) journey of turned-around flights, missed connections, and late trains. Luckily the coffee at Heathrow is good.
I was disappointed to miss an opportunity to visit Die Schlumper, a Hamburg-based art centre for artists with special needs, due to my flight delays, but am glad to finally be at the festival.
Leipzig is beautiful – the downtown core is pedestrian- and cyclist-friendly, with most streets closed off to car traffic.
I arrived in the festival headquarters this morning to get my pass and was promptly photographed to be stuck on the wall amongst the other accredited guests.
There is so much to see, and the selection is overwhelming! As I'm unfortunately missing the NFB's wonderful Get Animated screenings this week in Montreal, I hope to see as much animation here as possible, squeezing in documentaries too!
I saw three excellent screenings today:
1) From the International Programme Documentary Film: Assume Nothing, by Kirsty MacDonald (watch the trailer here). It's a beautiful, powerful essay on gender identity. Feature documentary with mixed-media animation segments.
2) Special Program: The Undaunted Ones – GDR Animation Filmmakers after 1989: particularly enjoyed the playful and powerful Der Baum by Andre Schmidt, the exquisite puppet animation The Frog Prince, by Rolf Hofmann, and the wonderfully silly Inselwitz, by Lutz Stutzner.
3) International Animation Competition 3: Not a dull film in this program! I particularly loved Gil Alkabetz's brilliant The Da Vinci Timecode, which I'd seen at Ottawa but was more than happy to see again. Les escargots de Joseph by Sophie Roze was a beautifully animated puppet film about childhood shyness and obsessions.
I was excited to see Cordell Barker's hilarious latest film, Runaway again, and as always the audience was roaring with laughter and amazement. As the well-chosen finale of the program, Runaway left everyone chuckling as we exited the theatre.
Tomorrow is the world premiere of my recent film, Tying Your Own Shoes an animated documentary created in collaboration with four artists who have Down syndrome. The film is screening in the International Competition Documentary Film category Friday and Saturday night. This will be my first time seeing the film with a public audience! I am curious about the reaction from an audience not necessarily connected to the special-needs or animation communities.
The film has not yet screened but there has been some buzz about it already – it made the list of recommendations in the Festival's printed newsletter today, and several festival staff members, upon seeing the film title printed upon my pass, burst into big smiles and said, "Oh, you're with THAT film! We love that film!". I've had several requests for screening copies from the directors of a few European film festivals, which is exciting.
I am including a photo of Petra taken last month in Toronto, when I screened Tying Your Own Shoes privately for the artists in the film.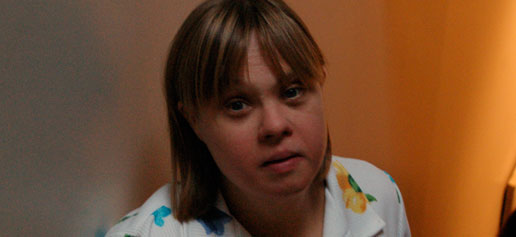 Hopefully people will enjoy the screening tomorrow (tonight!). I'll let you know how it goes.