The NFB wins at the Canadian New Media Awards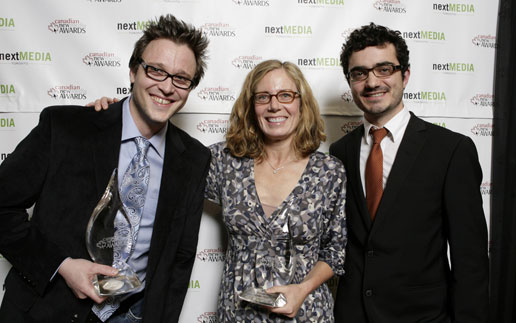 The NFB was honoured this week with two awards at the Canadian New Media Awards which celebrates accomplishments of individuals and companies in the Canadian digital media industry. The NFB was also awarded the 2009 Applied Arts Magazine Interactive Award.

NFB.ca – the NFB's online screening room won "Best Online Video Portal". This award was immediately followed by an award for Best Cross-Platform Project for the Waterlife interactive website – produced in collaboration with Jam3 Media. The two-in-a-row awards prompted host Sean Cullen to say, "NFB kicks digital ass!"
The Canadian New Media Awards (CNMAs) is the country's only competition celebrating the accomplishments of Canada's most successful digital media companies.
In addition, the GDP interactive project won the Applied Arts Magazine Interactive Award. GDP is a year-long documentary web project about the Canadian economic crisis.

Photo Credit: Canadian New Media Awards. Check out more photos from the event here.