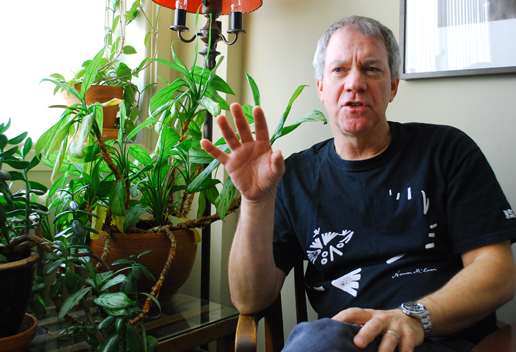 26 films on science for children
This post originally appeared on our sister site, ONF.ca, and was translated into English.
***
Marc Bertrand, a producer with the NFB's French Program, looks back on the time he spent working on Science Please! with great fondness. It was his first job at the NFB, and he'd been given a clear mandate with 3 objectives: to focus on science, incorporate archival footage, and use animation. The target audience: 9 – 12 year olds.
Whether you've watched a single video clip or the whole collection you can tell that Marc and his team took up the challenge and came through with flying colours.
The video clips they created are fun to watch and funny, and succeed in doing what they set out to do – illustrate a scientific phenomenon in just sixty seconds.
"It's kind of amazing," says Marc, "there's a certain pride in knowing that we managed to explain electricity in a minute. Just one minute. That's not a long time."
Marc's creative team had a really good time putting the video clips together. From Marc Labrèche who narrates some of the episodes, to Claude Cloutier (Sleeping Betty) who created the animation for others, it was a winning combination.
The series Science, Please! was such a huge success around the world that it was adapted into several different languages. The popularity of the series in Quebec led Marc Bertrand to create The Mission, an educational website which won several prizes and earned a solid following among young people.
Marc attributes his success to the creative freedom he was given.
Because he wasn't tied to any particular pedagogical program, he and his team were able to choose whatever subjects they wanted to take on.
"You'll notice, for example, that most of the video clips are about subjects in physics rather than biology. We made this choice because knowledge in the area of physics is the most stable. There's not much chance that new discoveries are going to put into question Archimedes' Principle," Marc explains.
The huge success of the series is also attributable to the quality of the visual elements. The NFB has some outstanding animators who agreed to illustrate one or two of these video clips in between their work on larger projects.
The team also had access to vast quantities of NFB archival images and footage.
"We really wanted to avoid suggesting that the NFB archival material was stale or outdated," Marc said. "So we decided to use animation for the more serious parts of the video clips and the archival material for the funny bits."
There's good news for fans: Marc Bertrand is working on a new series of popular science video clips for 9-12 year olds.
"They made me promise not to tell what it's about, but what I can say is that it's about the way the brain works, like 'what happens in your head when you fall in love?' for example," says Marc.
"We figure that if we can get someone interested in finding out more about a particular phenomenon after they've seen one of the clips, then we've done our job," he says.
"And if we're having a good time while we do it, that's even better. What I wanted was that if Science, Please! was used in schools, it wouldn't be during the regular classes on Tuesday mornings, but in the periods of free play on Friday afternoons."
Watch Part 1 of Science Please!: