4 things about Hothouse animator Megan Turnbull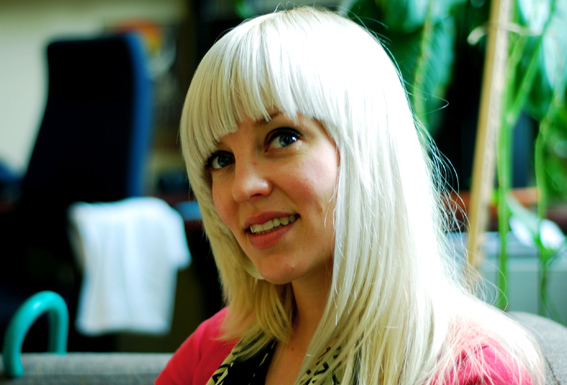 This post is part of a series of interviews with this year's Hothouse participants. Created in 2003, Hothouse is a 12-week paid apprenticeship program for emerging filmmakers that takes place in the NFB's Montreal Animation Studio. This spring, the 6 participants were given 3 months to produce a short animation film, but with a twist: all films had to be in stereoscopic-3D.
I spoke with the Hothouse filmmakers during their last week at the NFB and asked them to tell me 4 things about themselves. Here is what Megan Turnbull had to say.
1) One thing about herself: "Well, I'm a girl!" Megan says laughing, before trying to find something more to say. She ends up revealing she enjoys travelling and working abroad, and that she's had the opportunity to do a lot of both over the last couple of years. "I lived in Hong Kong, Ireland, Japan, Winnipeg, Ottawa, Montreal…" she says. "That's something people usually find interesting about me." Even more interesting than her globetrotting ways, perhaps, is the fact Megan used to sing in a band. "We used to describe [the sound] as 'socio-pop'," she says. "We opened for the New Pornographers once. That was one of our bigger shows."
2) One thing about her film: Megan's film is titled Unlaced (Délacé, in French). "It follows the thoughts or daydreams you have while tying your shoes," she says. The film is a 1st person POV (point of view). Its set is entirely made out of paper: paper buildings, paper trees, paper cars, paper paper. "The only elements that aren't paper are the character's hand and feet", she says.
3) One thing about working with the NFB: A couple years ago, Megan went on what she describes as an "NFB kick". "It was right around the time they launched [online viewing site] NFB.ca," she says. "And I told myself: 'I want to work there'". What she found upon arrival was a great institution, of course, but also a great group of people. "I really enjoyed working in a group, in a studio workplace," she says. "Having the other Hothousers around, the progress reviews… there was so much knowledge to go around."
4) One thing she'd like to share with other emerging filmmakers: "Go for it," Megan says, even if it's an unlikely fit. "Both my parents are scientists," she says, "and I always wanted to be a storyteller. You really just have to go for it."
Find Megan online: EVOLUcity, oooh la la.