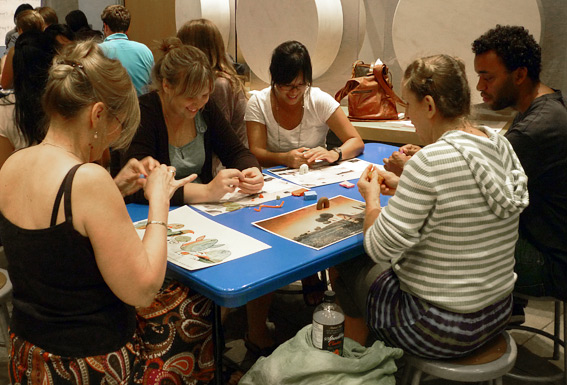 A look inside the Toronto Mediatheque's animation workshops for adults
The following is a guest post by Tanya Koivusalo.
On July 13, the NFB Mediatheque held a sold-out animation workshop, Demystifying the Reel, where adults of all ages had a great time learning about the process of animation and creating their own mini-masterpieces in teams. The finished products can be seen and marvelled at here.
In anticipation of the NFB Mediatheque's upcoming 2-D animation workshop with an environmental theme, Green Screens: Remixing Our World, I spoke with participant Heidi about her experiences at the animation workshop on July 13. Heidi is 26 years old and Head of Client Happiness at Happy Worker Inc., a toy designer and manufacturer. Her interests include reading, cycling, travelling, juggling, camping, cooking and, of course, watching movies.
What drew you to the workshop last night? Have you worked with animation before?
I work at a toy company, and some of our designers have animation experience. Seeing their work and hearing what's involved in creating an animated piece got me interested. I went to an NFB animation workshop last year and got to test out scratching and drawing on film, and claymation. When I saw that the NFB was holding another animation workshop this year, I signed up lickety-split and made sure to bring friends this time.
What was your overall experience of last night's workshop?
I had such a great time. The short films we watched before the workshop were really entertaining, and I was reminded of how many different animation techniques there are. When we started planning our animations, creating the clay characters was the most fun for me. Even though I get to play with toys at work, I don't often have the same hands-on experience of creating my own characters.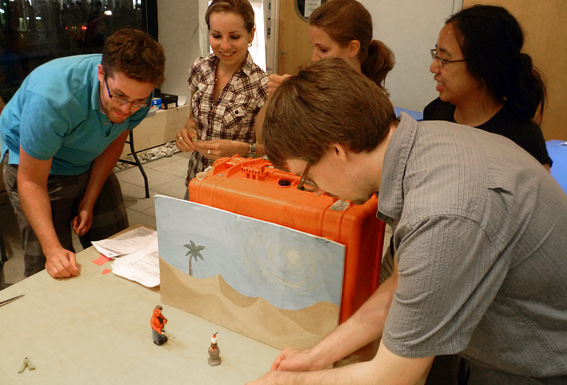 What were you surprised to learn about the process of animation?
It was surprising to me how important it is to collaborate and work in teams. There are so many details to pay attention to, from the set to watching over each character, to shooting, to keeping the overall vision intact. Without a team, everything would take much longer and the results would not be nearly as good.
Is there an element of animation that you are interested in learning more about?
I'd love to hear from animators about what goes into making a really great character that animates well and engages audiences. Seeing the NFB workshop facilitators performing little camera tricks and editing techniques to add to the story also peaked my interest.
What's your favourite animated NFB film? What's your favourite animated film overall?
My favourite NFB films are The Danish Poet (2006, Torill Kove), which I've seen a couple of times, and The Cat Came Back (1988, Cordell Barker), which I remember from when I was a kid. I think they're both hilarious, and the characters are really memorable to me. Everyone at my office is a fan of The Great Toy Robbery (1963, Jeff Hale, NFB), too. I recently saw How to Train Your Dragon (2010, Dean DeBlois & Chris Sanders, DreamWorks Animation). It's loaded with lovable characters, humour and great writing, and I quite liked the ending.
If you want to get in on the hands-on animation action, join us on Wednesday, August 4, for the FREE 2-D animation workshop, Green Screens: Remixing Our World, where participants will create their own animated film with images cut out from magazines to critically address an environmental issue. More information can be found here or by calling 416-973-3012.