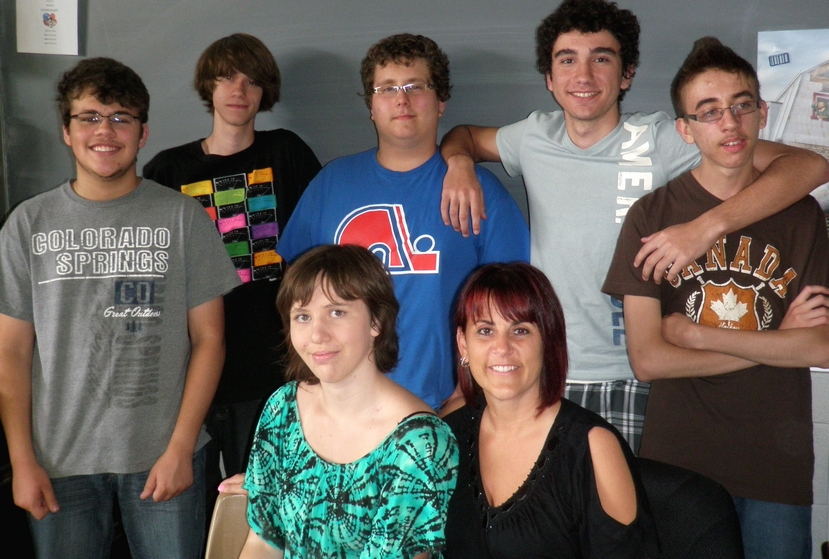 Animation: A Useful Tool for Working with Students with Autism
This blog post is written by Hélène Massé, an adaptive learning specialist in the Grandes-Seigneuries school board on Montreal's South Shore. In the post, she describes a project that allowed her high-functioning autistic students to direct animated films in class, with support from the NFB's educational program team, and to participate in a documentary about the process.
The experience allowed the students to integrate multiple types of learning and to create a moving film that bears witness to the experience of autism, and raises awareness among other young people with autism spectrum disorder, as well as their parents and caregivers. Mrs. Massé will be presenting the project during a workshop entitled "Pédagogie par projets et utilisation des TIC auprès des élèves autistes à haut niveau" (Pedagogy through projects and use of information and communications technologies among high-functioning autistic students).
It will be presented during the annual conference of AQETA – the Association québécoise des troubles d'apprentissage (Quebec association for learning disabilities), to be held in Montreal from March 20 to 22.
A big thank you to the leaders at the National Film Board's educational program for providing a resource rich in all sorts of learning possibilities for our autistic adolescents, as well as quality support for educators and teachers.
Adaptive learning specialist Rachel Dessureault and I work with a group of high-functioning autistic teens—students who exhibit average or above average understanding and intelligence in certain fields. Our students are pursuing Secondary Cycle 2 (Grades 9–11) education in a closed group within Magdeleine à La Prairie Secondary, a school with a student population of 2,300. Over the last few years, our students have become involved in a variety of community-based projects through their courses in French, English, History, and Ethics and Religious Culture.
As part of their Multimedia Arts course, the students decided to throw themselves into making animated films as a way to offer a message of hope to younger people with autism, as well as their parents and caregivers. To start, the students looked at their own pasts and did online research in order to increase their understanding of the complex world, informed by autism, that they inhabit. They shared their thoughts during conversations in both English and French, and recalled the challenges they had faced during the course of their academic careers.
In the meantime, a visit to the NFB's animation open house proved to be very inspiring for our students. We had an opportunity to meet welcoming and engaging screenwriters, and received valuable advice for getting our project off the ground. Producer Marc Bertrand sent us off with several animated films that we could study in class in order to understand the basic foundations of animation.
Next, we decided to take advantage of the NFB's educational workshops, and we had the bright idea to immortalize the experience by making a documentary about the process of making animated films with the NFB's education specialists. We turned to Quebec's Ministry of Culture to request the financial support that would allow us to carry this project forward, together with Askabigail Productions.
The students generously agreed to participate in this project, bearing witness to the realities of their daily lives, and revealing their hopes and reflections. We offered them our heartfelt thanks, because we understood how difficult this can be for them. It is our sincere hope that their voices will be heard in the community, and that everyone can learn to become more aware of their thoughts, words and actions.
The documentary and the students' animated films recently had their world premieres at a screening for parents and friends, held at the school.
"The purpose of our film is to demystify autism and to help people understand that people with autism are not just in their own little bubbles, and that they don't all have problems making friends like most people think." – Gabriel Roy
"I can tell you that this is an excellent project which may allow more young people to understand themselves. My class is made up of people who are working towards the elimination of bullying." – Simon Cyr

"We asked for help from young students in five adaptive learning classes in our school, because our film is partly for them. They helped us with character design and accessories. Later, they watched the films that we made at the NFB, and they shared their responses—an experience that made me discover how patient I could be!" – Marie-Pier Lachance

"In their blogs, or in person, a lot of people say things like, 'Don't act autistic.' It's insulting to people with autism. Don't forget that we can overcome any obstacles if we stand together." – Pierre-Olivier Beaudoin
"I know that people sometimes make fun of me because of the way I move or how I express myself, but I'm not always able to recognize it—maybe because it never occurs to me personally to make fun of anyone." – Christophe Elliott-Côté
Pictured: Gabriel Roy, Simon Cyr, Pierre-Olivier Beaudoin, Shakib As-Asoulaïmani and Alex Rioux. Marie-Pier Lachance and Rachel Dessureault, adaptive learning specialists