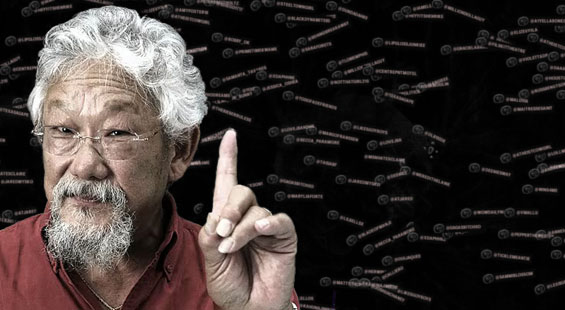 Introducing Test Tube, NFB's new interactive project featuring David Suzuki
The NFB recently launched Test Tube, a thought-provoking interactive project featuring David Suzuki. To better understand the project, its goals and its achievements we interviewed Loc Dao, Creative Technologist on the Test Tube. Here is some of what he had to say:

Carolyne Weldon: For those who have yet to experience it, please describe the Test-Tube in your own words.
Loc Dao: The Test Tube with David Suzuki is an experiment of sorts that hopefully demonstrates how all of us are connected in how we all live our lives. Combining video of renowned Canadian environmentalist David Suzuki, user input and live data from Twitter, the project is a modern parable about our insatiable appetites, the fallacy of growth, and the things we can and can't change.
CW: Where did the idea for the Test-Tube originate?
LD: We worked with David Suzuki on an anecdote he tells of bacteria in a test tube being analogous to humans on Earth and how we are in the last minute of life as we know it. We wanted to do more than play a video of David talking and actually demonstrate his idea with live real world data where users can interact with the data and contribute to the test tube experiment by typing in what they would do if they had an extra minute.
The user gets to experience David's anecdote as the live Twitter data related to the word they type exemplifies what David is saying at the same time. The experience is never the same because the data from Twitter is constantly evolving and growing like the bacteria. The words that users enter are stored and grouped for us to explore in the Most Common Minutes.
CW: Could the project have been accomplished without the collaboration of David Suzuki? Was his presence essential to the transmission of that particular message?
LD: The project is based on David Suzuki's ideas and without his participation it would have been a completely different project. We could have put David's words up in type or audio only but the fact that you see David, hear David and can shrink him or make him huge inside the test tube adds another layer to the experience.
CW: Compared to other interactive projects surfacing these days, what are some of the distinguishing characteristics of the Test-Tube? How does it innovate?
LD: The project is unique because of its combination of interactive video, live data, the application of the data to the message in the video and the collection of what people are thinking and subsequent data visualization of this information.
It innovates in the application of technology to an idea in a way that's not a completely literal experience. Some people don't realize that the word they typed in is bringing in live data from Twitter from other people who are thinking the same thing at that moment. Then, as David reaches the peak of his anecdote, you realize that the thoughts from people you are seeing grow in the test tube is growing exponentially just like the bacteria in the test tube.
Then if you go to Most Common Minutes you get a sense of what other people are saying in an interesting simple data visualization of what they would do if they had an extra minute – from the mundane eat a sandwich to sleep – currently the most popular – to call my mom.
CW: What were some of the most challenging things that came up during production? Any technical/conceptual obstacles you were particularly pleased to overcome?
LD: The most challenging things during production was figuring out how to demonstrate David's anecdote without being too literal, and once we figured that out, it was how to technically deliver on the great ideas that were on the table.
No one knew how many bacteria with live Twitter data we could display on a screen before the average computer crashed, so we had to do some proof of concepts to figure that out.
The Test Tube iOS app was definitely a technical challenge involving more complex programming. The innovative technical programming behind the app is a first for both iPad and iPhone applications, combining alpha channel video, dynamic transparent objects, and live data visualization from Twitter.
CW: What is some of the most interesting/ inspiring feedback you've received so far? What do people tell you after they've spent a minute in a test-tube with David Suzuki?
LD: The test tube gets information from Twitter and its very interesting how people are using Twitter to spread the message about the test tube. There have been quite a number of tweets and a significant amount of traffic from Facebook where people are alarmed by the message and want to spread the word.
The things people would spend a minute doing is evolving daily.  We've had over 20,000 submissions in a week with sleep, read, play and eat at the top 5. Its interesting that people are writing things they want to do that they don't get enough of – like spending more time with their kids, husband or wife or doing something for themselves.
We know you're busy, but what would you do right now if you had a minute? Tell us at testtube.nfb.ca or download the app.