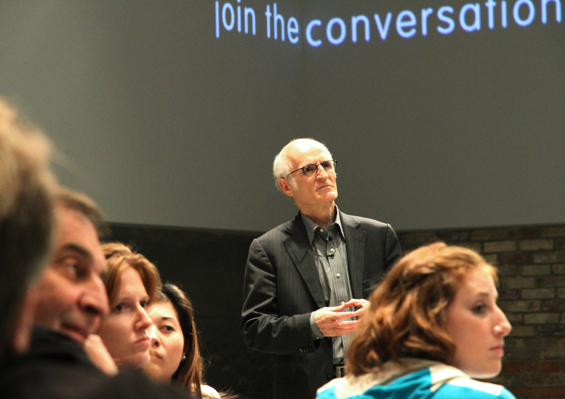 NFB Tour: Kitchener-Waterloo, Ontario
On Thursday afternoon, we left Windsor and made our way to Kitchener, a couple hours away by car. The evening meeting was to be held at the Tannery District's digital media centre, a place I'd read about and was eager to see.
The Tannery District was created by the recent conversion of an old tannery, Kitchener's historic Lang Tanning Co. building, into a mixed-use space combining retail, office and studio spaces.
The result, catering in part to emerging technologies, but retaining tons of industrial charm, is truly stunning. Current tenants include designers, artists, wood shops and a really cute coffee shop, a terrific repurposing move for the 350,000-square-foot complex once housed the largest tannery in the British Empire.
The room where Tom would give his presentation also juxtaposed old and new in the most tasteful fashion. There were super high ceilings, all original wood, and a wide wrap-around screen, stretching over three of the walls.
At the coffee table I met Stan, a friendly grey-haired fellow in a checkered flannel shirt and tan Carharrts who introduced himself as a retired carpenter. "I wasn't sure I was you guys' target audience tonight, but I decided to come out anyways," he said. He told me he'd worked for years in front of a wood planer, making furniture, and had lost his hearing along the way. "We didn't know about hearing protection back then," he said. "I hope I can hear enough to follow, tonight."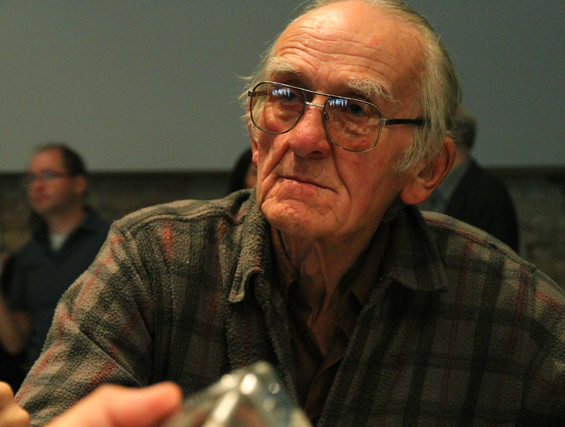 When Tom started to speak, Stan picked up his coffee cup and like a dedicated student, made his way to the front row, squeezing between two other audience members to get as close to Tom as he could. After the presentation, many locals spoke. A man, whose question was heavily applauded, asked about reinstating the NFB Center that once existed in Kitchener. With a community so vibrant, so diverse, and so involved in hi-tech, wouldn't it make sense to bring back an NFB office here?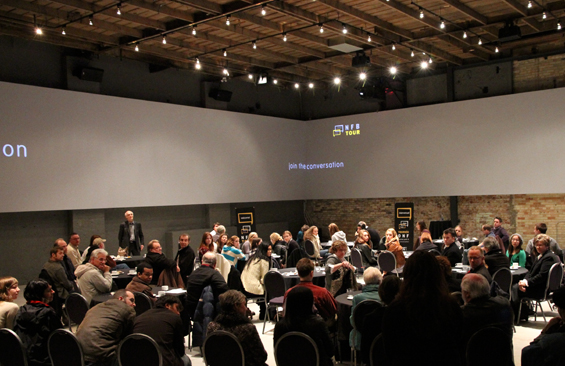 Later, a woman who was a film studies professor at Sir Wilfrid Laurier University and a jury member for many film festivals in town said that she would like to see how the NFB could more actively support emerging filmmakers. Could the NFB curate and attribute some prizes at local film festivals? If there were no budgets for production, could the Film Board help with distribution? "I remember taking a class about the NFB, when I was an undergrad student at the University of Toronto," she said. "The Film Board was a world-class, cutting edge institution, pioneering such innovations as IMAX and multiple screen technologies. I would like to see that happen again," she said.
Many audience members also shared stories about Kitchener's rich storytelling culture. A woman who introduced herself as an oral storyteller told us about monthly storytelling sessions that had been going on for 23 years, in a barn located in her backyard. "People are looking for that communication," she said. "People come and share personal stories, folklore stories, immigration stories. Stories are what give us back our humanity," she said. "I think that's what were all looking for."