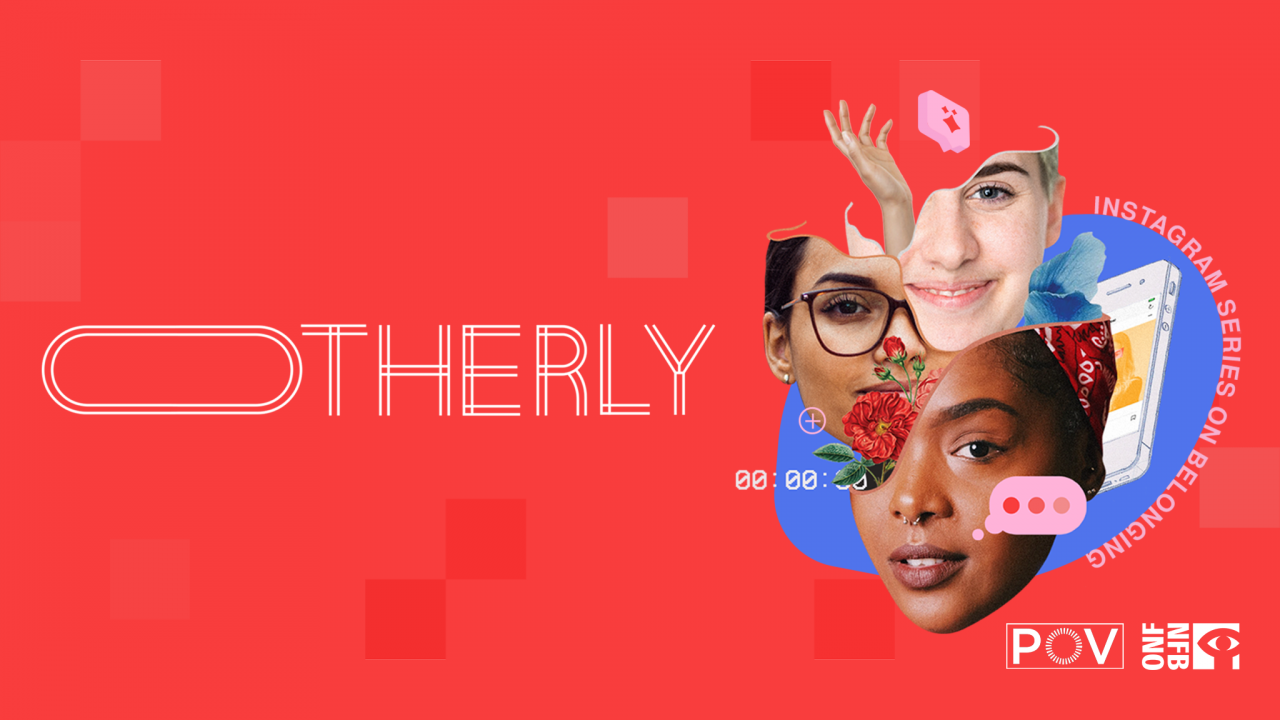 Eight participants chosen for Otherly—the NFB and POV Spark's new program for innovative non-fiction Instagram Stories
The NFB and POV Spark, the interactive production arm of the iconic independent PBS documentary series POV, have announced the eight participants in Otherly—a first-ever partnership between the NFB and POV that sets out to help define creative non-fiction storytelling in the age of mobile and ephemeral media, with perspectives and voices from Canada and the United States that aren't always being heard.
In a call for submissions that ended May 17, Otherly (#whoisotherly) sought proposals for boundary-pushing Instagram Stories on the theme of "belonging" by visionary women, non-binary, and/or genderqueer storytellers from Canada and the United States.
Otherly received 169 applications from the Canada and the United States.from a diverse group of people with a variety of backgrounds including filmmaking, animation, policy and research and podcasting.
The participants will now work closely with NFB Ontario Studio and POV Spark producers during a six-month process, from pre-production through completion.
A pre-production lab for the eight directors will take place in New York City, June 26-28, bringing together a visionary and eclectic group of experienced artists and leading industry experts to work with storytellers. The lab will establish a challenging, artistically inspiring and supportive environment and network of collaborators that will continue through production, which is expected to wrap December 2019.
Participants
From Canada:
Mirusha Yogarajah: Toronto-based Mirusha uses storytelling and design to create narratives that galvanize change. As a freelance writer, she's explored how inequities are reproduced through algorithms, and looked at the impacts of gentrification and xenophobic immigration policies. She also sees her academic work as a means of addressing systemic inequities, and is currently pursuing a Masters of Public Policy at the University of Toronto's Munk School of Global Affairs and Public Policy.
Joanne Lam: Joanne is the co-creator, writer and producer of Inverses, a multi-sensory storybook collaboration between artists in five countries. Her previous credits include project lead for Story Planet's inaugural Digi Storymakers program, helping underrepresented youth to develop their voices and strengthen literacy skills through digital storytelling. Joanne was born in Hong Kong and grew up in Vancouver.
Jess Murwin: Jess is a non-binary queer artist and programmer of mixed Indigenous (Mi'kmaq) and Settler (Western European) in Montreal. Their work combines myth, fantasy, humor and flamboyance with social commentary. Their focus has always been to champion stories by female, LGBTQIA+ and Indigenous filmmakers, and are currently working on FAT, an animated short about society and fat bodies.
Grace An: Grace is a Toronto-based character-maker and multidisciplinary artist, whose films have appeared in such festivals as the Fantasia International Film Festival the and Ottawa International Animation Festival. She also makes comic zines with coming-of-age narratives for young women.
From the U.S.
Tristan Angieri: Tristan is an artist and public advocate for entheogenic therapy. Their landscape photography has been featured in the journal Ground Up and their streetwear is sold on the queer and trans design label Homogoods. They recently released the first Hairband Hairband EP, Eccolocations, and the single, "Drop Into It," as PR41R1E.
Aja Salakastar Dier: Salākastar is a Detroit-based multi-disciplinary artist who earned her BFA in acting at the State University of New York at Purchase College. A 2018 Gilda Award winner for Live Arts awarded by the Kresge Foundation, she is an ensemble member at the Detroit-based theatre company A Host of People and was most recently featured on the HBO series Random Acts of Flyness. Salākastar is currently recording her debut album ALL BLUE:PART ONE (MAJORELLE!) as an artist-in-residence at Poetic Societies.
Em Yue: Em is an artist and filmmaker from North Carolina, Shanghai and Hong Kong. Their work explores the intersections of race, sexuality and modern media through the lens of tenderness. They studied photojournalism and studio art at UNC-Chapel Hill, where they helped organize and document community movements against House Bill 2 and confederate monuments. They are currently pursuing an MFA in experimental animation at the California Institute of the Arts.
Jackie! Zhou: Jackie is a Los Angeles-based director and sound designer who is keen on blurring the lines between formats and disciplines. From music videos to short documentaries, she aims to explore and celebrate human experiences. Her sound work has been Emmy-nominated and credits included: Janelle Monáe's Dirty Computer and HBO's United Skates.