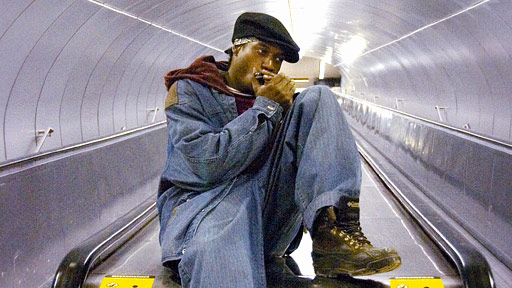 Rest in Peace, Bad News Brown
On February 11, 2011, Montreal musician, mentor and father Bad News Brown (born Paul Frappier) was found dead in an industrial area near the Lachine Canal. He was 33 years old. Like much of Montreal and the wider music world, the news of his death hit me like a ton of bricks first thing that Saturday morning.
Every other tweet on my Twitter feed came with a RIP Bad News Brown hashtag (#RIPBNB) while Facebook turned into a wild, polyphonic Youtube-player lament to his musical genius. Internet in mourning. Beautiful, intricate harmonica melodies resonated in laptops and iPods across the city, the country, the world. Rest in Peace.
No words can encompass the sadness of a young man dying in his prime, of a creative career brutally aborted, of a mother having to bury a child, of a 3 year-old son losing his dad. None at all. Bad News Brown was laid to rest this Monday. His funeral, held in St. Zotique Church in Montreal's St-Henri neighbourhood, brought together hundreds of people, many of them offering their music as a final goodbye. People who attended reported it was a moving celebration of music and life.
As was mentioned in many write-ups about Bad News Brown's passing, between allusions of him sharing stages with the likes of Nas, Ice T, Cypress Hill and De La Soul, the young harmonicist was featured in an NFB doc from 2004 titled Music for a Blue Train.
Directed by EyeSteelFilm's Mila Aug Thwin, the film explores the little-known world of subway buskers, an ecosystem Bad News Brown knew well for having begun his musical career there. The film shows him as an affable subterranean tour guide, discussing the best busking spots and times, introducing other musicians, and reflecting back on his busking days.
Unfortunately, we don't have the internet rights to publish the entire film online right now (you can imagine there's a ton of copyrighted music in it), but we were able to select and publish a short clip. Just under 2 minutes, it shows Bad News Brown walking around Atwater metro station and breaking into an impromptu performance alongside trumpet-player Jonathan Matte a.k.a. Chip.
Music lives.