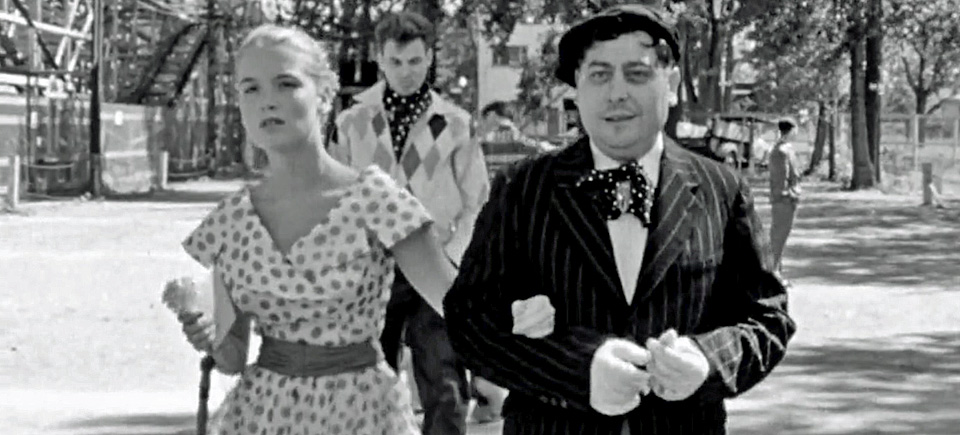 Pierrot in Montreal: The Sad Clown and His Lady Love
To celebrate World Theatre Day on March 27, I thought I would write about a little jewel from 1957, Pierrot in Montreal, a modern re-telling of the story of Columbine, Pierrot and Harlequin.
Pierrot in Montreal was produced in the third and final season of the NFB's Perspective television series, which consisted of 30-minute episodes (both documentary and fiction) made to present a Canadian view of Canada. This particular episode starts with a documentary segment in which renowned actor Guy Hoffman explains the art of pantomime, and then it segues into a beautiful fiction sequence where he takes on the role of Pierrot.
The fiction sequences were shot on the streets of Montreal, with a large portion of the film taking place at the Belmont amusement park. Hoffman strikes just the right note as the sad clown Pierrot. He is attracted to the beautiful Columbine (played with fresh innocence by Anne Collings) but must compete for her affections with the mischievous Harlequin (a robust performance by Fred Smith).
A stray cat, a can of laughing gas, and a very drunk man all play their part in telling this story. Pierrot will lose his love, Columbine, to Harlequin, but that is the way it has been since the characters first appeared in 17th-century Italian theatre.
Pierrot in Montreal, Donald Ginsberg, provided by the National Film Board of Canada
This modern re-telling is notable for the strong acting and the very unusual backdrop of Belmont Park. If, like me, you grew up in Montreal, you'll feel a twinge of nostalgia upon seeing this long-since-demolished amusement park. The story has been played and replayed thousands of times on stage and screen. We know what will happen, but it's fun to relive it once more anyway.
Happy World Theatre Day.
(More information on the Perspective television series can be found here.)