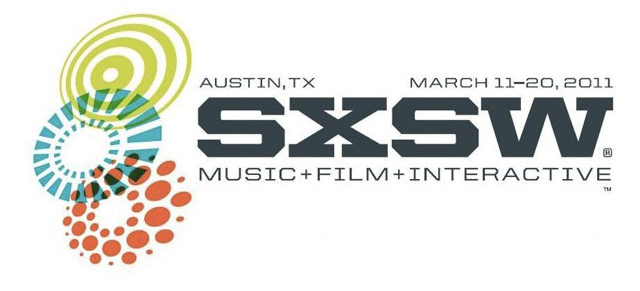 NFB Interactive productions at SXSW
The following is a guest post by Anne-Marie Lavigne.
A look back at producer Hugues Sweeney's live navigation session
On March 16th, the interactive component of the very hot SXSW festival drew to a close. Each year, Austin, Texas welcomes the cream of industry professionals from far and wide for SXSW. Hugues Sweeney, French Program Senior Producer, was there, and took part in several sessions to showcase our current and upcoming interactive productions. After talking about new narrative avenues in documentary, Hugues was invited to host a live public Internet navigation session, an increasingly common activity at gatherings of Web industry professionals. I asked Hugues to share a few details of his experience.
Anne-Marie: In what context did the live navigation take place?
Hugues: The session was held in a movie theatre, the old Alamo, where people can eat while watching films (service in your seat during the show!). The walls are plastered with vintage photos from shows like Black Flag and Circle Jerks. There were about 150 to 200 people. A quarter of them ordered burgers, fries and Coke!
The event was organized by Caspar Sonnen of IDFA's DocLab. I represented the NFB. Ze Frank — whose projects are a must— was also there.
Anne-Marie: Why have a session like this? How are they relevant to people in the industry?
Hugues: My first reaction was "Watch someone surf the Web in a movie theatre? Really?!" Well, why not! And it works, too. Watching a peer surf the Web live gives you another point of view, because other people never click where you would. It gives a different pace to the Web, and makes you see things differently. I think the appeal of this kind of cinematographic experience is that it pays homage to the creativity of interfaces, their immersive nature, with the same kind of care that we give to sound…
Anne-Marie: What did you choose to show for your navigation session?
Hugues: I navigated all over the place for 50 minutes. In order, I surfed Welcome to Pine Point, My Tribe Is My Life, Highrise and BLA BLA (a project by Vincent Morisset that launches this spring).
For My Tribe, I started with the portrait of Laurianne. Then, I played around with my avatar (with Web radio by Bande à part as the soundtrack!). Then, I screened the portrait of Pierre-Luc. People reacted a lot to that one. His quick mind and personal magnetism led to discussion afterword, particularly on the notion of context in social networks (take a look at what he has to say about cats), where he summarizes the entire issue of meaning in interpersonal communications. In a media universe that is shifting constantly, you have to revisit codes, usage, "good manners". You have to redefine contexts. Without context, it's a jungle of meanings.
For BLA BLA, an interactive animated work that explores the narrative possibilities of the medium, I stuck to the predefined times for most chapters. The project has six — Beginnings; Words; Sponge; Talk, Talk; Together; Lights Out; and The End. It's a fresh and amusing take on narrative art. People laughed at tableau 2, where you see the face of the character for the first time, the balls thrown, the overload. It's funny. For chapters 4 and 5, I threw away the stopwatch and really took my time. Wow! What an impact. In chapter 4, two heads converge in an Aphex Twin-like moment of musical synergy… imagine the effect in a movie theatre! It was just as much fun every time…
Navigating live in public is an opportunity to share what you've done and to spotlight the originality of our works.