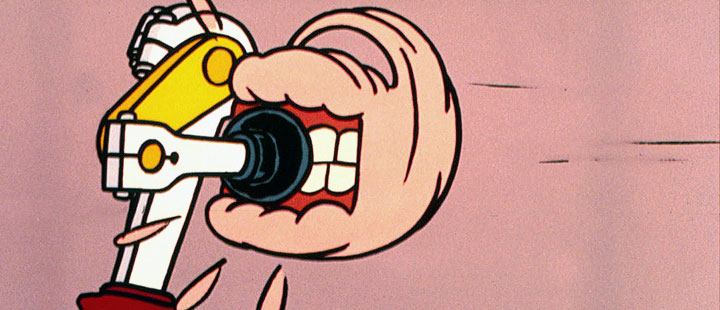 Friday staff pick: What on Earth!
This Friday staff pick was selected by Marc Lavallée, Analyst, Internet Applications for NFB.ca.
My favourite NFB animated film is What on Earth! made in 1964. It's no longer a film just for kids. Every adult aged 17 to 97 should see this little gem or see it again.
Through seemingly innocuous humour, the film reminds us, almost 50 years on, of the absurdity of our social choices and the violence of industries that confuse collective and personal freedoms. Yes, the Earth is inhabited, but increasingly by machines of which we consent to be parasites. How do we claim back our cities and living spaces?
On the heels of the "success" of the automobile and oil companies, we now channel industrial energies into information technologies, to the point where some vast IT server "farms" use as much power as aluminum refineries. The premature obsolescence of information technologies sets the tone. Each "advance" in technology, "green" as it may be, is a new excuse for sophisticated over-consumption, for a more integrated world, for less control over our lives. Could things be different?
The NFB has made several important films on the topics of urban planning, ecology and globalization. I particularly like the documentary series The City: Heaven and Hell, made in 1963 (a year before What on Earth!) and inspired by the works of Lewis Mumford. You can check out the series on the on the NFB's Collection website.
Unfortunately, this surprising series isn't available for viewing online, but an "old" video-on-demand technology (which I helped develop) allows you to view it free of charge at the CineRobotheque in Montreal or the Mediatheque in Toronto, where several films are made available to the public, mainly for copyright reasons. If you come, let your "new" car snooze at home. It will thank you…
What on Earth!, Les Drew & Kaj Pindal, provided by the National Film Board of Canada