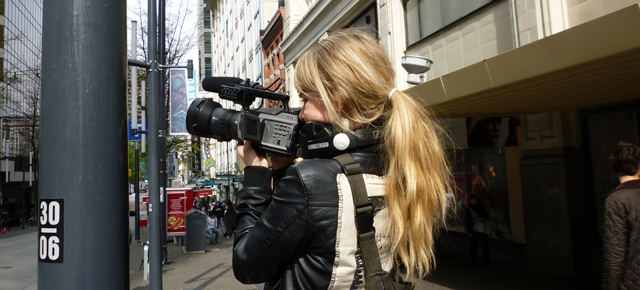 DOXA Connexions: The Beauty of Creating!
This post was written by one of the young women participating in the 2011 Kris Anderson DOXA Youth Connexions Forum, as part of the DOXA Documentary Film Festival. "Connexions" is an immersive 2-week program where 6 selected emerging female filmmakers create 6 short films in 6 days, while also connecting with industry professionals & checking out all the doc films & panels.
The DOXA process, the thrill of it all! From shooting, guerilla style in the Pacific Center, to the questioning looks from the pedestrians who created the current on Granville and Robson Street, to capturing my footage. Now it's time to sit down, take a deep breath and hope that I executed some form of depth of field correctly, just like Mo and Lisa explained.
Wrapping up a very full day steeped in early rising, filming and editing! I filmed my final scenes this morning after a long day of filming yesterday. Spend the majority of the day capturing my footage – first time working with tape – so capturing was a whole new experience. I got to use Lisa's fancy zoom today, which was awesome, like new gear usually is! So I'm sure you all know the drill of time lines and creating new bins for your captured footage, time-consuming yes, but the pay off of staying organized is well worth it.
At the moment I'm just soaking in the love for documentary and I can't wait for the festival to start! I can't believe how fast this is going! Everything is spinning so quickly. Busy day tomorrow, better get some rest!
Just wanted to throw it out there, that I've been having such an amazing time learning from Catrina, Lisa, and Mo! And of course working with all of the talented young women in the Connexions program.
Leta