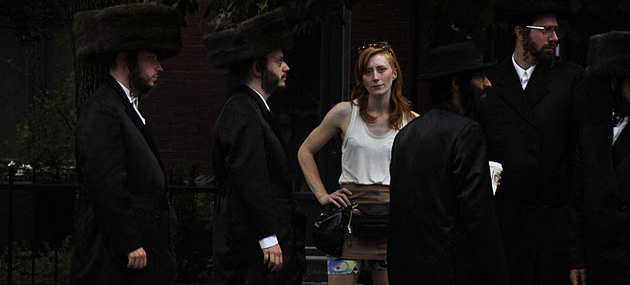 Sorry, Rabbi selected at TIFF
It is official, Sorry, Rabbi, a comedy short by Mark Slutsky will have its world premiere at TIFF. This is cool for a number of reasons, of which I will list 9:
1- The film is set in Montreal's Mile-End neighbourhood, which looks oh-so darling in film.
2- The film tells the story of a Jewish man, Josh, who is confronted by a group of angry Hasidics who accuse him of antisemitism.
3- The film was inspired by a similar real-life encounter by Slutsky.
4- The film stars actor-director Jacob Tierney (Good Neighbours, The Trotsky), and Jessica Paré (Mad Men, anyone?)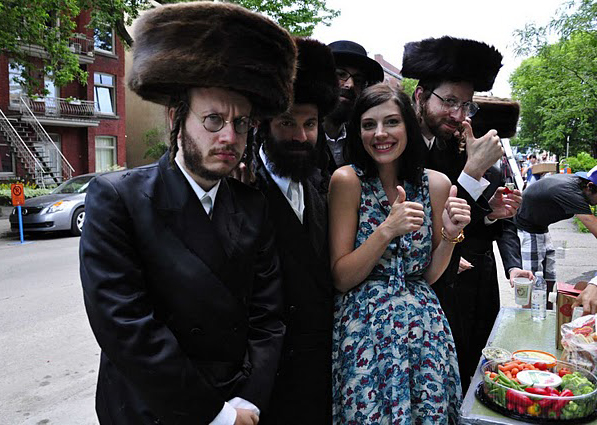 5- The film's screenplay won the 2010 English language prize at the short film screenplay contest Cours écrire ton court (organized by SODEC).
6- The film landed funding from the Conseil des Arts du Québec and BravoFact (a foundation to finance shorts run by cable channel Bravo).
7- The film was co-produced by Aislin Chin-Yee, a notable NFB alumnus who (amongst numerous other projects) line produced The Colour of Beauty.
8- The film's (yet-to-be-seen) poster will be created by the very esteemed Matt Forsythe (who used to toil in this very office, snif).
9- The film is a comedy involving Hasidic Jews.
—
Thank you Andi State for the lovely photos. See (many) more photos from the Sorry, Rabbi Mile-End set on her blog.
For more information, visit Prospector Films and the TIFF website (full 2011 programming should be up soon).