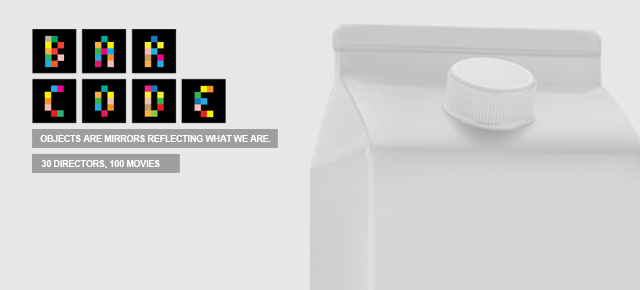 Introducing Barcode.tv, a new interactive doc about the objects that surround us
The following is a guest post by Anne-Marie Lavigne.
The interactive documentary Barcode.tv is now online! Co-produced with ARTE France, the project explores our relationship to the objects that surround us. With 100 short films by 30 directors, this collective work for Internet and iPhone aims to shake up our habitual ways of seeing by offering new perspectives on everyday items.
Objects are integral to our lives — they're everywhere we look. We design, manufacture, purchase and use them in response to specific needs or functions. Objects fill our spaces and shape the ergonomics of day-to-day living. Far more than just tools or decorations, they're extensions of our relationship to the surrounding world, actors that play the roles we assign them.
Barcode.tv turns this reality on its head by letting the objects do the talking, in this sense serving as mirrors reflecting who we are. Through the project, the most common object has a story to tell, regardless of the category it falls into:
Culture, entertainment, food and drink, sports and leisure, work, home, body care, animals, transport, health, adults-only, communications, lifestyles and accessories
Using the Web platform or dedicated iPhone app, you can start exploring objects through 3 playful, user-friendly commands:
Search by name

Think of any object — a drink, food, piece of furniture, tool, medication, item of clothing, vehicle and so on. Typing the object's name into the Search by name function will launch a short film related to that object.
Scan an object

Wherever you may be — at work, at home, at the pharmacy, in a restaurant, at a hardware store or in your living room — stop and take a look around. Find an object with a bar code, then activate Scan an object. The project will request your authorization to activate your webcam or automatically launch your iPhone camera. Position the bar code before the lens as instructed. Once the bar code has been scanned, a film related to that object will begin.
Add an object

The Add an object command lets you give the objects you choose a voice. Photograph an item that holds significance for you — for example, something you use for work, an object that holds a memory or inspires you in some way, a food you like to eat and so on. Upload the photo and write a short text about what the item means to you. If you're using the iPhone app, you can also see stories posted by other users based on their geographic location. What's more, each week the Barcode blog (in French only) will feature a new story posted by a special guest.
To see all the films, select a variety of objects from the 14 available categories. Your progress through the project will be charted in the My itinerary section of the Web platform. This section turns Barcode.tv into an interactive game that challenges users to watch the 100 short films launched by different objects.
What's particularly fascinating about the project is that it extends the concept of interactivity beyond the screen, transforming daily life into an extraordinary world where objects are brought to life through documentary content.
Follow the project on Facebook and Twitter. Some really cool events are in store…