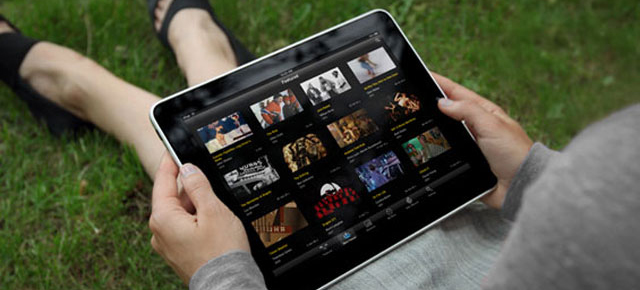 As far as misfortunes go, being Canadian and never having heard of the National Film Board has to be on par with loving the NFB and never having installed the NFB Films app on your tablet or phone. Both a crying shame, but altogether remediable. Let us start with this most hapless applessness.
The idea behind all of our film apps is to inject more film-watching into your daily life. Because think about it. With more film in your life – at the bus stop, in the dentist's waiting room, under the table at your mother-in-law's – life soon ceases to be "nasty, brutish and short" (Hobbes, Leviathan, 1651) and suddenly becomes "joyful, enlightening and fun!" (Weldon, NFB blog, 2012).
Below are descriptions and download links for our iPhone, iPad, Android and Blackberry Playbook apps. Each and every one of these wonders is entirely free.
Our iPhone app is just dreamy. On any given day, at any given time, this app allows you to: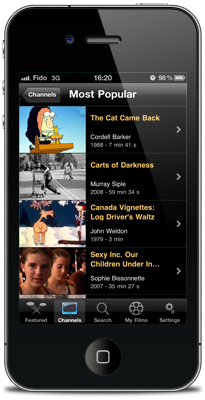 – watch over 2,000 films on your phone
– save films for up to 48 hours to watch them later, while away from a wi-fi zone (in the subway, at the cottage, deep inside your bunker, etc.)
– browse by thematic channels
– bookmark your favourites
– stream to your Apple TV (Apple Airplay compatible)
– stream to your normal TV (TV out function)
– share your favourite films via Facebook and Twitter
Download the NFB Films app for iPhone
The iPad app is in every way the same as our iPhone app, but for your iPad. The only thing it doesn't do (aside from the dishes) is stream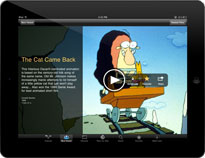 content directly to your Apple TV. Before we get all panicky and cry injustice, let us consider the following facts: 1) The iPad has a big enough screen to watch something on in the first place. 2) Regardless, if you own an Apple TV and an iPad, you probably also wield a white iPhone 7, so you can always install the app on that guy and beam your films from there.
Download the NFB Films app for iPad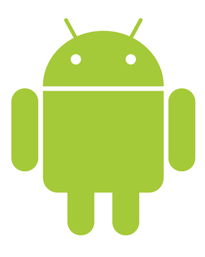 The Android app is almost the same as the iPad app, with the difference that the reason it doesn't stream to your Apple TV has nothing to do with your Android device's screen size and everything to do with the fact that those machines don't communicate ever. It's nothing to be sad about. Think USA-North Korea. It's just like that.
Download the NFB Films app for Android
Don't look to download this one: our PlayBook app is so essential is comes pre-installed in your BlackBerry PlayBook. On top of being pre-installed, this app has another feature none of the others do. It is our only app to display our interactive and HD content. Because as you know, Apple is cool and sleek and all, but it doesn't always "play well with others". Especially when it comes to our dear friend Adobe Flash, a platform it doesn't support but which remains one of our exciting and genre-defining interactive docs' fundamental ingredient.
So download and enjoy, friends. And keep posted for part 2 next week. Free app-alooza!