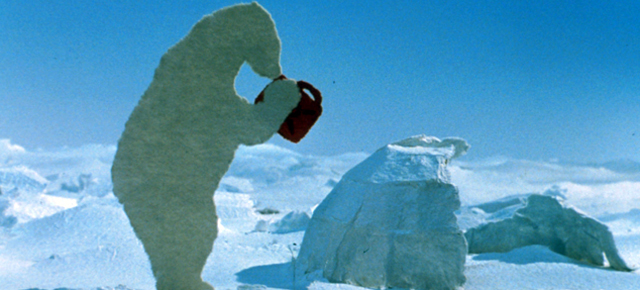 Canuxploitation's Paul Corupe revisits The Sniffing Bear
A while back, we stumbled upon (or at least our Google Alerts did) Paul Corupe's excellent blog, Canuxploitation (Your Complete Guide to Canadian B Film) and its deliciously zany column, Psychotronic NFB. We were stoked. We wrote Paul and told him we'd like to publish one of his Psychotronic NFB posts on our blog, if he was into that. Being a true Canadian film gentlemen, Paul agreed. So please find below his most recent Psychotronic NFB installment, about the too-little-known 1992 NFB animation The Sniffing Bear. Enjoy.
– – –

Drugs, drugs, drugs–which are good, which are bad? The NFB has been exploring that very subject since World War II. The Board first tackled the illegal narcotics trade in the 1948 film DRUG ADDICT (and a condensed, re-edited version, PAY OFF IN PAIN), a cautionary tale about a heroin addict. As LSD and marijuana gained prominence in the 1960s and 70s, the NFB continued to plumb this social issue with films including ALMOST EVERYONE DOES, BEYOND KICKS and DARKNESS DARKNESS. But no doubt their oddest contribution to the anti-drug film canon is THE SNIFFING BEAR, a seven-minute animated short from 1992 about the dangers of gasoline huffing.
Sniffing toxic chemicals to get high is a serious problem in many northern communities in Canada, but it is rarely addressed by the media. Not only do users face danger from the damaging effects of the chemicals, but also from the flammability of certain substances where proper precautions are not taken. As most gas huffers get started as young teenagers, it's important to reach young children with a message about why this particular illicit activity can be deadly. That makes THE SNIFFING BEAR fairly unique among the NFB's work–meant for pre-teens, it's the only animated anti-drug film in the NFB's collection.
Even young children might find the way the story unfolds a little odd, though. In trying to create a kid-friendly anti-drug short, there's quite a bit of oversimplification happening in this aimless narrative. Basically, the bear finds a plastic gasoline can just sitting there in a smashed igloo, and almost immediately gets his snout right in there. The other animals in the Arctic setting try to knock the can free, apparently trying to warn the bear. It's an allegory, of course, but not a particularly strong one, as it doesn't really illustrate why the sniffing bear should sniff out a different kind of recreation.
And then there's the problem of the way the bear's fume-addled nightmare is depicted. These kinds of films always run the risk of making a hallucinogenic drug reaction look more fun than fearful, and I'm not sure this one is terribly convincing–the possibilities of freaky mask dreams and frequent naps really isn't so bad. It's the other animals that come off like the real downers, at least at first, trying to keep away his precious gas can. Still, as the bear walks away at the end, the anti-drug message is clear. Or at least as clear as an allegorical tale about gas huffing starring a polar bear can be.
Not all similar NFB films contain an anti-drug message. More recently, the NFB has explored the societal effects on the war on drugs itself in films like DAMAGE DONE: THE DRUG WAR ODYSSEY, FIX: THE STORY OF AN ADDICTED CITY and SOCIETIES UNDER THE INFLUENCE. Stoned bears aside, it's this progressive attitude, having evolved over more than 60 years, that makes the NFB such a unique Canadian entity–could you imagine the U.S. government stamping it's name on a film that advocated legalizing narcotics? Me neither.
Bizarrest moment: The bear rips up the heavy plastic gasoline canister in a fit of rage. Is that even possible? Those things are built to last!
Lesson learned: Don't do drugs. Especially if you are a two-dimensional polar bear.
The Sniffing Bear, Co Hoedeman, provided by the National Film Board of Canada
The creator of Canuxploitation.com, Toronto-based writer and editor Paul Corupe has been exploring and documenting the secret history of Canadian B-movies for more than a decade. A regular contributor to Rue Morgue magazine, he has also written about genre cinema for The Toronto Star, Take One Film and Television in Canada, FanTasia's Spectacular Optical and Offscreen.com. In addition to scripting 2 seasons of On Screen!, a TV documentary series on landmark Canadian films, he has appeared in numerous DVD extras as well as the documentary Nightmare in Canada: Canadian Horror on Film.