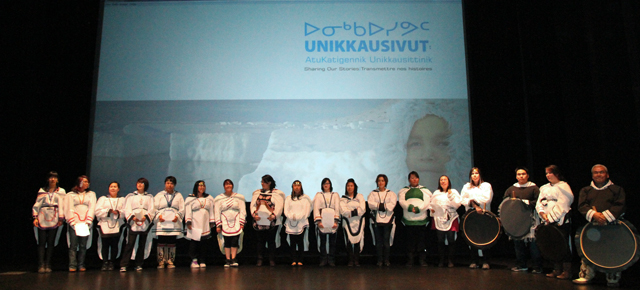 Inuit audiovisual legacy project Unikkausivut – Sharing our Stories kicks off in Ottawa
On Wednesday November 2, the NFB and its many partners (including the Inuit Relations Secretariat of Indian and Northern Affairs Canada and the Government of Nunavut's Depatment of Education) launched the first phase of Unikkausivut – Sharing our Stories, an ambitious project aiming to gather, restore, and make available the Film Board's vast collection of films about and by Canada's Inuit peoples.
The event, which took place in the Canadian capital, was co-presented by Inuit Tapiriit Kanatami (ITK), Canada's national Inuit organisation, which was celebrating its 40th anniversary with a 3-day Ottawa event entitled From Eskimo to Inuit in 40 years.
That night, the celebrations revolved around the launch of a DVD box set of 24 films covering the last 70 years of Inuit life, culture and history, as well as a specialized online channel (housed on NFB.ca) showcasing over 40 films from the NFB's Inuit film collection, now available for free streaming.
The evening started with a bang (literally) as students from the Nunavut Sivuniksavut College, all in traditional costume, beckoned guests into the auditorium to the beat of their drums. The Nunavut Sivuniksavut College is a unique 8-month college program based in Ottawa for Inuit youth from all over Nunavut. This batch of ambitious, bright-eyed teens had arrived in Ottawa in early September.
The celebrations were hosted by Tom Perlmutter, head of the NFB, and Mary Simon, President of ITK.
Mary Simon spoke first. She said the films brought back floods of memories of living on the land, in a time before settlements. She said that while films such as How to Build an Igloo showcase the ingenuity and skill of her people, she said, other films like Qimmit, A Clash of Two Truths and Martha of the North tell a darker story. "It is important for our people to know about both of these sides of our history," she said.
"Inuit history is Canadian history," she said, "this is something that needs to be understood in the South [Southern Canada] as well."
Tom Perlmutter spoke next. Thanking the Inuit people for enriching our culture, he expressed his hope that the Unikkausivut project would contribute to preserving Inuit languages and culture. "But it's more than just preservation," he said, noting that the word often has that negative connotation of "pickling". "What we mean here is the growth of a culture, its flourishing, and explosion," he said.
The NFB chairman said the film box set would be available to every school in Nunavut, and that the rights to use these films would never expire. "These films will prove valuable tools to teach and learn Inuit languages and culture forever," he said, adding that as the eyes of the world were currently fixed on the Arctic, there was never a better time to launch such an initiative, "showcasing an Inuit worldview."
In attendance were many notable figures, including Honourable Eva Aariak, Premier of Nunavut, Michael Wernick, Deputy Minister of Aboriginal Affairs, as well as representatives of the 4 Inuit regions (Nunavut, Nunavik, Nunatsiavut and Inuvialuit.)
Martha Flaherty (grand-daughter of Robert Flaherty, the man behind the iconic 1922 film Nanook of the North, and the subject of the NFB doc Martha of the North), spoke about her role as "Inuit consultant" on the project.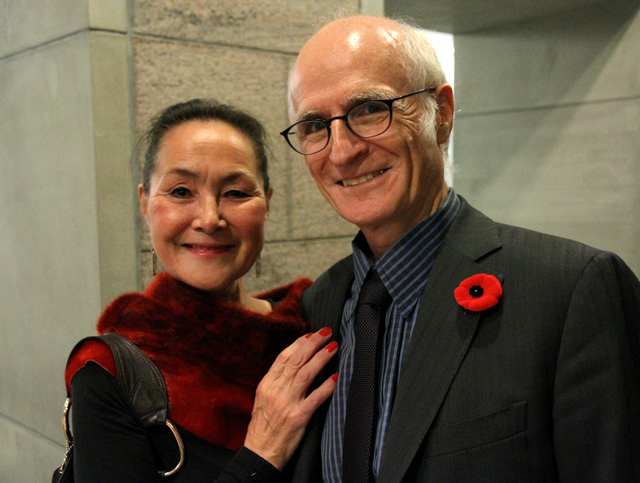 Regal in a red fur stole and matching lips and nails, Martha spoke of her pride in being an Inuk. "Being Inuit consultant was a real awakening," she said. "I thought I knew about Inuit culture before seeing these films, but I didn't," she said. "They're amazing."
After these short speeches, films from the box set were screened. Like the films on the DVD themselves, the films could be viewed in English, French or Inuktitut, thanks to fancy individual headsets.
Guests watched How to Build an Igloo (a classic), 2 short Canada Vignette shorts (June in Povungnituk and Vignettes from Labrador North) as well as a animated short from the Nunavut Animation Lab program, I am But a Little Woman.
After the screenings, which made everyone nostalgic for the North (and, audibly, for Northern "country foods"), representatives from the 4 Inuit regions were symbolically handed the Unikkausivut box set.
Pita Aatami, President of Makivik Corporation (Nunavik), expressed his gratitude and said he had loved the NFB's Netsiliq series when he was in school.
He said he lived below the tree line then, where there are trees. "I had never seen an igloo before seeing these films," he said. "Now I'll show this to my daughter," he said." She's 13 and has never seen an igloo either."
The evening ended with Inuit songs and drumming, courtesy of the Nunavut Sivuniksavut College students. Two of the female students delighted the crowd with a few highly impressive rounds of throat singing.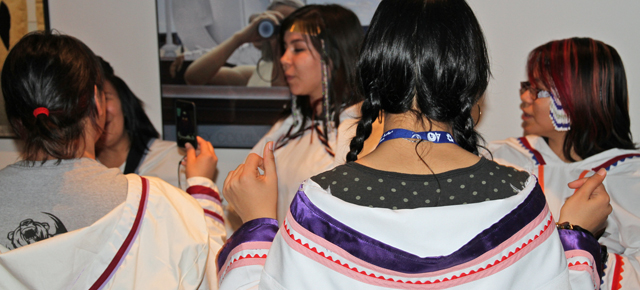 Unikkausivut – Sharing Our Stories will soon be hitting the road.
The Northern roll-out dates are:
Nov. 7 – Iqaluit
Nov. 8 – Kuujjuaq
Nov. 17 – Nain
Nov. 23 – Inuvik
Watch Unikkausivut – Sharing Our Stories films online
Buy the DVD box set