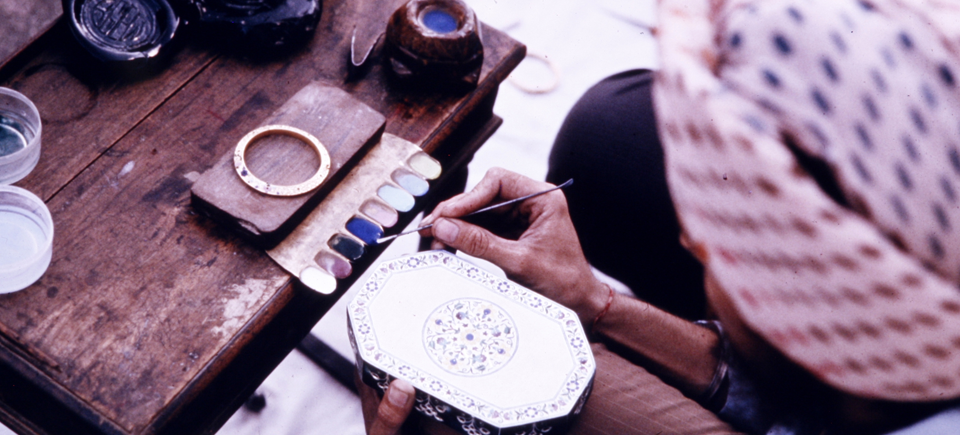 DIY Movies for Master Artisans
As a person who can't even build a sandwich, I've always admired those who can create wonderful works of craftsmanship with nothing but their hands. After all, what people build are often more than just crafts – they're a reflection of the person who made it, a manifestation of the culture they grew up in.
So, building upon this artisanal theme, we've lovingly constructed this list of four films featuring expert craftspeople and artisans who, in a Hiram Abiff-like fashion, are masters of what they create.
Steady as She Goes
George Fulfit possesses an infectious passion for building model ships. A quirky enthusiasm that is on full display in this short, character documentary. Watch George as he attempts to construct, from start to finish, his largest ever miniature ship-in-a-bottle. The perfect film for anyone who ever wanted to know how you would go about inserting a tiny ship into an equally tiny bottle.
Steady as She Goes, Robert Fresco, provided by the National Film Board of Canada
Kamik
Kamik paints an intimate, somber and gripping portrait of Ulayok Kaviok. Kaviok has a special talent for tailoring and creating a traditional, Inuit garment called a Kamik. It is through her skills in weaving these sealskinned boots that the relationship she and her family face between tradition and cultural transformation is revealed to the viewer.
Kamik, Elise Swerhone, provided by the National Film Board of Canada
In Praise of Hands
From the frigid tundras of Canada, to the warm air Mexico, to the island of Japan, to the deltas of Nigeria and everywhere in-between, this documentary is a fun, informative tribute to the craftsperson. Keep your eyes peeled as the dextrous and precision skills of artisans from around the globe are put on full display; from pottery making, to stone work, to weaving, to dyeing, to puppet making and beyond.
In Praise of Hands, Donald Winkler, provided by the National Film Board of Canada
How to Build an Igloo
Have you ever wondered how to build an igloo? Well, have we sure got the film for you. In this short,  iconic, and highly entertaining documentary, we are given a personal view to an igloo building event. So, watch as two people pick a spot, and, with nothing but frozen snow, a steel knife, and their own cultural ingenuity, build an entire igloo from scratch.
How to Build an Igloo, Douglas Wilkinson, provided by the National Film Board of Canada