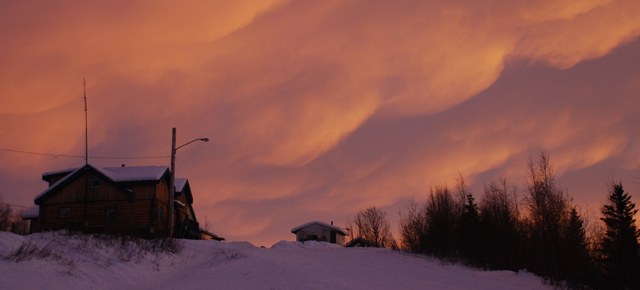 * This is a guest post by NFB intern and emerging Métis filmmaker, Sarah Hager.
As the newest intern at the Pacific and Yukon Centre, I've decided to completely immerse myself in NFB films and to watch as many as I can during my time here. So far I'm at number 20 (out of 13,000) – and if asked to pick my favourite so far I would say without a moment of hesitation: Dennis Allen's 2009 documentary, CBQM.
CBQM is a radio station that runs out of Fort McPherson, NWT – a hamlet with a population of barely 800.  Known for being home to North America's northern-most First Nations people, the town endures weeks of darkness each winter, when the sun barely makes an appearance over the horizon.
What makes Fort McPherson so unique is the incredible effort of the community members that come together to run CBQM – from the Tetlit Gwich'in elders who move seamlessly between their own language and English while hosting, Reverend Sue, who's segments often start with a passage of the bible and end with a cookie recipe, and even members of the RCMP reporting the rogue wolves that sporadically wander the streets.
Broadcasting bingo games, inviting local fiddlers to play live in studio and dealing with the never ending ring of the radio telephone, which is awkwardly located next to the studio microphone, CBQM is a very endearing and heartwarming portrait of life in the North.
About me: I'm an emerging Métis filmmaker, and recent graduate of Capilano University's Motion Picture Production Program. I'll be working at the NFB until the end of March.
CBQM, Dennis Allen, provided by the National Film Board of Canada