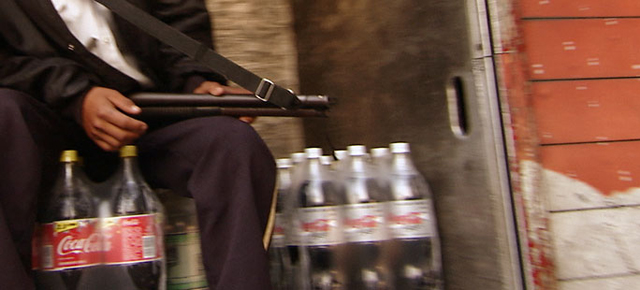 Friday staff pick: The Coca-Cola Case
* This is a guest post by Karine Ligneau, Director's Office Assistant, Human Resources
At first glance, the soft drink in the red package seems quite inoffensive. However, we learn in The Coca-Cola case that its hidden contents consist of unacceptable working conditions, murder and other crimes, and the industry that makes it has as much blood on its hands as do the drug cartels. Yet its ads are so entertaining and appealing, and it enjoys such a far-reaching influence through its sponsorship of major international events that its brand name remains spotless, even in the countries where it is bottled.
At this point, generations of consumers on every continent have made this soft drink a permanent part of their lives, including me.  It's impossible not to be taken aback by the courage of German Gutierrez and Carmen Garcia, as well as that of the militants who put their lives on the line for this documentary, in addition to the threats they regularly receive for denouncing the kidnappings, torture and assassinations that go unpunished. Members of workers' committees, attendees at the annual Coca Cola shareholders' meeting, members of the American Congress ‒ the company's detractors are fighting on many levels to be heard.
After seeing this film, I read Coca-Cola, l'enquête interdite by William Reymond. The author documents the origins of the first so-called cola drinks through to the present day, revealing the dark history of the multinational as it benefited from war to increase its wealth, defying rationing to the detriment of the population and using prisoners as slaves in its plants. This is just a tiny peek at a company that has so many dark secrets to hide that it has destroyed its archives and has fabricated its entire past.