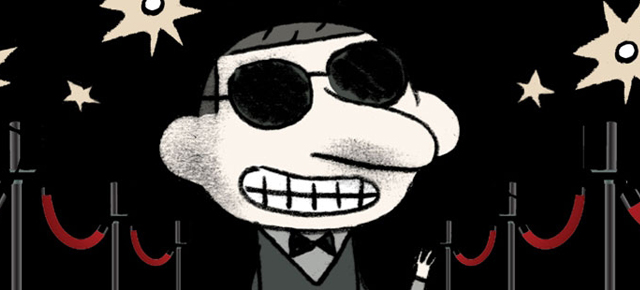 Heading to the Oscars: 10 Questions for Patrick Doyon
* This post is a translation. Read the original here.
This isn't the first time I've interviewed Patrick Doyon. We met at the NFB last year, and held an online chat in February 2011. At the time, Patrick was in Berlin for the world premiere of his film Sunday.
Patrick Doyon is 32 years old, and the proud father of a two-year-old girl. He is very friendly and down to earth, and knows how to trust those around him. When you meet him, you feel as though he could be your brother, your son, or your best friend.
It's been barely a year since Patrick completed his first professional animated film for the NFB. Two weeks ago, he learned that it had been nominated for an Academy Award for Best Short Film (Animated). In this business, anything is possible. Here is my interview with an incredibly talented young filmmaker… shortly after he'd climbed back on the chair he'd just fallen off of.
A lot of people don't know much about you yet, so I'd like to start off by asking where you studied, and what drew you to working in animation?
From 2000 to 2004, I studied at UQAM. I did a bachelor's degree in graphic design, with two animation electives. During that time, I was also a frequent visitor to the Cinémathèque québécoise, which is right across from the university. I really liked going to auteur animation programs organized by curator Marco de Blois. The programs were on Thursday nights, and I made sure to not have any courses at the same time. Those screenings played an important role in fostering my interest in animation.
What was your first animation contract?
In 2004, after I had graduated, I worked on the TV series Walter for TV5. I did storyboard cleanup – in other words, I used the series bible to redraw characters sketched in by the director. I was doing about 40 hours a week of technical drawing, which really helped me with my pencil strokes.
Then I worked on the animated series Station X, which was airing on Teletoon at the time. I was animating 40-second clips that would play inside the animation, and I had carte blanche to do whatever I wanted. So that meant I was directing my own clips. You can see some of them on my Vimeo page.
I was strongly influenced by both of these work experiences, my studies and my interest in animated film.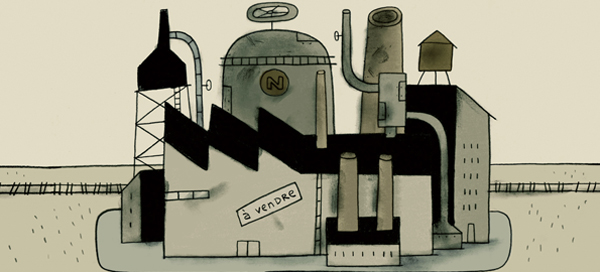 When did you first approach the NFB?
I twice participated in the Cinéaste recherché(e) contest for emerging young filmmakers – in 2004, the year Jean-François Lévesque won for The Necktie, and again in 2006, when I was one of the 3 finalists. Marie-Hélène Turcotte (La formation des nuages) was in that group as well.
I also kept up with news from the NFB and remained interested in the various programs supporting filmmakers. That's how I discovered the English animation studio's Hothouse training program. I applied, and I was accepted on my first try. That gave me the opportunity to work with my mentor, filmmaker Shira Avni, and producer Michael Fukushima, the program's co-founder. It was the 3rd edition of Hothouse, and I learned a lot by being a part of it. They teach you about every stage of animation production, from screenplay to sound design, to final edit. While I was in Hothouse I made Square Roots, the story of a little robot that can't be stopped – except maybe by an accident on the street…
Where did the idea for Sunday come from?
When I applied to the Cinéaste recherché(e) contest in 2006, I made a short cartoon called Sunday to pitch my film idea. Producer Marc Bertrand was interested in it and asked me to rework the story, following the Sunday angle. So I worked on the idea for several months, and then Marc and Michael Fukushima offered to produce the film.
Altogether, I spent 2-and-a-half years working on Sunday.  I started in 2007 and I finished the film near the end of 2010. Michael and Mark trusted me and gave me a lot of freedom – while, at the same time, being there for me when I needed them. Filmmaker Nicolas Brault (Hungu, Islet, The Circus) also offered me advice, as did one of my former UQAM teachers, Jean-Philippe Fauteux, who helped on the film.
The film premiered at the Berlin International Film Festival in February 2011 and, just a couple of weeks ago, it was nominated for an Oscar. You've had an extraordinary year. What stands out most for you from the last 12 months?
It really has been an incredible year. First there was Berlin, then I went to France in June for the screening of Sunday at the Annecy International Animated Film Festival. I also travelled (at my own expense) to Denmark (Ribe Animation Festival), London (London International Animation Festival), Portugal (Espinho International Animated Film Festival Cinanima) and Ottawa (Ottawa International Animation Festival). I won a cash prize in Denmark, which helped me pay for that trip and take another.
Why did you decide to use a simple, childlike drawing style for Sunday?
It came together during the research stage. I like to adapt my style to the tone of the film I'm working on. A childlike style worked well with Sunday, since the story is told through the eyes of a child. That doesn't mean I only want to make films in that style, or that I won't use more realistic drawing in the future. I might also make darker films in a simple style, but adapting it to the story.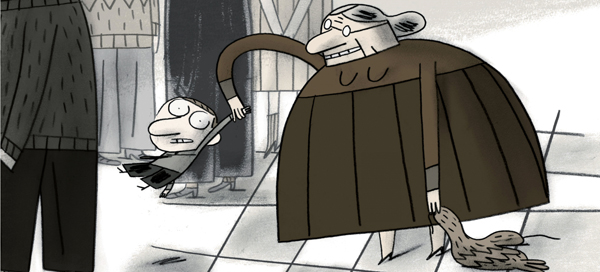 The trend in animation is toward pixilation and 3D, but you chose to use a classic style instead: drawing on paper. Why?
First of all, 3D was out of the question because of what it would have cost. I chose drawing because, as a film lover, it's my favourite technique. If I could, I would make a film with no compositing. Just drawings filmed under a camera, with no digitization, like filmmakers used to do back in the day.
I have a weakness for the classic arts, like pencil and charcoal drawing, and painting.
Two weeks ago, you learned that you had been nominated for an Oscar in the Best Short Film (Animated) category. How do you feel?
Things have settled down a bit, but last week was crazy! I never imagined that one of my films would be nominated for an Oscar one day, and I would be going to the Academy Awards. It's surreal. And it's incredible in terms of what it means for the visibility of the film. Since January 24, I've felt like I'm caught up in a whirlwind, with people constantly approaching me. I can barely begin to imagine what kind of media appearances Philippe Falardeau (whose Monsieur Lazhar has been nominated for Best Foreign-language Film) is doing!
Have you had a chance to watch the other films nominated in the same category as Sunday?
Yes, I saw all of the films on the Short List [the 10 pre-selected films] over the course of the year. They are all excellent, and I'm honoured to be considered in the same category as such seasoned filmmakers as fellow Canadians Amanda Forbis and Wendy Tilby (Wild Life). I studied their films in college. Their work influenced mine.
What happens next?
Sunday has been nominated for an Annie [one of the animation world's  most prestigious awards], so I'll be in Los Angeles the weekend of February 4 for the gala. Then it's back to Montreal for a week, where I'll try to find myself a suit (!) before I head back to California for a pre-Oscar series of screenings. I'll be down there for about a month. My girlfriend is going to meet up with me near the end of that time, so she can come to the Academy Awards ceremony with me.
Well, we hope you have a great trip! You might have to keep your eyes open and pinch yourself from time to time to make sure you're not dreaming.
Thanks. I'll do my best!