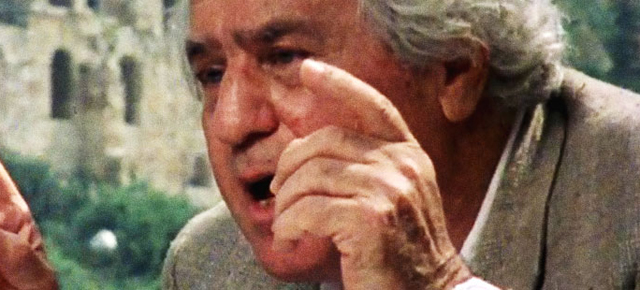 Irving Layton, Canadian Poet Extraordinaire
March 12, 2012, will mark the 100th anniversary of the birth of the great Canadian poet Irving Layton. To commemorate this occasion, we are adding Donald Winkler's 1986 documentary Poet: Irving Layton Observed to the NFB.ca screening room. It focuses on Layton discussing his work and giving readings of his most famous poems. This film was part of a series of documentaries, made during the 1980s, on several well-known Canadian writers and poets.
While films on Canadian writers were produced at the NFB as far back as the 1950s, it wasn't until the 1980s that a concerted effort was made to profile this country's greatest authors. It all began when the English Program at the National Film Board decided to make films specifically for Canadian schools as part of a curriculum enrichment program. The green light was given to several films on Canadian writers and poets, including such luminaries as Earle Birney, Northrop Frye and Mordecai Richler. Winkler would eventually direct a number of films in this series, including works on the aforementioned Frye and Birney as well as P.K. Page, Al Purdy and Layton.
A film on 4 of Canada's best poets had been shot by the NFB in 1964 profiling Layton, Birney, Leonard Cohen and Phyllis Gotlieb. The film, by Don Owen, followed the 4 on a tour of Canada. Owen edited a rough cut of the footage but was not happy with it and left to work on another film. Donald Brittain was brought in to try to salvage the film, and he decided to cut out everyone but Cohen. He shot new footage of Cohen and released the film to great acclaim. Ladies and Gentlemen, Mr. Leonard Cohen would become one of the NFB's classic documentaries, playing all over the world. Even though Layton was no longer featured, he does appear in a couple of sequences early in the film.
In 1984, after completing films on Frye, Birney and F.R. Scott, Winkler proposed a film on Layton to the NFB. Since Layton was already a legend in Canadian poetry, Winkler approached the film differently, opting to focus on the man's work and less on the details of his life, as he had done with other poets who were not household names. The NFB gave the go-ahead to produce a one-hour TV documentary with a proviso that a shorter educational version be made as well, in keeping with the new mandate to produce curriculum films. Winkler and his crew shot the film in Montreal and in Greece, where Layton had a home. (Winkler also took advantage of his time with Layton to shoot a third film, A Tall Man Executes a Jig by Irving Layton, in which Layton reads his favourite poem and discusses it on camera.)
Poet: Irving Layton Observed premiered at the Saidye Bronfman Centre Theatre in Montreal on October 28, 1986, along with NFB documentaries on Mordecai Richler and Brian Moore, as part of an event entitled Life Transformed: Montreal Writers at Work. The 3 films toured the country with showings in Toronto, Vancouver and Halifax, among other cities, over the next few weeks. The film was then broadcast on the entire CBC network on July 30, 1987, with a rebroadcast the following May. It was also sold to American television as part of a package of 9 films on Canadian writers.
The educational version of the film Irving Layton: An Introduction, running 27 minutes, was released to the educational market in 1986 along with A Tall Man Executes a Jig by Irving Layton.
Whether you are a fan of Layton's work or not, Poet: Irving Layton Observed is a thought-provoking, revealing look at a literary legend at work. I must admit that I knew next to nothing about Layton when I first saw this film. Seeing him at work composing a poem is an incredible experience. I also enjoyed hearing Layton's views on what constitutes Canadian poetry and what sets it apart from what is produced in the USA. I hope you will join us in commemorating the 100th anniversary of the birth of this great Canadian. Enjoy the film.
Poet: Irving Layton Observed, Donald Winkler, provided by the National Film Board of Canada