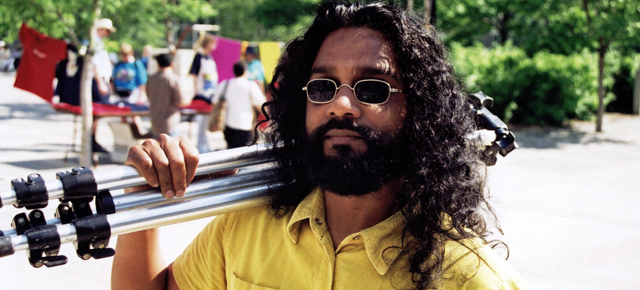 20 Must-Read Blogs for Film Buffs
Films, like food, are one of those things that are almost as nice to take in as they are to read about (as opposed to say, falling in love or winning the lotto.) With this in mind, we decided to compile a list of mouthwatering film blogs to supplement (and hopefully spice up) your film diet.
We put this list together following a few simple rules. To be considered, a blog had to offer both nutritious and tasty content and a relatively enticing presentation (think zucchini cupcakes, or the most excellent NFB.ca blog. You get the idea).
So without any more ado, here is our Official List of 20 Must-Read Blogs for Film Buffs, divided by interest category.
(And guys, please don't hate me for failing to include your personal fave. We all know what the comments section is there for.)
DOCUMENTARIES
A site created by and for documentary fans and filmmakers, The Documentary Blog wants to become "your quintessential source for news and reviews pertaining specifically to documentary films". Bonus points for the excellent podcasts and choice headquarters location (St.Catharines, ON). Quality Canadian content is something I celebrate all day, everyday.
The IFC is the Independent Film Channel, an American TV network that airs independent film, docs and series. This is their blog. It mainly focuses on content other than their own and is updated with almost alarming regularity. (There were 10 posts published yesterday alone.)
The POV Blog is all about documentaries. It seeks to cover "how they're made, what they're about, why we love them." Between "interviews with documentary filmmakers, sneak peaks of docs-in-progress, guides to other projects and in-depth articles around issues, events and ideas related to documentary film", there's enough quality content there to keep you of the the arcades for days. (Also, I'm a total sucker for that tapioca and grey-blue colour-scheme.)
Covering topics including DIY, Digital Distribution, and New Media, this blog provides updates on the state and evolution of filmmaking in the digital age. One caveat, however. The excellent content, is sort of let down by the meh presentation. (What's with the huge empty space under posts?) This is the clearly the zucchini cupcake with no sugar nor icing. (But hey! It's good for you!)
ANIMATION/SHORTS
Cartoon Brew, which celebrates its 8th birthday today, is a trove of quality information for animation freaks and geeks. They feature a lot of exclusive content, including ours, sometimes.
Purporting to share the "The Greatest Stories Being Told', Short of the Week is also the prettiest of them all. I enjoy most things about this blog, from the contributor's writing style and the topics broached down to the fonts used and the images selected to illustrate posts. This one is the gift that keeps giving.
FILMMAKING TIPS/HELPFUL STUFF
Filmmaker Magazine is a quarterly publication published by the independent filmmaker project (ifp). It is super savvy, and with its many web exclusives, director interviews and columns, way more than "just a blog".
Can't afford the time or money to go sit in film school? A good place to start feeling less bad about that is this "pluralist, pro bono, and purely positive" online resource for aspiring filmmakers. Yes, it's pretty nerdy (good nerdy) but then again that doesn't exactly come as a surprise coming from a blogger who introduces herself as someone who always "dreamed of being a Borgesian librarian" when she grew up. Um, yeah.
FILM NEWS/MUSINGS
Roger Ebert: the man, the legend, the blog. This journal is the online version of the film review column Ebert has published in the Chicago Sun-Times since 1967. (Beat that, everyone.)
Part of the Indiewire blog family, Spout is a neat little blog about "trends, buzz, themes and other topics of interest to the film fan who isn't always looking for assisted marketing, conventional criticism or Hollywood reportage." It could be updated more often (last post was February 29, shame shame!) but when it is, it's always worth it.
Another Indiewire blog, Press Play focuses on "video essays and critical, personal writing about movies, TV, music, comics and whatever else interests its contributors." (I really dig that "whatever else" part.)
Aside from the title, which reminds me of a person who bleeds a lot and the sound a goat makes when talking to another goat (whereas it's probably something way more benign, like for example the contraction of  the words blog + reader), this blog is the film section of the Chicago Reader, Chicago's largest free weekly newspaper. It's solid.
A publication of the University of California Press, Film Quarterly is a super slick and very on-point film mag. Check out their Web Exclusives section. It's full of stuff that will make you look and sound smart at the dinner table.
The Film Society of Lincoln Center blog

The Film Society of Lincoln Center was founded in 1969 to celebrate American and international cinema, to recognize and support new filmmakers, and to enhance awareness, accessibility and understanding of the art among a broad and diverse film going audience. This is their blog. Right now it looks "all SXSW everything", but that should normally pass.
Lest I be accused of promoting only North American outlets, here is a British one. (A choice one at that.)
ON THE VINTAGE TIP
Cinebeats: Confessions of a Cinephile
Cinebeats chronicles one woman's love affair with 60s and 70s-era cinema. That woman is Kimberly Lindbergs. I have no idea who she is, but I am super partial to her style. The vintage photos alone are worth a courtesy visit.
davekehr.com: reports from the lost continent of cinephilia
This blog, written by one Dave Kehr, is a totally trippy stroll down films-you-may-or-may-not remember-but definitely-should lane. The writing is snappy and the huge, hi-res images make my heart go pitter-pat.
SCREENWRITING
Scriptshadow: reviewing the latest scripts in Hollywood
About one part interview and 4 parts review, this blog does exactly what it sets out to do – and well.
Penned by Scott Myers, a guy who's written nearly 30 projects for every major Hollywood studio and broadcast network since selling his spec script K-9 in 1987. The author is smart, insightful and funny and seems to do high and low-brow with equal ease. I liked this recent post about lunch meetings in Hollywood (The Business of Screewriting: Let's do Lunch!), thought it has nothing to do with film, or food, or anything else for that matter.
This being 2012, after all, why not step down from our high-horse and include a Tumblr in our list. It doesn't look like much, but the content largely makes up for that. Useful, concise and to-the-point, these posts are bite-sized screenwriting tips you can easily wrap your mind (and hopefully your script around.) I have no way of knowing what number they started at (I'm going with 1, regardless), but today they posted Screenwriting Tip #933. ("The best twist endings enhance the rest of the plot, rather than invalidate it.")
Happy reading, film buffs!