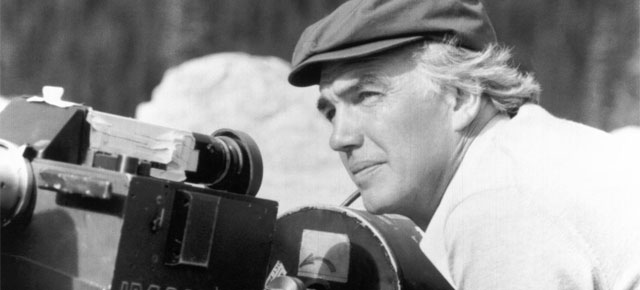 Colin Low: Special screenings at Montreal's Cinémathèque québécoise
Starting tomorrow and running until Saturday, April 14, the Cinémathèque québécoise and Hors Champs will present an hommage to veteran NFB filmmaker Colin Low. Each night boasts a different program, and the lineup is as follows:
April 12 at 6:30 pm: Corral (1954), Universe (1960) and Circle of the Sun (1960).
April 13 at 8:30 pm: The Children of Fogo Island (1967), Hector and Reuben (1969) and The Hutterites (1964).
April 14 at 5:00 pm: City Out of Time (1959), City of Gold (1957) and Moving Pictures (2000).
The program offers a rare opportunity to see the original 35 mm prints on the big screen, in the presence of the director himself, who will be in attendance.
For those who need a little background, Colin Low joined the Film Board in 1945 through a summer training program set up by Norman McLaren. He started out as a graphic artist hand-lettering titles. He then went on to study in Stockholm and upon his return built his career as a filmmaker. In 1950, he was appointed Head of the Animation unit at the Board. During this time, he produced and directed some of the NFB's most popular films, including the award-winning The Romance of Transportation in Canada.
Low then moved from animation to documentary, and it was there that he really made his mark. His film City of Gold (1957) was hailed by critics as "brilliant," "faultless," and "poetic." It won 17 awards. In the 1960s, he helped develop revolutionary film formats. For example, In The Labyrinth, which was shot and projected in both 35 mm and 70 mm film, is considered to be the precursor of the IMAX and OMNIMAX formats.
Colin Low's last film for the Board was Moving Pictures (2000), a rich, multi-layered documentary that combines the horrors of war, the art of producing pictures, the autobiography of a master filmmaker and the parallels between the mass production of weapons and today's violent media images. That film brought him to almost 200 productions, an impressive body of work by any standard.
If you're in Montreal, don't miss these screenings. It's truly a rare opportunity and promises to be an exceptional event. Tickets are $8/adult, $7/students. For more information, visit the Cinémathèque québécoise website*, or call 514.842.9763.
If you're not in Montreal, please click through the links above and enjoy some of Low's finest work in our online screening room, NFB.ca.
Here – let me get you started:
Universe, Roman Kroitor & Colin Low, provided by the National Film Board of Canada
*While the website is in French, the films will be screened in English.