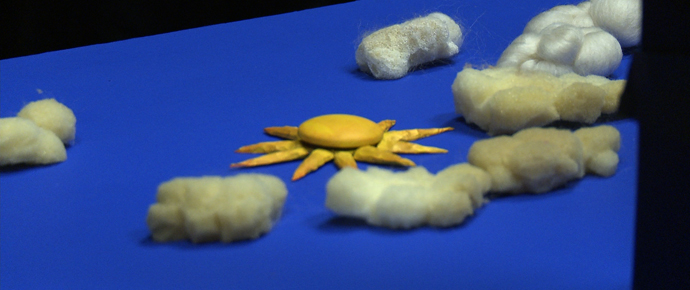 Animator Susan Wolf on After Effects, Fluffy Clouds and Obsessive Tendencies
This is a guest post by Susan Wolf, one of 6 animators participating in this year's Hothouse program, the NFB's 12-week paid apprenticeship for emerging filmmakers.
Today, I started animating the hero of my film, a small fluffy cloud.
See, the plan is that each of my characters and elements will be shot against a blue screen with a still camera and composited together using the computer program After Effects. The past month was a crash course in After Effect as I cobbled together an animatic (like a rough computer-made version of my film). I feel pretty good about my progress with After Effects. I'm at least able to do basic tasks like move stuff around and create simple effects. Most importantly, I'm no longer intimidated and see myself using it for animation in the future.
This week, however, is all about my hands and eyes. I've moved into under the camera mode and I'm having transition pains. Today, like yesterday, I kept expecting the animation I do with my fingers and muscle memory to look as even and perfect as the computer stand-ins I used to map out my timing. Of course, I don't really want the stop motion to look computerized. I love the feel of the human hand in claymation and puppet animation. And my background is hands-on… I was trained as a sculptor and silversmith. Still, it's a fine line between handmade and sloppy. I always struggle with knowing where that line is, and how anal retentive to get.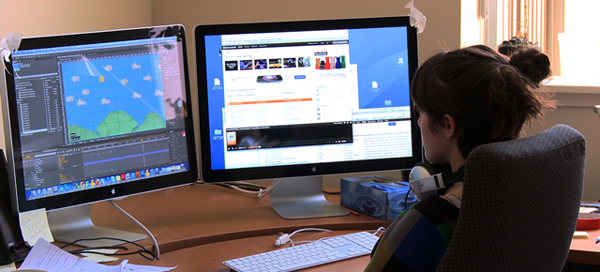 So, today I moved the cloud, moved the cloud, moved the cloud. I finally got my groove going at around 10pm… after an afternoon of failed attempts. Stop-motion animation requires a special kind of concentration and being in the zone. Look at the puppet, move the puppet, look at the screen, look at the previous shot, look at the shot with and without the background line-up layer, decide whether the shot is good enough to keep, repeat. Review progress every 10 shots. Start again every few hours when object looks too choppy or wiggly.
For better or worse everything about animation taps into my obsessive tendencies.  I've been making the tiny hands I'll be using later in my animation during my breaks. I keep them in a tupperware next to a growing array of chocolate wrappers and the dirty coffee mugs that I've been hoarding from the communal kitchen. The hands look like a creepy taxonomy and smell like new plastic. I'm looking forward to using them. So much more fun to animate adorable malleable fingers than the rigid yellow button sun or the erratic woolly oblong clouds. It's the control I relish. Mwaaahaaahaa.